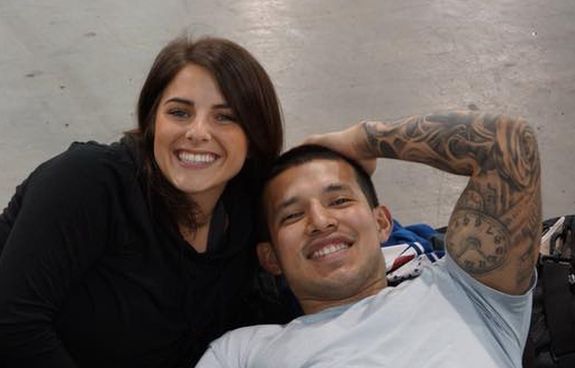 The Teen Mom 2 family is about to get even bigger!
Javi Marroquin is about to become a father for the second time, thanks to his girlfriend of three months, Lauren Comeau. The couple recently learned that they are expecting a baby together.
Javi, who is already dad to four-year-old son Lincoln by his ex-wife Kail Lowry, has long expressed his desire to have more children. He began dating Lauren shortly after splitting with his 'Teen Mom 2' co-star Briana DeJesus.
Javi and Lauren announced their news on their private Facebook pages on Wednesday, using a series of maternity photos that also featured Lincoln.
"Blessings on top of blessings," Javi captioned a photo of himself and Lauren (and her baby bump), while Lincoln holds a sonogram photo.
"Sometimes life's biggest blessings come in the smallest packages. Baby Marroquin coming soon!" Lauren wrote in the caption of a photo posted to her Facebook. The pic featured Javi and Lincoln wearing shirts that said "ICE" and Lauren showing off her bump. (Get it? ICE ICE Baby?)
Later, Javi posted one of the photos to his Instagram account, along with a caption explaining why he didn't reveal the pregnancy news sooner.
"Been kinda quiet lately for many reasons," he wrote. "I was sad I couldn't share the good news because I was afraid of what people would say. The amount of love I've received is so overwhelming and so appreciated. I realized No negative comment will take this moment away from us. A baby is a blessing and I am ecstatic for the future. Lincoln is happy, I'm happy, and Lauren is happy. Gonna go on a little hiatus from social media to take all this in and enjoy it with my family and loved ones. For those sending love, thank you! We appreciate it. And to you @lauren3elizabeth thank you for blessing me with another child. We are gonna be amazing parents together."
Lauren and Javi dated briefly in the summer of 2017 but broke up. Javi was in a relationship with Briana after the breakup, but that ended badly and in March, he confirmed he was back with Lauren. They are currently in a long-distance relationship, but from what The Ashley hears, Lauren is planning to move from South Carolina to Delaware this summer to be closer to Javi.
She has yet to appear on 'Teen Mom 2.'
Earlier this year, Javi said that Lauren found it difficult to adjusting to having a boyfriend whose life is filmed.
"Dating someone on a TV show is tough," he told In Touch Weekly last year. "I think Lauren had a hard time adjusting to that and I had a hard time understanding that. I never believed in love at first sight, but when I saw Lauren I definitely did. I'm hoping Lauren and I can figure this out because she made me the happiest I've ever been.
"I want to do things differently," he added. "I just want to enjoy it. She's the only girl that's been on no TV. It's just real stuff."
Ironically, just last summer Javi and his friends were shown on 'Teen Mom 2' bashing Kail for getting pregnant by someone (her ex, Chris Lopez) after a very short period of time. Kail has not really commented on her ex's news, but did tell Us Weekly that she wishes Javi and Lauren "the best."
Javi told Us Weekly that he was nervous to tell Kail about the baby.
"Linc knew, so I didn't want him spilling the beans before I did, but she took it well and I think we're both at a point in our lives where we are happy for each other," he said.
Javi's other ex, Briana, did share her thoughts on the pregnancy.
"I'm happy for them. I wish them nothing but the best," she told Us Weekly. "I don't wish it was my baby. … All he wanted was a family and he got it. So good for him. Like I said, I'm sending my best wishes and have no hard feelings."
This will be the second child for Javi and the first for Lauren.
"Nothing will take away these happy days I'm having with family and loved ones," Javi tweeted after the big news came out.
He talked to Us Weekly about finding out that Lauren was pregnant and their future plans.
"When we realized there was a possibility of having a baby, we decided to take the pregnancy test while together. I was excited at first, then got a little bit of cold feet," he said. "Like, I can't believe this is happening. Lincoln is almost 5, so so many emotions going through my head.
"We are gonna find out the gender and have a gender reveal planned with Linc," he said. "We have a solid plan of when she is coming to Delaware! As of now we're enjoying this first one before we even think of anymore kids."
(Photos: Facebook, Instagram)