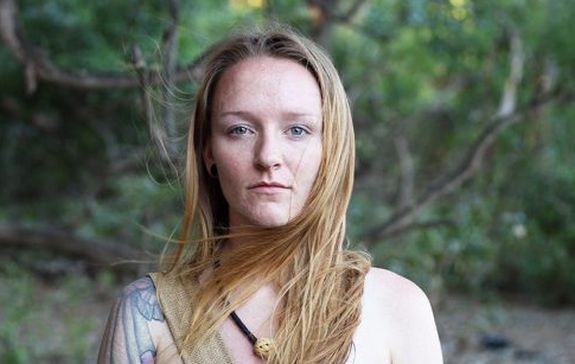 Teen Mom OG fans have been waiting to watch Maci Bookout's episode of Naked and Afraid ever since The Ashley broke the news back in March that the mom-of-three was going to appear on the survival show. Earlier this week, Maci shared the first photo of her episode, and now Discovery Channel has released new info and more pics from Maci's stint in the jungle.
As The Ashley told you, Maci is appearing on 'Naked and Afraid' According to Starcasm, Maci will be getting naked and afraid with  Justin Tuell, a 31-year-old ICU nurse from Colorado. The pair spent 14 days in the Nicaraguan jungle without food, water or clothing.
The Blast has obtained a sneak peek of an interview taped for Maci's episode, which is scheduled to air on Discovery Channel on Sunday, June 24.
"I would describe myself as a badass," Maci says in the clip. "I've been a fan of 'Naked and Afraid' for years. Even though I may not be an expert, I've been camping multiple times a year my entire life. This challenge, it is something that I am dying to do, and I really, really want it."
Maci's husband Taylor McKinney also appears in the video, which was shot at their Tennessee home. Taylor joked that taking care of the couple's three kids alone may be as hard as surviving in the jungle.
"This is my own survival show," Taylor says. "It's called three kids and afraid!"
Maci insists that being a teen mom has helped her prepare to get naked and roam the jungle.
"Being a mom prepares you for a situation like this, because the motherly instinct kicks in and gives me an edge," Maci says.
She said she refuses to quit, no matter how hard it gets, because she hates watching episodes where contestants quit.
"People quit way too early," she says. "Like, they don't even give themselves a chance. The first sign of distress they tap out. They're done.
"I mean, it's gonna suck for sure, but I'm not gonna quit!" she insists.
Another sneak peek of Maci's episode is set to air during Sunday night's 'Naked and Afraid XL: All Stars.'
Watch Maci's intro interview clip below!
UPDATE! Maci discussed more details of her episode on Twitter on Sunday night, revealing to two fellow 'Naked and Afraid' participants that she wasn't given any special treatment because of her reality TV star status.
"Nope, only allowed to bring one item… same rules/boundaries as every other brave soul that has signed up for the challenge," Maci wrote, later adding, "it changed my life, and i have so much respect for every single naked & afraid family member."
A new sneak peek clip of Maci's episode aired on Sunday night on Discovery. Watch the video below to see it!
Get ready, ? @TeenMom's @MaciBookout is going to be on #NakedandAfraid ?? pic.twitter.com/YozWIYxyIP

— Naked and Afraid (@NakedAndAfraid) June 11, 2018
(Photos: Discovery, Instagram)