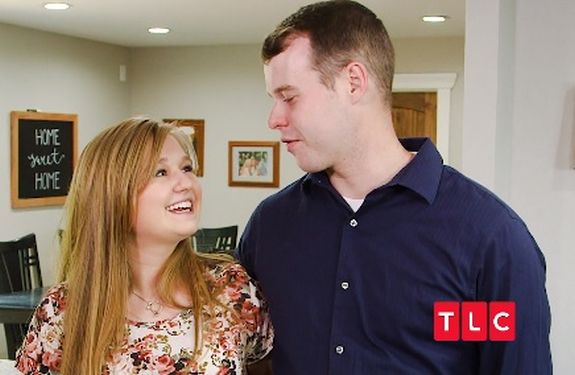 The ever-expanding Duggar Family has grown yet again.
Michelle and Jim Bob Duggar announced on Saturday that their son, Joseph and his wife Kendra have welcomed their first child.
"We are so thrilled to announce the arrival of our newest grandbaby, Garrett David Duggar," the family announced in a statement posted to their official website. "Kendra and the baby are healthy and happy! Thank you for all your prayers and well wishes."
The post also contained the first photo of Joe, Kendra and the baby.
Joe and Kendra, who got hitched in September 2017 and immediately got pregnant, also released a statement via the Duggar Family website.
"No matter how many times we've experienced the joy of babies born in our families, there's nothing comparable to the joy in our hearts today!" Joe and Kendra wrote. "Children truly are a gift from God. We are so thankful for his safe arrival and this new journey as parents."
According to the info posted on the website, Baby Garrett was born on Friday and weighed in at 7 lbs., 8 oz. and measured 20.5 inches long.
The name Garrett is a family name on Joe's mother Michelle's side. One of Michelle's brothers (Joe's uncle) is named Garrett. It is also Joe's middle name.
While the Duggar clan tends to favor home births, it appears that Baby Garrett may have been born at a hospital (or taken to one after his birth), as both Kendra and Joe are shown in the family photo wearing the type of bracelets that are usually given at hospitals.
In February, Joe and Kendra announced that they were having a boy.
"Wow! We are so happy to learn that our firstborn is a boy!" the couple said in a statement on the Duggar family website. "Our minds are already racing toward all the future memories to be made with this little guy! Most of all, we are already asking God to bless him and help us grow him into a loving and faithful follower of Christ!"
Baby Garrett will be just one of several babies born to a Duggar offspring this year. In February, Joe's younger sister Joy-Anna and her husband Austin Forsyth welcomed a son named Gideon, and next month, Joe's older sister Jinger and her husband Jeremy Vuolo are expecting a baby girl.
Garrett is Jim Bob and Michelle's eleventh grandchild. Josh Duggar has five children, Jill Dillard and Jessa Seewald each have two, Joy has one, and now Joe has one.
Watch Joe and Kendra talk about the last part of Kendra's difficult pregnancy in this video posted by TLC a few months ago:
To read The Ashley's recap of Joe and Kendra's wedding episode of 'Counting On,' click here!
RELATED STORY: Duggar Babies: By the Numbers