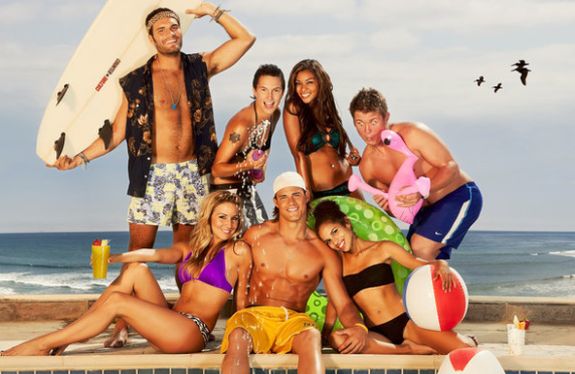 It's been more than a year-and-a half since a season of MTV's The Real World aired, causing many fans to suspect that the plug had been pulled on the long-in-the-tooth reality show. However, a new report by Deadline states that Bunim-Murray, the production company behind the show, is considering bringing 'The Real World' back– after giving it a makeover!
According to Deadline, the production company  "just hit the pause button on the venerable franchise" after its 32nd aired in 2016-2017, but they do have plans for the show's future.
"They are looking to reboot/reinvent it the way MTV recently did with another of its signature docu-reality series Jersey Shore," the site's source claimed.
The rebooted version of the show may not air on MTV, though. Instead, it will be shopped around, targeting streaming platforms like Hulu and Netflix. (Queer Eye for the Straight Guy was recently revived in this way on Netflix.)
Bunim-Murray co-founder and 'Real World' co-creator Jonathan Murray told Deadline, "We're talking," when asked about the reboot.
The groundbreaking docu-reality series premiered in 1992 and continued airing until 2017. Fans watched as "seven strangers picked to live in a house, work together and have their lives taped."
Happy 25th, #RealWorld! Let's look back on a bunch of strangers who were picked to live in an epic house and have their lives taped ❤ pic.twitter.com/wLyBURD3fk

— MTV's Real World (@RealWorldMTV) May 21, 2017
In recent years, however, the once-beloved reality show has seen its ratings steadily drop. The last few season have relied on gimmicks (such as bringing the roommates' exes and enemies to the house with them), but even those hokey themes haven't helped spike ratings.
The ratings of the most-recent seasons of 'The Real World' have been very low compared to the ratings of earlier seasons. For example, the season finale of "The Real World: Bad Blood" (which aired in January 2017) brought in 0.34 million viewers, whereas the season finale of "The Real World: San Diego," which aired in 2011, brought in 1.39 million viewers. (Earlier seasons did even better in the ratings.)
One of the most famous Real Worlders, Johnny Bananas, told Urban Daddy in December that he agreed the show needed to do something to fix the show. He said the new seasons just aren't watchable anymore.
"The past few seasons of 'The Real World' just look miserable," he said. "These people are beating the s**t out of each other, they're arguing with each other, nobody wants to hang out with anyone else in the house, nobody gets along."
So what would Johnny Bananas do?
"I'd go back to the format that worked," he said. "And that was a bunch of adolescents, early twenty-somethings, who had things in common; who were strong personalities, but not necessarily personalities that just did not mesh."
Johnny said he thought the producers were now purposely putting people together that they knew would not get along.
"I can't continue staying here and get looked at a certain way when it should be so clearly obvious that this is not who I am." #RWBadBlood pic.twitter.com/ZAEKCwCP25

— MTV's Real World (@RealWorldMTV) December 1, 2016
"They're taking people from completely opposite ends of the world and putting them in a house," he said. "What made 'The Real World' work back in the day was, you had attractive people in a house who wanted to party, wanted to hang out and wanted to hook up. There was drama, but the drama wasn't like this crazy visceral hatred. There wasn't this racism involved; there wasn't all these other really toxic issues on the show. And while that's something we obviously face in society, that doesn't need to be the focal point of the show."
Although 'The Real World' has seen its rating fall in recent years, its long-running spin-off The Challenge, continues to bring in decent ratings for MTV. Its most-recent season, "Vendettas" premiered in January 2018 with a respectable 0.89 million viewers.
The next season of 'The Challenge,' "The Final Reckoning" is set to premiere in July. (Click here for details on the new season!)
No reboot plan or premiere date for 'The Real World' had been confirmed by MTV or Bunim-Murray as of press times.
(Photos: MTV, Twitter)