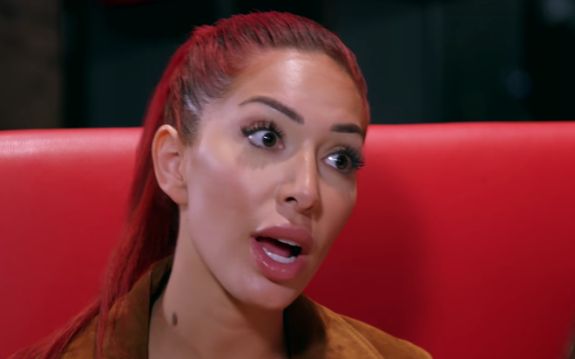 Farrah Abraham is learning that actions sometimes have consequences…even when you're the "Top Reality Television Personality."
The former Teen Mom OG star was arrested on Tuesday night after allegedly getting into a physical altercation with a security guard at the Beverly Hills Hotel. TMZ broke the news on Wednesday, reporting that, allegedly, Farrah (shockingly) got into an argument with a male hotel security guard. The guard reportedly noticed Farrah having a verbal argument with some other hotel guest and approached her.

"We're told things got heated, she was asked to leave and refused … and that's when she allegedly struck the guard," the site reported.
While it doesn't appear that Farrah used her infamous "backdoor" to assault the security guard, she did allegedly use other assorted body parts.
"Cops say the man reported she hit him in the face with her forearm, grabbed his ear and pushed his head as he tried preventing her from reentering the hotel," TMZ wrote.
Officers reported that Farrah seemed to be intoxicated, and that she (of course) threw out the "Don't you know who I am?" card as she was being hauled away. The security guard suffered minor injuries.
The Ashley has found new details regarding Farrah's arrest, which took place at 1:48 a.m. She was booked into the Beverly Hills jail at 2:24 a.m. The 5'6 reality star weighed in at 120 lbs. at the time of her arrest.
Farrah has been charged with a misdemeanor battery and trespassing charges and was held on $500 bail. She was still behind bars at press time.
She is set to appear in a Los Angeles county courtroom on Friday at 8:30 a.m.
Just hours before, Farrah was posting photos of herself hanging out by the pool at the famous Beverly Hills Hotel.
The Ashley reached out to Farrah's mother, Debra Danielsen, for comment about Farrah's arrest.
"It is sad and hurtful," Debra told The Ashley of her daughter's behavior. "I don't care for it at all. You should never touch another person inappropriately. It's not acceptable at all."
She added that her daughter has "too much volatility and no kindness."
The Ashley also reached out to Farrah's father, Michael Abraham, but he declined to comment at this time.
This is not the first time Farrah has been arrested. Back in March 2013, The Big F was picked up for DUI after celebrating St. Patrick's Day in Nebraska. After the arrest, Farrah refused to take responsibility for her actions, and even appeared on an episode of The Dr. Phil Show to argue with The Doc about how, although she was drinking and driving, she wasn't drinking and driving.
She was very, very angry that she was forced to take DWI classes and attend court-ordered intensive therapy. In one notable social media outburst, Farrah wailed that the U.S. government was "f**king up her life."
UPDATE! TMZ has obtained video of Farrah's arrest! It appears that Farrah told the officer, "If you want to f**king bulls**t me, and you want to act like I'm not a real adult, you can go f**k yourself, go f**k yourself, go f**k yourself. That's you, no one is talking to anyone else! Do you understand me?" after she was taken outside the hotel.
Four officers surrounded her and one took her wallet, which did not make the Backdoor Teen Mom happy. They demanded that she stand up, and Farrah gets even more angry.
"I am not going to be standing up," she told the officers. "I do not want to be arrested…why are you provoking me to get arrested? I am not going to be provoked to be arrested!"
Finally, Farrah demonstrates some of that "belligerent, anti-Christ behavior" her mother told us about back in the 16 and Pregnantdays.
"I AM NOT RESISTING!" Farrah bellows demonically.
She then starts sobbing and slurring, while screaming, "I'm not going to be arrested! You're hurting me!"
Watch it go down in the video below:
UPDATE #2 Farrah has been released from jail, and is already on Instagram Live claiming she was "attacked" during her arrest. Click here to see what she had to say!
UPDATE #3 In a statement made to TMZ Farrah's rep said, "This situation has been blown out of proportion, Farrah has not been charged and was released this afternoon. A misunderstanding occurred and there was no battery or trespassing. Farrah is the hardest working individual I know and sets very high standards of herself. Farrah is a powerhouse and was having a business meeting in the hotel where the alleged incident happened. She is a very sweet and ambitious young woman who has been portrayed in a biased light on a reality TV show for many years."
The site also released footage of Farrah being released from the Beverly Hills jail. Check it out below!
(Photos: MTV, Instagram)