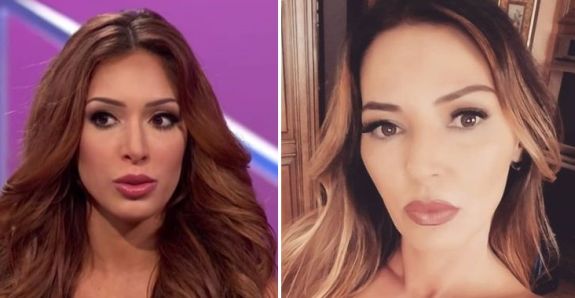 The feud between reality stars Farrah Abraham and Drita D'Avanzo is still going strong… almost as strong as the threats and classy language being thrown between the two.
As The Ashley told you last week, the Mob Wives star threatened to "open hand smack the f**k" out of the former Teen Mom OG drama queen, after Farrah insulted Drita last week during the opening of a strip club that the two "stars" were hosting.
Drita hit back with a profanity-laced Facebook video, threatening to risk going to jail in order to beat the BeJesus out of the Backdoor Teen Mom. Farrah responded to Drita's video, claiming she planned to take legal action against the 'Mob Wives' star. (Farrah later told TMZ that she hasn't filed for a restraining order against Drita, but her lawyers did fire off a cease and desist letter to Drita in order to get her to stop threatening Farrah.)
Never one to back down, Drita responded to Farrah's post on social media… and let's just say she doesn't exactly seem worried about facing the legal wrath of Farrah.
"This will be the last time I waste my breath on that little piglet Farrah," Drita said in an Instagram video. "She did tweet me and call me low-class trash — this coming from a girl that walks by a soda bottle and is like, 'Hey, if I shove this up my ass, can I make a dollar?' — and then she said I act like a criminal, which I'm not going to lie, made me laugh."
Hold on…? @F1abraham calls me a drug addict and I dont do drugs…then says I'm in an abusive relationship and I have a great marriage. U need to ask your lawyer what happens when u make up stories about people girl….he will give u an earful on it not #Smart pic.twitter.com/7kLtQMSsYB

— Drita Davanzo (@DritaDavanzo) July 3, 2018
Drita went on to address Farrah's threat of taking legal action, though she also threw some shade about "other things" Farrah is known to take.
"And then she said that her lawyer would be contacting me," Drita said in the video. "Um, why? Weren't you the one who just woke up, f**king ripped off your face making a video wrecking me? Did you tell your lawyer you're a d**k sucker?"
As for the possibility of these two making nice/hosting future strip club openings together, we wouldn't put any money on it… not even a few singles. Drita told Us Weekly if she happens to run into Farrah, she plans to put her and her backdoor on blast.
"I would say you picked the wrong one, motherf**ker," Drita said. "She didn't do her homework before she chose her battle and she picked the wrong one, that's what I would say."
On July 3, Drita told TMZ that Farrah is trying to get legal protection against her.
"She already backed down by getting a lawyer involved with the restraining order bulls**t," Drita said.
"I don't know if I could knock her out with a slap but I'm gonna try. Farrah needs to understand that, I don't know who she abuses in her life but I'm not good with what she said. I don't want to obviously get arrested for anybody. It's not worth it, and plus I don't like jail. However, she got on my f**king nerves because she was really bashing me," Drita continued.
"It's crazy! I don't think anybody's ever slapped her up a bit. She needs a good ol' fashioned slappin'!"
As for Farrah, she hasn't posted any Drita-related content since last week, aside from a retweet mentioning the restraining order. For now, her social media content remains focused on promoting bogus products, gratuitous bikini shots, attempted self promotion and of course, lots of "Farrah Speak."
Watch Drita discuss "The Farrah Situation" in the video below:
RELATED STORY: Farrah Abraham's Texas-Based Froco Yogurt Shop Has Closed After Two Years In Business
(Photos: MTV, Instagram)