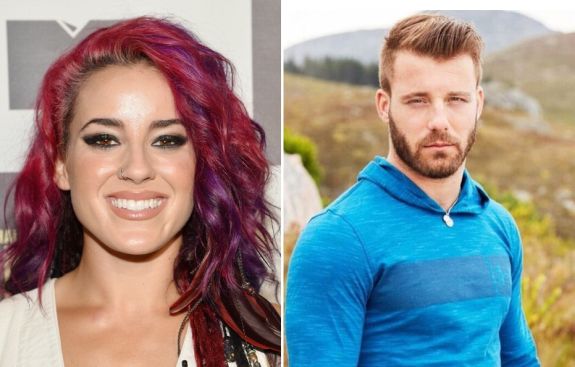 Cara Maria Sorbello left The Challenge: Final Reckoning with a boyfriend — and no, it isn't her 'Vendettas' fling, Kyle Christie.
Earlier this week Cara Maria told Us Weekly that she has moved on to another reality showmance and is now dating her 'Final Reckoning' co-star, Paulie Calafiore. (Paulie previously appeared on Big Brother 18 and most recently on MTV's Ex on the Beach, but "Final Reckoning" marks his 'Challenge' debut.)
"I guess you would have to call it dating," she told the Watch With Us podcast.
The Ashley's sources tell her that 'The Challenge' fans will see Cara Maria trying to get Paulie to hook up with her on tonight's "Final Reckoning" premiere episode. While they don't actually hook up until later in the season, The Ashley's sources tell her that Cara tries to convince Paulie to have sexy time with her in order to advance his 'Challenge' game.
"She's going to come off looking pretty desperate in the first episode," The Ashley's source tells her. "At the time, she was trying to make Kyle jealous."
Anyway, according to Cara's new podcast interview, things with Paulie have progressed far past the "hookup" stage.
"I like the freedom to do as I wish but to choose on my own terms not to do it," she said. "The thing about [Paulie] that I love is that he's not jealous at all about anything. He's not controlling. He doesn't ask me a million questions. It's refreshing.
Yup. @jossie_flores @PaulCalafiore_ #newyork pic.twitter.com/SfKkVHvQeB

— Cara Maria (@CaraMariaMTV) July 7, 2018
"When [Paulie's] with me, he's hands on," Cara Maria said. "Holding my hand, telling me I'm beautiful even when I'm disgusting first thing in the morning. You can feel the adrenaline pouring out of his skin when we touch. It is electric."
Cara, who is always happy to provide TMI in regard to her sex life, gave us way more info that we needed to know about the sex she's having with Paulie.
"I've never been with anybody in the bedroom like him, and I haven't had anybody treat me like he does, which is amazing," she said. "I'm enjoying it, but I still am holding on to that 'I need to be single' and I want to be single, but he's really, really great."
Last month, Cara and Paulie made headlines after their hookup went public. The only problem? Paulie was dating Bachelor star Danielle Maltby at the time. Paulie later admitted his wrongdoing in a statement to E! News.
"I am not proud of my actions these past weeks," Paul told E!. "I know they speak louder than these words. I have destroyed the one person that has believed in and brought out the best in me. I have many things I need to work on and repair internally. I want to be better. I know I haven't earned it, but I ask for patience and privacy while I work on repairing myself."
Last season on 'Vendettas,' fans watched Cara Maria and 'Challenge' newcomer Kyle hit it off and engage in a little showmance of their own and the two proved to be quite 'The Challenge' power couple nabbing the first and third place spots in the final, respectively. With Kyle making a return to 'The Challenge' house this season, we can probably expect some good old-fashioned bad blood, sexual tension and/or jealous fits of rage… ya know, the usual.
Cara Maria confirmed on the podcast that she and Paulie are exclusively dating.
"My choice. He's not telling me not to [date other people], I'm just choosing not to, because it's good," she said.
'The Challenge: Final Reckoning' premieres tonight on MTV.
Click here to check out The Ashley's rundown of this season's competitors!
UPDATE! In a Twitter message to The Ashley, Cara Maria clarified her relationship status with Paulie.
"We never said 'exclusively,'" Cara Maria told The Ashley. "We are both open. We are just enjoying each other as we go and being candid with each other."
Watch the "Final Reckoning" trailer below!
(Photos: Mike Coppola/Getty Images; MTV; Instagram; Twitter)