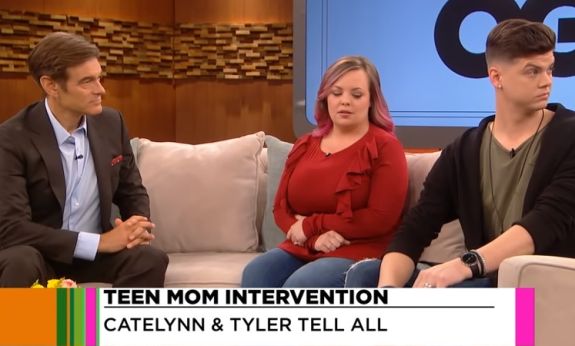 From vacation bliss to a delivering an on-air diss, the stars of the Teen Mom franchise have certainly been busy over the last few days!
In an effort to bring you up-to-date on all of the 'Teen Mom' happenings from the past few days, The Ashley brings you the Teen Mom News Pile!
Here are all the major (and minor but interesting) Teen Mom OG and Teen Mom 2-related things that happened so far this week…
Catelynn Lowell & Tyler Baltierra Bash Farrah Abraham on "Dr. Oz."
The feud between Farrah and her (former) 'Teen Mom OG' co-stars continues, even though Farrah (and her backdoor) got the boot from the show last year!
Catelynn and Tyler appeared on 'The Dr. Oz Show' on Wednesday to discuss a variety of topics, including depression and mental health issues. They also took the opportunity to get in a jab at Farrah, whom they have been feuding with for years. (To be fair, though, Dr. Oz specifically asked the couple about The Big F, so it wasn't an unprovoked attack.)
When asked whether or not they are happy that Farrah was fired from the show, Catelynn, at first, attempted to give a very "politically correct" answer, but her husband pulled no punches, stating, "I think it's great!"
When Dr. Oz pushed Tyler to spill the tea, he happily did.
"I just think the way that she decided to live her lifestyle it just doesn't really mesh with the rest of the cast, what we're trying to educate about," he said. "It just doesn't work very well together.
"And she's not a very nice person," Tyler added.
Catelynn agreed, before stating that she applauds the show's executive producer, Morgan J. Freeman for making that drastic move.
Cue a "Farrah Speak"-filled online rant response from Farrah in 3…2…1…
Maci Bookout Took Her Crew On A Cruise
Maci & Co. hit the high seas last week, cruising around The Bahamas. Maci brought her three kids, as well as husband Taylor McKinney and her parents on the vacation.
Judging by the photos posted to Instagram accounts that Maci maintains for her kids, the trip was a complete fun-in-the-sun success. (It was also Ryan Edwards-free, naturally.)
Check out some of the vacation pics below!
MTV Basically Confirms The Ashley's Story That Cheyenne Floyd Is Replacing Farrah Abraham on 'Teen Mom OG'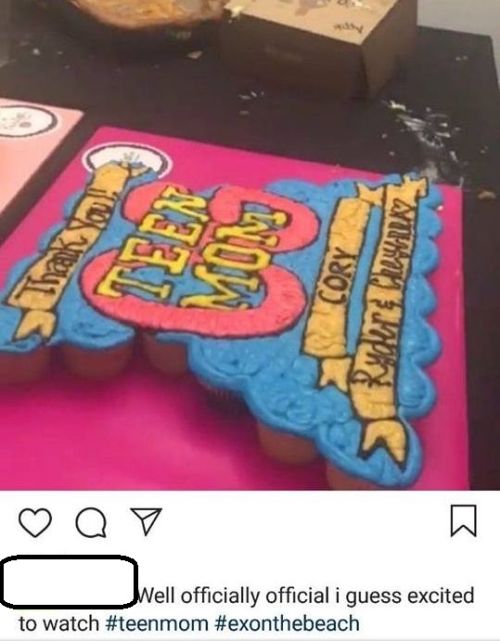 Last month, The Ashley broke the news that MTV had selected 'Are You The One?' star Cheyenne Floyd to take Farrah's coveted spot on 'Teen Mom OG.' (She is the mother of daughter Ryder, whom she shares with 'The Challenge' star Cory Wharton.) While some of the show's fans doubted The Ashley's story, since Cheyenne seemed like an out-of-left-field choice for the show, The Ashley's story was basically confirmed last week.
A photo of a cake featuring Cheyenne, Cory and Ryder's name (that was shaped like the 'Teen Mom OG' logo) surfaced on social media. (It was later captured and posted to Instagram.)
As The Ashley told you previously, Cheyenne and Cory began filming for the show in June.
Cheyenne, Cory and MTV have all stayed silent on the casting…so far.
Catelynn Lowell Is Appearing On 'What Would You Do?'
Catelynn is set to make a guest appearance on yet another TV show this week. In addition to her appearance on 'The Dr. Oz Show' (see above), the 'Teen Mom OG' star will also have a guest star role on ABC's 'What Would You Do?'
The segment, which was filmed in June, is reportedly about adoption. (If you're not familiar with 'What Would You Do?', it basically sets up scenarios to see how people react to them.)
From what The Ashley can gather, the scene will show a pregnant teen who wants to keep her baby but her parents want her to place the baby for adoption. Catelynn posted on Instagram about being on the show.
"So much fun filming #WhatWouldYouDo today!" Cate wrote on Instagram on June 11. "Was way different than #TeenMomOG and really cool to be a part of! Thanks guys!"
The episode will air Friday night on ABC.
To catch up on more recent 'Teen Mom' franchise news, click here!
(Photos: Instagram)