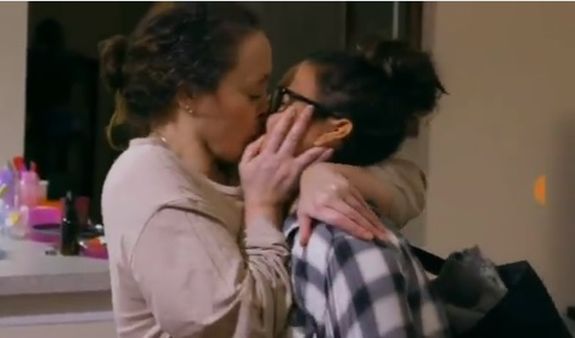 Over the years, Teen Mom 2 has featured plenty of "smoochy" moments—from Jenelle Evans sucking face with whatever booooooyfriend she happens to be soulmates with, to the kisses that sealed the girls' (short-lived) marriages. However, there has never been an on-air kiss that has caused such a stir on social media as the one featured on Monday's episode of 'Teen Mom 2' between Briana DeJesus….and her mother, Roxanne.
The show's viewers seemed to simultaneously cringe and gag as they watched Bri's mom go in for the long, full-on lip smooch.
And, no, this wasn't just a peck to show motherly affection. The kiss basically lasted longer than Briana's relationship with Javi Marroquin!
Fans—and Briana—soon discussed the kiss on Twitter.
"Does anyone else feel uncomfortable after seeing that creepy kiss between Briana and her mother?" one person asked on Twitter.
"Ewwww at that long ass kiss on the mouth that Briana's mom put on her," one person tweeted.
Even Briana's 'Teen Mom 2' co-star (and longtime nemesis) Kail Lowry commented about the mother/daughter smooch.
"What the f**k did I just see on my tv," Kail tweeted after the kiss aired.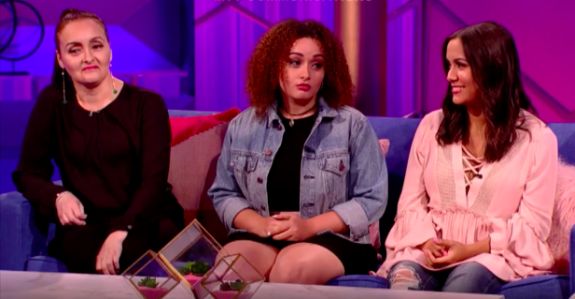 Briana did address the scene on Twitter after the episode aired, admitting that it was a little weird, even to her.
"Damn ma that was gross @roxy991roxy but hey at least you love me," Briana wrote. "Some other kids need that Motherly love ASAP. Better write some notes!"
She later explained that Roxanne went in for the long kiss because she was saying goodbye to her daughter, who was about to go under the plastic surgeon's knife (again).
"It sure was," Briana told a fan who said the kiss was creepy. "Lmao but I was leaving for a major surgery so I understand why she did that. Imagine something happened and we didn't get to say goodbye?"
Roxanne wasn't quite as cordial to fans who questioned her expressions of love for her daughter. When a fan tweeted to her that, "There is a huge difference between motherly love and what happened there. That was gross," Roxy told her to "kindly f**k off."
(She did not, however, attempt to hit the girl with her red high heels, so there's that…)
You can watch footage of the kiss in question in the video below!
Bae???? pic.twitter.com/VZo30wtGXh

— judyth (@judyth11) July 10, 2018
(Photos: MTV)