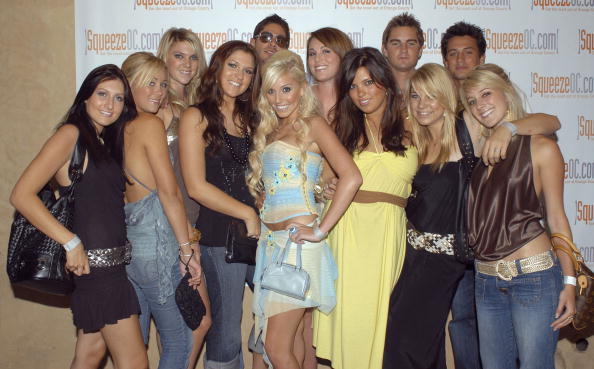 It's been 14 years since the kids of Laguna Beach made their MTV debut, but in the age of all things reboot, the network might be looking to ride that wave again.
Stephen Colletti, the love interest of both Kristin Cavallari and Lauren "LC" Conrad back in the day, recently told PeopleTV's Chatter that MTV has expressed some interest in reviving the show, which ran for three seasons from 2004-2006.
"They've been talking about it," Stephen said. "MTV has been — they've been putting out some phone calls for it."
But don't start jamming out to Hilary Duff's "Coming Clean" in celebration just yet, because Stephen also revealed that he's most likely "dunzo" with reality television.
"It's not really my journey — I think I've done enough reality TV for a couple of lifetimes at this point," he added. "I think we can let that one go. That ship has sailed for me!"
The reality show ship may have sailed for Stephen, but he admits his time on the show is something he looks back on with positive memories.
"We were just such young little kids," he said. "What I loved about being on that show was everyone that we were working with and shooting the show with, they made us feel kind of comfortable. Looking back, we were very comfortable hanging out with these people."
Stephen said that, at first, he and his 'Laguna Beach' co-stars never thought the show would even see the light of day.
"It was like, 'Nah, this isn't going anywhere. We're just having fun, and it's just going to end up in a box at MTV's offices. It's not going to be on air.'"
Stephen said the show also allowed him to experience what it was like to work behind the camera, sometimes even when he was on the clock at Laguna Surf and Sport, his place of employment during Season 1.
"There'd be a time where Kristin was walking into the surf shop back in the day, and they'd let me hold the camera and shoot her and follow her in and teach me the style they wanted to shoot it," he said.
"Those are the memories that I have from it," Stephen added. "It's usually pretty positive. But you definitely look back with a smile and remember that we were quite naive little children."
After Stephen ended his run on 'Laguna Beach,' he popped up on LC's spin-off show, The Hills, for an episode and eventually went on to pursue an acting career, most notably playing bartender Chase Adams on One Tree Hill from 2007-2012.
Now 32, Stephen has continued working behind the camera. Last year, he served as the executive producer and co-writer of the TV movie "Everyone is Doing Great."
While Stephen may not be interested in jumping back into the reality TV game, one of his 'Laguna Beach' co-stars recently did. Earlier this month, Kristin made her reality show comeback with her new show, Very Cavallari on E!.
Though the 'Laguna' gang has long grown up and gone their separate ways, Stephen says the group remains on good terms with each other.
"We see each other at different times, back home in Laguna for the holidays or whatnot," he said. "It's not a constant conversation, we're not buds texting each other every day, but it's all cordial."
As The Ashley previously told you, (most of) the group got together back in 2014 for their 10-year high school reunion . Here's to hoping we see the 'Laguna' gang back together (and on TV) again soon!
RELATED STORY: Kristin Cavallari Talks About the Axed Reboot of 'The Hills' & Reveals More Info About Her New Show 'Very Cavallari'
(Photos: Stephen Shugerman/Getty Images; Instagram)