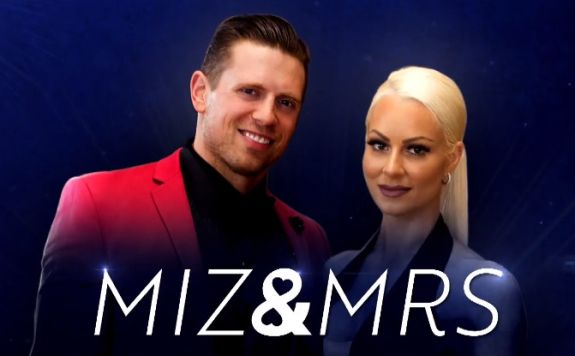 MTV reality TV star turned WWE wrestler, Mike "The Miz" Mizanin, will give fans an inside look at his personal life in and outside of the wrestling ring in the new reality show, 'Miz & Mrs.'
The USA Network show will follow the The Miz—whom we first met back in 2001 on The Real World: Back to New York— and his pro wrestler wife Maryse Ouellet as they prepare to welcome their first child and move to Austin, Texas. (Their daughter, Monroe Sky, was born in March.) The show will air in six 30-minute episodes.
Maryse said WWE fans who are used to seeing the couple portrayed as villains can look forward to seeing "a different side of us."
"I think people are used to seeing Mike and I as our WWE characters, so it's going to be different because it's going to be our lives," Maryse told Hollywood Life.
"We want people to see Monroe for the first time," The Miz told People. "Maryse is nine months pregnant in this show and we're documenting first-time parents in the entertainment business, what it's like."
In the new teaser posted by USA, we see that "what it's like" includes baby shower shenanigans, cake fails and even some appearances by the couple's parents, which Maryse promises fans will be "funny and insane."
"I'm smiling just thinking about it," the new mom said. "You'll have fun and will have a good time watching the show! Trust me!"
'Miz and Mrs.' is being described as a spin-off of E's Total Divas, which Maryse appeared on during the show's sixth and seventh seasons. (Mike had a recurring role of his own.)
Mike, of course, is no stranger to the reality TV scene himself, having appeared on The Real World: Back to New York in 2001 and subsequently making a name for himself in The Challenge world as a two-time champ. Though Mike has long-retired his name-embossed 'Challenge' uniform (and traded it out for wrestling spandex and boots), he remains a frequent feature on the show. He's hosted a number of Reunion shows since 2011 and is currently serving as the host of "The Challenge: Champs vs. Stars."
Produced by WWE (naturally) and Bunim/Murray Productions, the docuseries premieres Tuesday night.
Watch a sneak peek below!
(Photos: USA Network, Instagram)