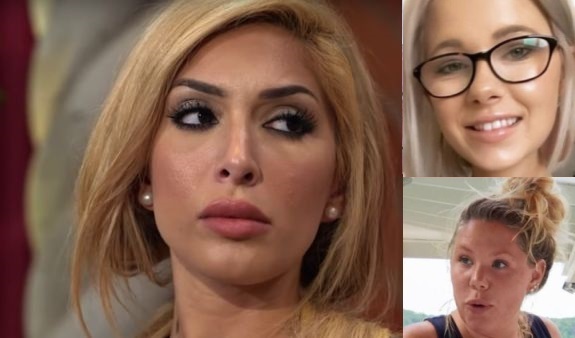 Farrah Abraham is planning to climb into the boxing ring this fall to promote "anti-bullying," and both Teen Mom 2 star Kail Lowry and former 16 and Pregnant star Lindsey Nicholson are volunteering to be her opponent!
In an Instagram post on Saturday, Lindsey blasted the former Teen Mom OG star, stating that, while Farrah claims to be against bullying, she's actually a bully herself.
"Really @farrah__abraham you think you're not a bully?" Lindsey captioned a photo posted with her own photo inserted into Farrah's boxing match poster. "Have you watched any of your episodes? You bully your mom, dad, producers, cast members, & anyone you think is less than you. Why don't you get in the ring with me & try to bully me around and see how that goes."
Lindsey told The Ashley that she is very serious about fighting Farrah.
"I would never call someone out if I wasn't [serious]," she told The Ashley. "I don't really play games. It's just strange she's fighting to raise money for anti-bullying when she bullies everyone!"
As The Ashley previously reported, Farrah will box a still-undetermined opponent in Atlantic City on November 3. Last week, she said she will be boxing to end bullying, but that she will not fight anyone who is a bully. According to Farrah, this eliminates her ex 'Teen Mom' co-stars, as well as Mob Wives star Drita D'Avanzo, whom she feuded with last month. (In her post, Lindsey offered to help train Drita, should she become Farrah's opponent.)
After Lindsey volunteered to be Farrah's opponent, Kail said she would be willing to go into the ring with Farrah, if the Backdoor Teen Mom didn't want to fight Lindsey. As "16 and Pregnant" Season 4 fans may remember, at the time of her pregnancy, Lindsey was training to become a UFC cage fighter. However, Lindsey says that it would still be a fair fight, since she hasn't trained to fight in over six years. (She's now the mother of three and a boutique owner.)
Lindsey told The Ashley that, since calling Farrah out and volunteering to be her boxing opponent, she's been getting a lot of support from the 'Teen Mom' franchise fans.
"I want to fight her because of the way she's treated every single person I know who's come in contact with her," Lindsey told The Ashley. "She needs to be put in her place… I still think I would be able to go head-to-head with her. I'd much rather do an MMA fight with her, but I highly doubt she'd agree to it. I've been getting hundreds of messages from people wanting to see this boxing match go down."
Farrah has yet to respond to Lindsey's offer, but Lindsey tells The Ashley that the fight's promoter has been in contact with her.
While Farrah has not commented, her father, Michael Abraham, did remark that both Drita and Kail were not suitable opponents for Farrah to fight.
"To bad we won't see Drita fight she is like me… way to old 'age group' and she is not one to promote anti hate," Michael tweeted on Saturday. "And Kail is in a lot higher weight class so that won't happen either lol!"
Michael's remark about Kail's weight was taken by some as an insult. Even Kail's 'Teen Mom 2' co-star Chelsea Houska scolded Michael for the comment.
Yikes. Horrible and low blow thing to say about Kail. Please don't comment on a woman's weight in any way.

— Chelsea DeBoer (@ChelseaHouska) July 28, 2018
"Yikes. Horrible and low blow thing to say about Kail," Chelsea tweeted to Michael. "Please don't comment on a woman's weight in any way."
In later tweets, Michael insisted that he was not body-shaming Kail.
"Chelsea I have the highest respect for you and your entire family. No it was not meant as low blow towards Kail… it's a realistic statement backed by fact that in any fighting event weight classes are real and used as competitive classes.
"I don't degrade people and I did not do it today," Michael told another person on Twitter. "It was all fact about the fighting and yes even the Olympic fighting sports… they all have weight classes and some sports age classes. No hate here at all…"
Kail responded to the backlash that Michael's tweet garnered. She assured her followers that, should she be chosen as Farrah's opponent, she'd be happy to slim down if necessary.
"Y'all coming for Michael for talking about my weight, thank you," Kail tweeted. "But I'd be willing to drop weight for that fight so it's not a problem."
While Kail and Lindsey say they're willing to go into the boxing ring with Farrah, Drita says she'd fight– but only if it were a cage match (or a street fight, of course!)
"Listen up horseface I called u out…n u called a lawyer!" Drita wrote to Farrah in an Instagram post. "Are you gonna have a cop as the referee 2? I don't want u wearing headgear! I don't want a referee stopping anything! I rather be on the streets. I told you I'd pay u to come meet me…since u are so desperate to use my name to make a dollar.
"However I have a better idea…I love boxing but when it comes to u I rather fight in a cage #ufc style…I'm tired of people talking s**t…then calling lawyers and cops once s**t gets real. Wanna do it legit…no problem…in a cage where you belong u filthy animal! Give me the date and time!! I'm ready!"
The Ashley will be there, watching and reporting on the fight, regardless of who is chosen as Farrah's opponent. Stay tuned!
Watch a clip from Lindsey's "16 and Pregnant" episode in which she discusses her dreams of becoming a cage fighter:
RELATED STORY: Drita D'Avanzo Responds After Farrah Abraham Discusses Getting a Restraining Order Against the 'Mob Wives' Star
(Photos: WEtv, MTV, Instagram, Twitter)