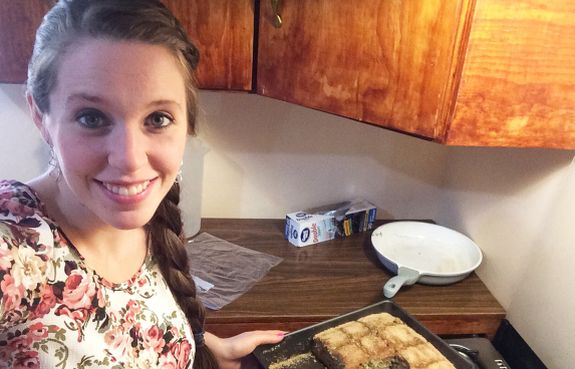 Jill Dillard is giving her fans a lesson in Fundie Cooking!
When Jill and her banned-from-Counting-On husband Derick aren't busy hitting fans up for suspicious ministry donations or offending people by the masses, they run the Dillard Family blog where they share family updates, photos, and–most importantly—Jill's questionable recipes.
In honor of this week's return of 'Counting On,' (which the Dillard family will continue to be absent from) The Ashley thought it was fitting to highlight some of the "recipes" Jill has been posting to her family's website—complete with creepy, wilted-looking ingredients and weird instructions!
In no particular order, here are a few of the weirdest recipes from Chef Jill!
Breakfast Casserole
My family got this recipe from a friend of theirs. They make 2.5 times this recipe to fill one industrial sized baking sheet that will feed the whole family!  https://t.co/kYb2Nw3yq6 pic.twitter.com/FxuJoIM688

— Jill (Duggar)Dillard (@jillmdillard) June 5, 2018
Ingredients:
– 1 bag tater tots
– butter
– eggs
– milk
– cheddar
– a gallon of water to chug when the dryness of this meal attempts to take you out
Breakfast is the most important meal of the day… to everyone except the Dillards, apparently. Jill said the recipe for this casserole came from a family friend, and seeing as how it looks drier than Michelle Duggar's crunchy curled hair, might we suggest she sever that friendship?
Sautéed Carrots and Onions
Sautéed Carrots and Onions https://t.co/8005yz2mRu pic.twitter.com/yHJ6erE6hg

— Jill (Duggar)Dillard (@jillmdillard) April 29, 2018
Ingredients:
– olive oil
– soy sauce
– 2-3 medium onions
– 2 lbs. carrots
– low expectations
Jill says on her website that this dish is a favorite because it was a violin-lesson-day staple. (Umm…?) Another fun fact about this sad side is that it was also served as a go-to for Jill and Derick while they were living in Central America. The reason? Jill said "it was easier to eat most of our veggies cooked for sanitary reasons."
Well that's a promising review if we've ever heard one! Luckily, though, the photo included with the recipe makes the dish look mildly appetizing. Unlike the next Duggar Delicacy featured…
Easy Slow Cooked Pot Roast
Pot roasts are always a nice meal to come home to after church on Sunday or on a rainy day. When slow cooked, they make the whole house smell delicious! This recipe is super easy! https://t.co/oAl5P5dsLw

— Jill (Duggar)Dillard (@jillmdillard) July 21, 2018
Ingredients:
– potatoes left unpeeled and uncut
– carrots
– 1 roast
– beef bouillon cubes
– one large vendetta against your loved ones
Jill says that this depressing meal (which The Ashley is renaming "Jill's 50 Shades of Grey") is a Dillard/Duggar favorite for after church on Sundays or rainy days. While the recipe sounds OK, one look at the photos included with it will have anyone willing to sample this "feast" running for the nearest Porta-potty!
From the brown-looking carrots to the unpeeled photos, this meal looks so creepy that even Jill's website followers made comments that it may be hazardous to her health to eat!
"Sweetie….those carrots are ROTTEN! You can't feed your family that!" one person wrote.
Jill defended her ingredient choices in the comment section of the post.
"The carrots are brownish because they're already cooked," Jill replied. "I chose not to cube my potatoes to save time.
Easy Pan-Fried Bean and Cheese Burritos
This recipe (downsized of course) is perfect for when you've got just a little bit of leftover beans and rice and some tortillas on hand! Makes for a quick dinner that most kiddos love! https://t.co/W2DcNJjAhP pic.twitter.com/pYsciTtcQs

— Jill (Duggar)Dillard (@jillmdillard) June 20, 2018
Ingredients:
-pinto beans
-taco seasoning
-cooked rice
-shredded cheddar cheese
-30 tortilla shells
-a misunderstanding of Mexican cuisine
While Jill boasts that this recipe can feed the entire Duggar clan, but she likes to downsize it to feed her family of four. It seems that Jill, who—mind you—lived in Central America for about two years, is unaware that her "burritos" look suspiciously like quesadillas. In fact, they basically are quesadillas. Donde estas los burritos, Jill?
The Ashley is saving the best recipe for last…
 Poor Man's Pizza
Ingredients:
– sliced bread or tortillas
– spaghetti sauce (Hunt's is the cheapest where Jill lives, she says)
– shredded cheddar and mozzarella
– a desire to eat like a broke college student without actually leaving your compound
According to Jill, these saucy little numbers are a hit with kids because they like to decorate their personal pizzas (aka bread slice) with their favorite toppings. Being that the kids have to do the heavy lifting for this one, we can go ahead and assume it's a favorite of Jana's, too.
To create this lil' slice of culinary heaven, you just grab some Wonder bread (or some of those tortillas you may have left over from making 'burritos' the night before!), slap on the cheapest spaghetti sauce you can find (no, she actually says this in her recipe), and then throw on some cheese. You don't even need to bake these masterpieces; simply put them in the microwave for a few seconds and—voila! —you'll have the finest dinner this side of any Arkansas dumpster!
That "tater tot casserole" is sounding pretty good right about now, isn't it?
(Photos: Instagram)