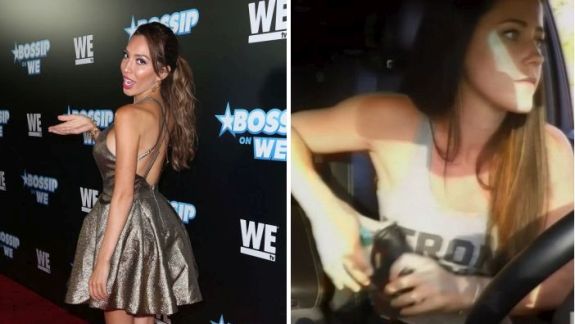 When Farrah Abraham isn't busy flashing body parts, or injecting said parts with fillers, she's judging others for their actions. So naturally, the now-fired Teen Mom OG star had some opinions on Jenelle Evans' gun-pulling incident seen on last week's episode of 'Teen Mom 2.
Farrah told Backgrid over the weekend that Jenelle isn't to blame for the backlash the incident got. In fact, according to Farrah, it's actually the fault of the 'Teen Mom' producers and editors for showing it.
"That was sad that people have gun violence around their kids. I don't like that," Farrah told a paparazzi as she was leaving a Los Angeles restaurant on Friday.
"Viacom's half to blame for that, the production team's half to blame for that," Farrah said. "They have that footage, they've been around it, and they've been allowing it."
Farrah implied that the network shouldn't have aired the road rage footage—or other footage that shows the cast members in an unfavorable light.
"And the drugs with Ryan [Edwards], like, do they want to ruin these parents' lives? Do they want to ruin these kids' lives?" Farrah said. "Ask a bigger question. Don't blame the parent, blame the bigger responsibility of production."
We'll let y'all chew on that for a second…
After making that statement, Farrah began to launch into her trademark "Farrah Speak" banter.
"Like, this isn't my first rodeo, this isn't my first day!" she declares.
We're unclear on what she's referring to; however, she does say she's "had a little bit too much of too much tonight." (We can assume she's talking about overindulging on Froco yogurt, since, according to a statement she made last week, Farrah does not drink at all.)
As if Farrah's rambling stream of consciousness wasn't a big enough of a gift to the paparazzi (and the world), she's then asked for her opinion on President Trump's star on the Hollywood Walk of Fame.
When the paparazzi mentions his star (in order to ask Farrah's opinion on the star being vandalized recently), Farrah blurts out, "That's such a great thing!"
(It's obviously that the Backdoor Teen Mom thinks Donald Trump is getting a star on the Walk of Fame. She is oblivious to the fact that Donald Trump has had a star on the Walk of Fame since 2007.)
The camera man then fills her in on general current events. Farrah, a Trump supporter, was sickened by the news, and gave us one of her signature "Farrah Speak" lines to show her disgust!
"Like why, I don't know why people act out of sorts. Either way, politics are politics. Get over it. Build a bridge, cry over it, die over it. I just don't have time for it.," she said.
OK, who else is down to get matching "build a bridge, cry over it, die over it" shirts?
Watch Farrah's full interview by clicking here!
(Photos: Maury Phillips-Getty Images/MTV, Instagram)