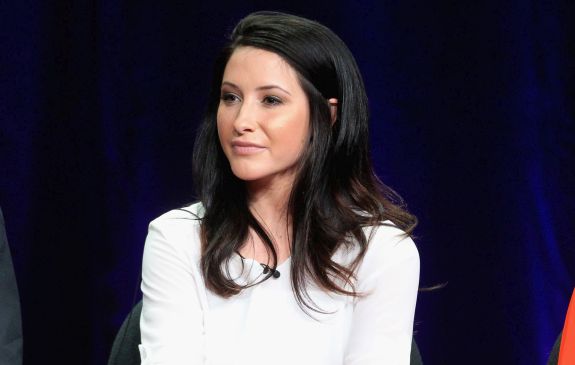 Bristol Palin opened up about a variety of topics on Tuesday–answering questions about her just-announced role on Teen Mom OG and the status of her marriage to Baby Daddy No. 2, Dakota Meyer, in an impromptu Instagram Q&A session!
As The Ashley previously told you, Bristol has joined the cast of 'Teen Mom OG' and will be appearing on the upcoming season. She hasn't said much about her new gig yet, but she did answer a few questions about the show on her Instagram story. She also confirmed that her marriage to Dakota (who is the father of her kids Sailor and Atlee) is officially over, ending speculation that the Palin offspring had reconnected with her estranged husband.
The Ashley has broken down a few of the topics Bristol discussed on Instagram on Tuesday:
On her marital status:
"[I'm] freshly divorced & single forever lezzbereal," Bristol wrote. "I am not ready to date."
When a follower asked Bristol how she deals with being divorced and responsible for paying bills, Bristol replied that she has anxiety about the whole thing.
"I think you'd have to be just sooo hooked financially not to worry," Bristol told the follower. "It's an intimidating thing…going to be a humbling experience."
(Of course that rumored $250,000 Bristol is scoring for doing 'Teen Mom' is certainly going to help her handle the stress!)
Bristol said that she plans to remain unmarried for a long time.
"Honestly (right this second) no," Bristol responded to a question asking if she can ever picture herself getting married again. "My focus is on God and my kids…a relationship/guy isn't even close on my radar."
When a fan expressed her condolences over Bristol's divorce, Bristol told her, "Nothing to be sorry about a divorce– it's life! God cleans our slates, forgives our sins and covers us with His grace! Life is good! My kids are happy and healthy and that's all I can ask for!"
On joining the cast of 'Teen Mom OG':
"[I'm] nervous but excited!" Bristol said about joining the MTV show.
The girls of the 'Teen Mom' franchise are known for their frequent pregnancies, but Bristol said that the show's fans will probably not see any more kids shooting from her loins.
"I love babies, and I love kids but I think I'm done having my own," Bristol said. "I'd adopt if I was in the right place for sure."
On what she will name any future kids:
Should Bristol find herself knocked up again (and, let's be fair, she will be on 'Teen Mom' so it could happen), she told a follower what she plans to name her future youngins.
"[My son Tripp] was almost [named] Blaise (Blaze)…still obsessed [with that name]," Bristol said. "I love [the names] Jet and Crew. For girls I love Keeley and Tatum."
On getting into politics like her mother, Sarah Palin:
"[I wouldn't] unless I thought I could make a difference," Bristol said. "I don't know enough about politics to truly get involved."
On why she no longer lives in Alaska:
'Teen Mom OG' fans who were hoping to get glimpses of the Alaskan wilderness while watching Bristol's segments will be disappointed, as Bristol revealed that she now lives in Texas.
"Dakota travels for work and Alaska was too hard to constantly commute down to the lower 48," Bristol told someone who asked why she lives in Texas.
"I have been in Texas a little over a year. I miss home so much but I do love Texas!" Bristol wrote. "Incredible school for my son, it feels safe, so much for the kids to do."
RELATED STORY: Bristol Palin Will Reportedly Make $250,000 For Her First 'Teen Mom' Season…And The Other 'Teen Mom' Stars Are NOT Happy About It
(Photos: Frederick M. Brown/Getty Images, Instagram)