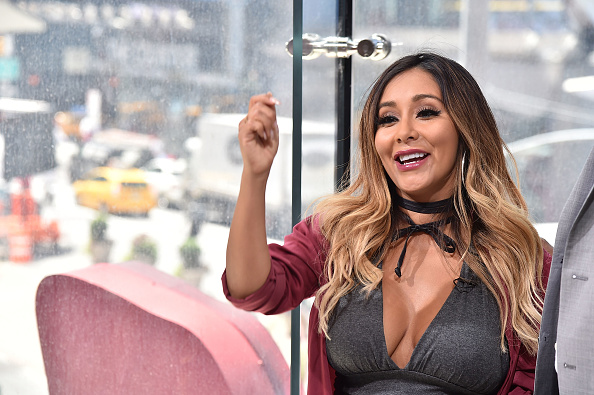 MTV is once again dipping into its pool of UK reality shows to bring new show concepts to the good ol' US of A!
Deadline announced on Thursday that Jersey Shore star Nicole "Snooki" Polizzi, along with Younger actor Nico Tortorella , will host the U.S. version of MTV's UK reality show Just the Tattoo of Us. Snooki and Nico will follow along as sets of family members and friends, as well as couples, attempt to choose a permanent tattoo for their loved one.
"'Just the Tattoo of Us' puts relationships through the ultimate experiment of trust by asking pairs of friends, family members and couples to design tattoos for each other that won't be revealed until after they've been permanently inked," Deadline reports. "Led by Polizzi and Tortorella, and with the help of some of the most creative and talented tattoo artists in the industry, the series will follow the blindfolded duos as they learn the stories behind the tattoo designs that are now on their bodies."
'Just the Tattoo of Us' has been a big hit in the UK for three seasons. Back in April, MTV announced that the network would be bringing the show to the United States.
Snooki has yet to publicly comment on her new hosting gig.
No premiere date has been announced…yet. However, in April, the network stated that it was shooting for a fall premiere for 'Just the Tattoo of Us.'
This is the second of its UK reality shows that MTV has brought to the United States. Earlier this year, the first season of the US version of Ex on the Beach premiered.
To read about some of the other shows MTV has in the works, click here! 
Watch some of the epic reactions that contestants of the UK version of 'Just the Tattoo of Us' have had when they saw their tattoos for the first time. (Be aware that the video does contain some naughty language.)
(Photo: Theo Wargo/Getty Images)