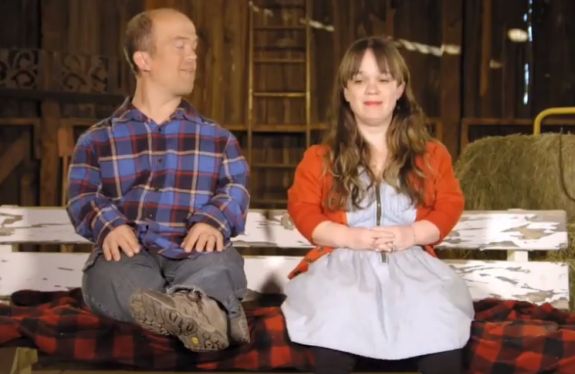 TLC's newest reality show—Little Life on the Prairie—follows the journey of the Webnar Family as they leave the big city behind and settle onto a farm in Arizona.
The Webnars—Nate and Lauren and their daughter Juniper—all have Achondroplasia Dwarfism, but according to a press release from TLC, "that hasn't stopped them from chasing big dreams."
"Fitting in perfectly with our network's mission to celebrate families from all walks of life, TLC is proud to share this emotional journey," Howard Lee, President and General Manager of TLC said in a statement. "'Little Life on The Prairie' follows a period of major transition for the endearing Webnar family, including extreme highs, lows and relatable moments that our viewers love to connect with most."
The trailer released for the show highlights some of the struggles the little couple faces during the six-episode series, including adjusting to farm life and dealing with major health risks and medical challenges.
"Lauren and I took our whole life savings and packed up our lives in the big city to move to the country so we could start a farm of our own," Nate says in the trailer. "Starting a farm is going to be a little bit of a challenge, especially because we're little people."
The Webinars are also facing issues expanding their family. The press release states that, because of a genetic condition related to their dwarfism, Lauren and Nate's children have the chance of inheriting both dwarfism genes, which is known as "fatal double-dominant syndrome." This has caused the couple to lose two babies shortly after they were born.
Still, the couple is hoping to have another child.
"Nate and I have decided to do IVF with genetic testing so that we are guaranteed a healthy baby," Lauren says in the trailer.
In the trailer, Nate says that, if Lauren doesn't get pregnant, "it would be crushing."
Nate and Lauren are no strangers to the media. Nate appeared in movies "Christmas Do Over" and "Balls to The Wall," and had a recurring role on the Comedy Central series "Tosh.O."
Lauren documented her pregnancies and heartbreaking losses on her blogs.
'Little Life on the Prairie' premieres Monday, August 20 on TLC.
Watch the first trailer below:
(Photos: TLC, Instagram)