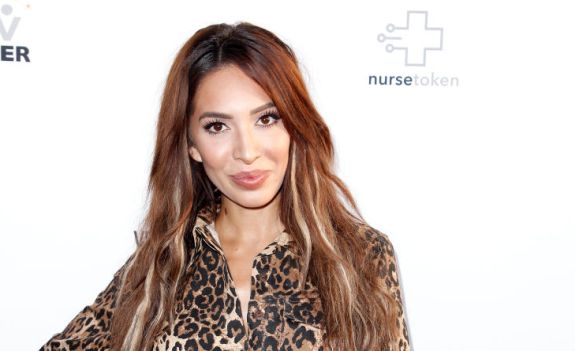 Farrah Abraham has declared that the city of Beverly Hills is committing "Incrimination of a Celebrity" against her!
No, seriously…
The former Teen Mom OG star appeared at the Airport Courthouse in Los Angeles on Monday to attend her arraignment stemming from her June arrest at the Beverly Hills Hotel. Farrah, who was officially charged in July with a count of misdemeanor resisting a peace officer and misdemeanor battery, told multiple outlets that, although the prosecutor offered her a plea deal, she's not taking it.
"I am not accepting the offer because I'm not guilty," Farrah told Radar Online. "I have gone through a lot of counseling and therapy. I am also very mentally stable and have no aggressive issues. I can literally submit that to my lawyer, show that to the judge and it would still override this fake offer."
(The Ashley apologizes for not being able to provide a "Farrah Speak" translation for that quote. She has no idea what Farrah is talking about.)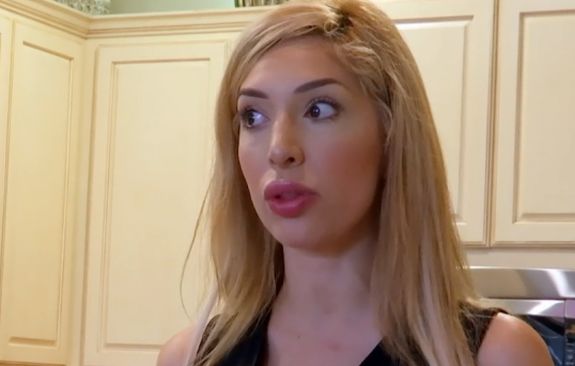 Multiple media outlets (as well as Farrah's attorney Tiffany Travillion) have confirmed that the "fake offer" is, in fact, very real. Farrah was reportedly offered a sweet plea deal by the prosecutor. Under the plea deal, Farrah's battery and resisting a peace offer charges would be dropped. (Only her trespassing charge would remain.)
She would be required to take 26 anger management classes, agree to three years of probation, perform community service and pay all court fees and fines. She would also be required to stay away from the Beverly Hills Hotel (which, of course, would be very hard for Farrah, who considers herself a Top Celebrity In Our Nation.")
E! News reports that Farrah rejected the plea deal and entered a plea of "not guilty."
Farrah, who, naturally, toted her nine-year-old daughter Sophia to the court hearing, seemed to think that her charges have been dropped. She spoke to TMZ paparazzi after leaving the courthouse to declare that someone will pay for "harassing" her.
"I'm not guilty, battery dropped, case closed!" Farrah told TMZ. "I'm just happy they wanted to drop the battery. We just have to see it through, watch the videos and make sure someone is charged properly for incrimination of a celebrity!"
(Look at Farrah's lawyer's face after Farrah says this. It's at the 46-second mark and it's a real hoot!)
Farrah told Radar Online that she was not trespassing at the hotel, and she did not hit anyone; therefore she refuses to plead guilty and accept the plea deal.
"I didn't batter someone," she said. "This is just, to me, another form of again, 'No celebrity face, there would be no case."
(This may be Farrah's attempt at coming up with a legendary legal term a la Johnnie Cochran's ill-fitting glove quote during the O.J. Simpson Trial. Sorry Farrah, but your rhyming line is no "if it doesn't fit, you must acquit!")
Farrah told E! News that she is not like those "other" 'Teen Mom' stars with legal issues.
"I don't need any criminal records," Farrah (who has a criminal record thanks to her 2013 DUI arrest) said. "I'm not like the other Teen Moms…I don't think it's funny when people are harassed. I'm not a victim, I'm a victor."
Radar reports that, according to the prosecutor in the case, Farrah could be facing up to 18 months in jail if she is convicted of the battery and resisting arrest charges.
Farrah's estranged mother, Debra Danielsen, told The Ashley last month that she feels that Farrah may benefit from spending some time behind bars.
"She needs to go to jail," Debra told The Ashley. "Just like Amber [Portwood] needed it. Farrah needs it."
Following her hearing, Farrah (of course) immediately got on Instagram Live to proclaim her innocence.
"Try me, approach me, attack me, but God's got my back and I'm never guilty of these lies and bullying and horrible things," Farrah said. "At a legal level, it's incrimination."
Farrah will have to appear in court on September 21 to attend an early disposition conference.
Watch the video from the night Farrah was arrested at the Beverly Hills Hotel! ((The video does contain some naughty language, just FYI, but it's quite the treat!)
RELATED STORY: Farrah Abraham Officially Charged with Battery & Resisting Arrest After Beverly Hills Hotel Incident
(Photos: Tibrina Hobson/Getty Images;