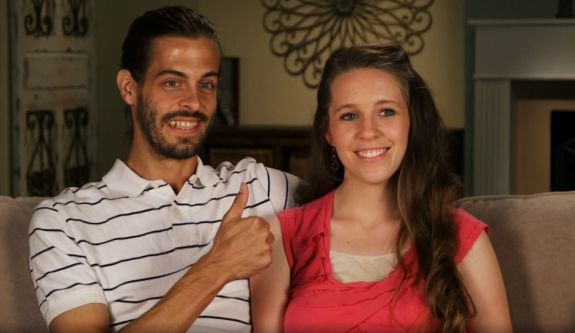 Derick Dillard's career as a reality TV star didn't work out so well, so the husband of Duggar daughter Jill has come up with a new career plan!
The former Counting On star announced on his family's website on Monday that he is starting law school.
"We are excited to announce our future plans!" Derick and Jill wrote in a blog post. "We will be remaining stateside for now as Derick is beginning law school at the University of Arkansas. We look forward to seeing how God will continue to direct our family in this new chapter of life!"
Derick has had quite a few "jobs" since he married Jill back in 2014. At the time of their wedding, Derick was working as an accountant for Wal-Mart. In 2015, he quit that job and became a "missionary." That career had him, Jill and their then-infant son Israel trekking to the jungles of Central America to convert the locals to Christianity…or something.
Over the course of several years, Jill and Derick hit up 'Counting On' fans for donations to help fund their mission work.
After the birth of Derick and Jill's second son, Samuel, in 2017, Derick decided to head to ministry school. Again, he asked the show's fans to help him fund his schooling. According to the Dillards' website, Derick graduated from the Cross Church School of Ministry's residency program last week.
After Jill announced Derick's new "Legally Fundie" plans on her Instagram account, fans had a mixed reaction to the news. While many congratulated Derick on his new career path, others were skeptical that Derick would make a great lawyer, due to him being so outspoken about his conservative beliefs.
"So a lawyer? What happens if his client is gay?" a follower asked.
Others wondered why Derick was just now making this career jump.
"About time he does something legit to get a job and make some money," one person commented.
"Why is it he can't make up his mind on what to do?" one person wrote in the photo's comment section. "Support your family! Is Jill going to be able to handle this? She couldn't even handle him working at Wal-Mart."
Derick has previously stated that he and Jill were not paid for appearing on 'Counting On,' and that they were "volunteers." He did not reveal whether or not he will work while going to school, so it's not known how the Dillards plan to pay their bills. (Jill surely won't be using her "cooking skills" to cater Duggar baby showers and weddings to make ends meet!)
Back in July, the Duggar Family News: Life is Not All Pickles & Hairspray Facebook page posted that Derick was planning to head to law school. According to the page, the University of Arkansas' law school program costs a whopping $16,000 a year.
Thankfully, though, the Dillards have not publicly asked for donations…yet.
RELATED STORY: Derick Dillard Criticizes Another Transgender-Themed TLC Reality Show: Implies Stars of 'Lost in Transition' Are Mentally Ill 
(Photos: TLC, Instagram)