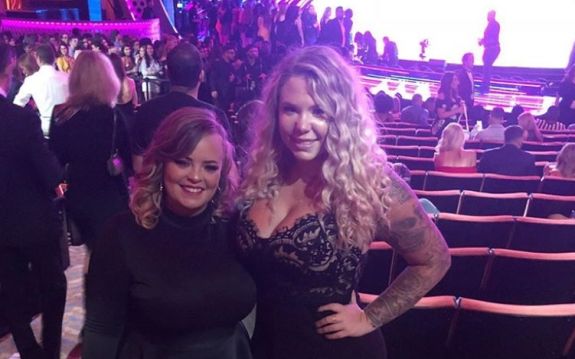 A handful of Teen Mom franchise stars hit the red carpet on Monday, strutting their stuff before attending the 2018 MTV VMAs at Radio Center Music Hall in New York City.
This year's 'Teen Mom' turnout was a bit light compared to last year's, when the 'Teen Mom' crew took up a whole section of the audience!
This year's attendees included Kail Lowry of 'Teen Mom 2,' Tyler Baltierra and Catelynn Lowell of 'Teen Mom OG,' and booted 'Teen Mom' Farrah Abraham, who brought her daughter Sophia with her. 'Teen Mom' franchise producer Larry Musnik also attended.
(Tyler's appearance was surprising, given the fact that he did not attend the event last year, stating, "I may be weird, but those award show/red carpet things don't excite me…besides I feel like I don't belong there.")
The rest of the 'Teen Mom' gang decided to skip the trip to the MTV awards show. As per usual, Maci Bookout and Chelsea Houska chose not to attend. (Chelsea is currently very pregnant, but she has stated in the past that she has no interest in attending red carpet events.)
This year, Catelynn went much more glam than we've ever seen her– wearing a short black dress and some mustard/gold-colored tights. Tyler went for a very "Uncle Jesse from Full House' look, pairing a white deep-cut tank top with a black jacket and plenty of long chain necklaces.
View this post on Instagram
Kail chose a sexy black lace jumpsuit, paired with wild curly hair. While the jumpsuit showed off plenty of cleavage, it still covered up more than Kail's 2016 VMAs outfit did. (She recently revealed that, of all the outfits she's ever worn, she regrets that one the most, due to the top showing her nipples.)
Farrah actually wore a semi-normal outfit to this year's VMAs. She walked the red carpet in a striped jumpsuit and slicked hair. Last year, she dressed herself and Sophia like some sort of space creatures, while the year before she wore a Wonder Woman costume because… well, she's Farrah. (Someone must have finally told her that the VMAs are not a costume party!)
Jenelle Evans and her husband David Eason did not attend the VMAs (more on that later!) However, David was definitely watching the show from home, as he voiced an opinion about something that happened during the broadcast.
"Wow MTV its ok for Kevin Hart to say GD on live TV? You can blasphame God but you can't have an opinion. #Racists #Liberals," he wrote on Instagram.
(As you'll remember, David was fired by MTV in February for voicing his "opinion" on the LGBTQ community, comparing gay people to dogs with fleas, among other things.)
Check out the video and photos below to see more of the 'Teen Mom' stars' trip to the VMAs!
View this post on Instagram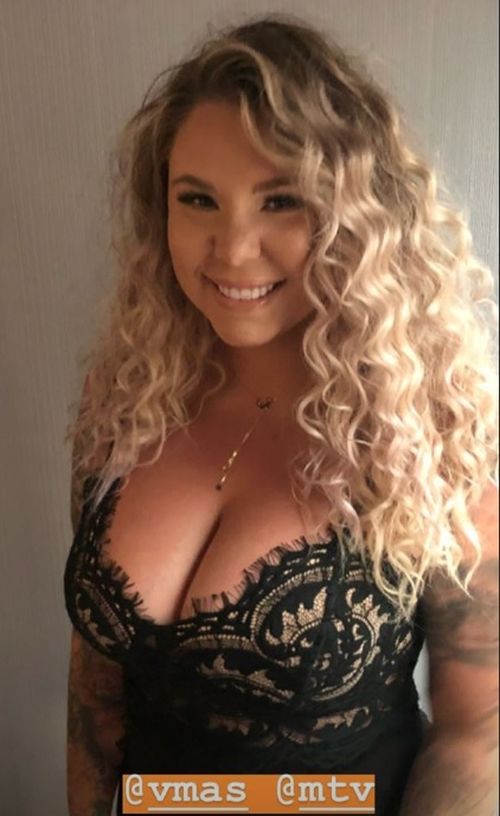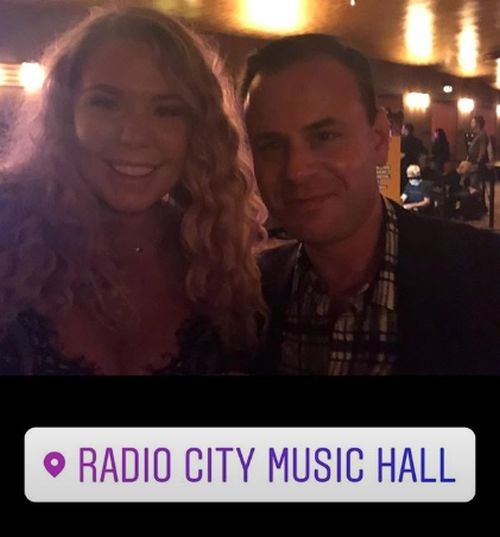 RELATED STORY: Chelsea Houska Reveals Why She Never Attends MTV Awards Shows with Her 'Teen Mom' Castmates
(Photos: Instagram, Getty Images)