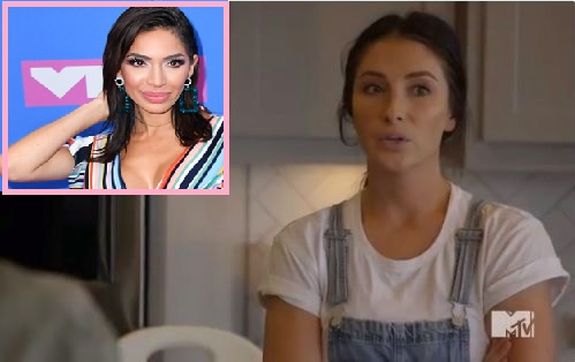 The eighth season of Teen Mom OG won't premiere until October, but MTV gave the show's fans a sneak peek at a scene starring the newest 'OG'-er, Bristol Palin!
In the just-released clip, Bristol chats with her mother, Sarah (who The Ashley just knows will provide her with plenty of recapping fodder!) During the talk, Bristol (who gave birth to her first child, Tripp, at the age of 17), talks about her life being a mess.
Well…she's certainly on the right show!
"I was a teen mom," she says. "My life is NOT perfect at all!"
"Amen!" a plucky Sarah replies.
"I want to do what's best for my kids," Bristol, who is also mom to two-year-old Sailor and 14-month-old Atlee, says in another part of the trailer.
As The Ashley previously told you, Bristol was contacted by MTV to replace original OG'er Maci Bookout on the show, after Maci refused to film unless her troubled ex, Ryan Edwards, was kicked off the show. (MTV eventually did, indeed, agree to stop filming Ryan and his wife Mackenzie.)
There was already an opening in the cast, due to Farrah Abraham getting booted from the show last year.
Naturally, Farrah didn't miss an opportunity to slam the show and its newest cast member. On Monday, Farrah was asked what she thought of Bristol joining the cast. According to the Backdoor Teen Mom, Bristol is trying to become Farrah…or something.
"I think it's like 'Girl, Interrupted,'" Farrah told Associated Press on the red carpet of Monday's MTV VMAs. "I see a girl try to move to where I live [Texas], try to have a piano (?), have the Pomeranians, have the same spot as me," Farrah said. "I'm actually kind of scared for that.
"I wish them all the best, but I'm very happy to move on," Farrah added.
Last month, when asked for her feelings on Bristol joining the show, Farrah told Us Weekly, "Who cares! I don't care, as there's no replacement for me, as we all know."
For her 'Teen Mom' efforts, though, Bristol will be making big bucks from MTV. The divorcee is reportedly raking in about $250,000 for her first season of the show. As The Ashley previously reported, Bristol's high-dollar starting salary pissed off the show's other cast members— Amber Portwood, Catelynn Lowell and Maci Bookout— as well as some of the Teen Mom 2 girls, who all started off the show making hundreds of thousands of dollars less than Bristol is.
According to MTV, 'Teen Mom OG' Season 8 premieres October 1.
Watch Bristol's first promo below:
RELATED STORY: Bristol Palin Speaks Out About Joining the Cast of 'Teen Mom OG'; David Eason Says MTV Is "Comprised Of Hypocrites" For Hiring Bristol
(Photos: MTV, Getty Images/Angela Weiss, Instagram)