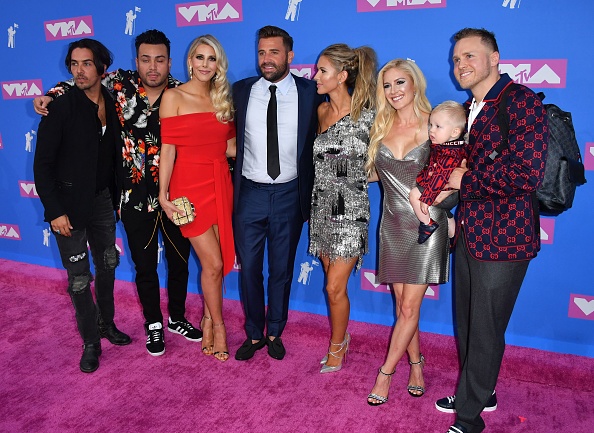 The kids from The Hills may be all grown up now…but that certainly doesn't mean they'll pass up the chance to get back on TV!
MTV reunited a few familiar faces from the hit reality show during Monday's Video Music Awards to confirm that 'The Hills' –and most of the show's cast members— will be returning to MTV next year in the new spin-off The Hills: New Beginnings!
According to an MTV press release, 'The Hills: New Beginnings' will showcase the "grown-up" lives of some of the original show's stars.
"'The Hills: New Beginnings' will reunite original cast members, alongside their children and friends, and follow their personal and professional lives while living in Los Angeles," the press release stated.
'Hills' cast members who are slated to appear in 'New Beginnings' include Audrina Patridge, Heidi Montag, Spencer Pratt, Justin Bobby Brescia, Stephanie Pratt, Frankie Delgado and Jason Wahler. That entire group appeared on the VMAs pre-show to announce the spin-off.
Whitney Port did not attend the VMAs with her former cast mates, but on Tuesday she seemed to be announcing that she, too, was signing on for the reboot. Whitney posted a throwback photo of herself to Instagram, along with a caption that seemed to confirm that she was in.
"Throw back to my first VMAs look. Good thing I get to go back and make up for my insane looks on #thehills on the NEW HILLS REBOOT!!! Maybe they'll let me out of the fashion closet this time," she captioned the photo.
Brody Jenner is also "in talks" to join the new show, according to a report on Tuesday from The Hollywood Reporter.
Noticeably absent from the announcement was Lauren Conrad, who was the star of 'The Hills' for five of its six seasons. Kristin Cavallari, who filled the narrator role after LC's departure, was also missing from the cast list.
While Lauren's return to the show seems unlikely, hopes of a Kristin comeback aren't completely out of the question. Early this year, the once-queen bee told Spencer and Heidi on their Make Speidi Famous Again podcast that she was down to do a reunion, adding "with or without all of the cast members is fine with me."
"I think it would be so much fun," she said on the show.
Of course, Kristin's reality-show schedule is currently occupied with her E! show, Very Cavallari; however, Kristin seemed at least open to the possibility of appearing on the new show, unlike some of the other original staples of 'The Hills.'
It's unlikely that we'll see Lo Bosworth on the new show, as she recently said that she disliked the world of reality TV in general.
"I'm a feminist and I find that a lot of the storylines portrayed on reality television aren't particularly supportive of women or their missions in life or their businesses," she told Us Weekly, adding that "it's just not something that's for me."
Lo had previously stated that she would not participate in a 'Hills' reunion. During an episode of her podcast in February, Lo said she didn't "want any association with those people."
"I think everybody actually feels that way about their coworkers, which is really what 'The Hills' was," she said. "They were all just my f**king coworkers. It was a job. A j-o-b."
So… that's a no, right?
As for the cast mates/coworkers planning to participate in the show, it seems they're pretty pumped to come back to MTV.
"We may all be grown up, but this is just the beginning… #TheHills The rest was still unwritten…until now," Audrina tweeted along with the show's teaser.
Frankie also posted the video, adding "Don't call it a comeback."
As for Spencer, he's been on a retweet spree following the big announcement, sharing a steady stream of tweets from excited fans.
It appears that Spencer and Heidi's "Make Speidi Famous Again" crusade might actually come to fruition…
According to The Hollywood Reporter, the cast of 'The Hills: New Beginnings' has not started filming yet. The show is expected to premiere in 2019. Watch the first teaser clip for the show below:
(Photos: Angela Weiss/AFP/Getty Images, Instagram)