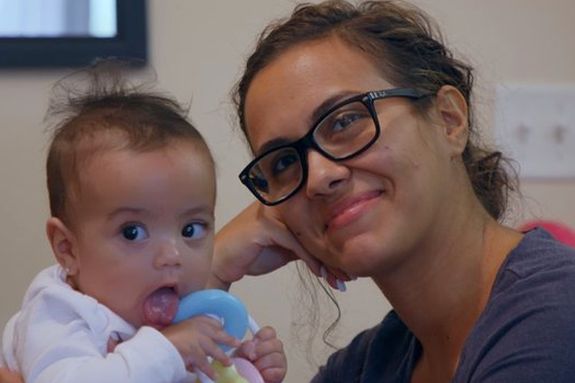 Teen Mom 2 star Briana DeJesus' youngest daughter Stella is finally home and recovering after having emergency surgery over the weekend.
In an interview with Us Weekly, Briana recounted the 13-month-old's battle with a serious infection called septic arthritis.
"She could have possibly died," Briana told the magazine of her daughter.
Briana stated that she rushed Stella to the emergency room after the baby's fever reached 104 degrees and she noticed that Stella was having difficulty moving her left arm.
Briana said that, at the hospital, an MRI showed that Stella had fluid on her joints. It was later revealed that Stella had septic arthritis, an infection that would require surgery.
"The doctor said nobody knows how one gets it," she told Us Weekly. "A simple bug bite or scratch can open up flesh and bacteria can travel."
Briana said she broke down in tears when she learned that her baby would need surgery.
"I'm happy I ended up trusting my gut and taking her to the ER as the infection could have grown and entered her bloodstream and she could have become extremely sick," she told the magazine.
While Stella's father, Luis Hernandez was a no-show for his daughter's surgery, Briana's trusty mom Roxanne DeJesus was there to support Briana and Stella.
The day of surgery Roxanne tweeted, "I learned today that I'm an emotional eater. Never noticed it till today. Weird that under so much stress and anxiety I wanna eat food. It's been a long day."
On Thursday Briana tweeted, "Stressful stressful day but Stella is resting and that's all that matters."
Briana also tweeted her appreciation for the hospital that cared for Stella.
"(Nemours) really is the best hospital. So blessed to know Stella is in great hands," Briana tweeted.
On Monday, Briana updated her fans, letting them know that she and Stella were home from the hospital and that the baby was expected to make a full recovery, even though she will be required to take antibiotics for six weeks. Briana was scheduled to attend the MTV VMAs on Monday, but was unable to go due to Stella's health crisis.
"Glad to be home with both my babies," Briana tweeted on Monday.
Happy to be home pic.twitter.com/1aM5ppQDph

— Briana Dejesus (@_BrianaDejesus) August 21, 2018
On Tuesday, Briana told a fan on Twitter that, sadly, Luis had yet to even check in with her about his daughter's condition.
"So tired of doing this alone smh," Briana wrote on Instagram live on the day of Stella's surgery.
Unfortunately, this isn't the only health scare Stella has had over the course of her life. In October of 2017, Briana revealed to Radar Online that Stella, then a newborn, suffered from a ventricular septal defect. At the time, Briana stated that the baby was born with three small holes in her heart.
Some of the issues regarding Stella's heart condition were covered on Briana's first season of 'Teen Mom 2.' Since Briana is currently filming the ninth season of 'Teen Mom 2,' there's a chance that Stella's health crisis could be covered on the new season.
(Photos: MTV, Instagram, Twitter)