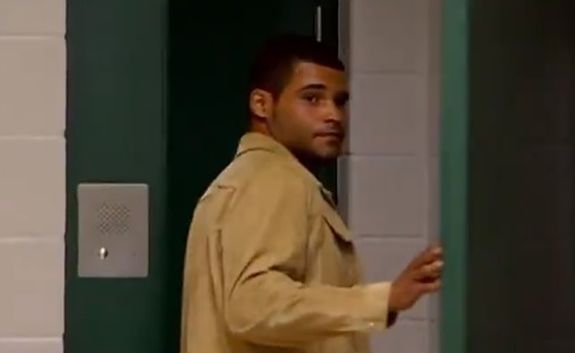 Well Juh-nelle! It looks like ya ex-boooooooyfriend is gonna be in prison for a while!
Kieffer Delp, the former soulmate of Teen Mom 2 star Jenelle Evans, finally had his day in court on Wednesday, seven months after he was arrested for operating a meth lab out of his basement apartment (as you do).
The Ashley told you last week that "Kieffa" was facing four felony charges and three misdemeanor charges, stemming from his January arrest. Radar Online reports that, on Wednesday, Kieffer attended his non-jury trial and accepted a plea deal for his crimes. A Clerk of Court for Allegheny County told Radar that Kieffer agreed to serve 18 to 36 months in a state correctional institution.
As part of the plea deal, all of Kieffer's charges were dropped except for three. He pleaded guilty to a second-degree felony charge of "Operating a Methamphetamine Lab," a third-degree felony charge of "Risking Catastrophe" and a felony charge of "Manufacture, Deliver or Possession with Intent to Manufacture or Deliver."
Kieffer will be credited with the time he's already served behind bars. (He's been sitting in jail in Pennsylvania since his arrest on January 10.) After he does his time, Kieffer will be on probation for three years. (Luckily for him, "bein' a felon ain't illegal!")
Whoops lol lmao haha pic.twitter.com/5BLFxZozoF

— kieffer delp (@confidence117k) February 9, 2015
However, according to online court dockets, Kieffer is not eligible for Pennsylvania's Recidivism Risk Reduction Incentive. (This basically gives non-violent offenders the opportunity to reduce their minimum sentences if they complete certain prison programs and show good behavior during their sentence.) Since he's not RRRI eligible, Kieffer will likely have to serve at least his minimum sentence of 18 months.
'Teen Mom 2' fans got to see Kieffer's mug on their TV screens again when he appeared on the December 2017 'Teen Mom 2' special, "The Ex Files," which caught viewers up on what all of Jenelle's former soulmates are up to these days. During the special, Kieffer stated that he no longer used "hard drugs" but he did still enjoy "smokin' the weeeeeeed!"
Wanna see his latest mugshot? Of course you do! 
Relive a special "Kieffer and Jenelle" scene from the early days of 'Teen Mom 2' by watching the clip below!
RELATED STORY: 'Teen Mom 2' "Jenelle Evans: The Ex Files" Special Recap: A Stroll Down Soulmate Street
(Photos: MTV, Twitter, Allegheny County)