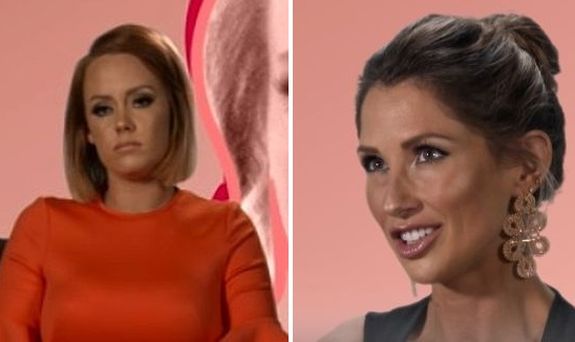 Ashley Jacobs has publicly extended an olive branch to her Southern Charm nemesis, Kathryn Dennis.
On Wednesday, Ashley— who viciously insulted Kathryn's parenting several times during the most-recent season of the show— posted a publicly apology to Kathryn, admitting that she "crossed a line" when she attacked Kathryn. Over the course of her verbal lashings, Ashley called Kathryn a bad mother and labelled her an "egg donor" to the two children Kathryn shares with Ashley's now ex-boyfriend Thomas Ravenel.
"I owe you all an apology," Ashley wrote on Instagram in a post addressed to "all the 'Southern Charm' fans in general, and Kathryn in particular."
"I'd like to apologize for how I treated Kathryn, and how badly I disrespected her," Ashley wrote. "I'm not sure what made me think it was okay to speak to a mother that way. It wasn't. It was not my place to say anything at all, much less the reckless comments I made. I crossed a line and hurt people who don't deserve it."
Ashley explained that, because she is not a mother, she didn't understand how hurtful her words would be to a mom.
"After many chats with my friends and family with children, I never understood the unbreakable bond a parent has with their child," Ashley wrote. "I can listen and learn and be more respectful in the future but until I'm blessed with a child, I can never truly understand the sacrifices a parent makes on behalf of their children. Some children may not truly get it until they have their own baby. It makes me feel horrible that I may have taken my own parents for granted and thus I've learned a tremendous lesson from all the good parents out there.
"I can't rightfully describe how sorry I am, but I'd never forgiven myself if I didn't at least try," she added.
In the comment section of the Instagram post, 'Southern Charm' fans called Ashley out for posting the apology publicly, rather than apologizing to Kathryn in private. Ashley responded to the comments, stating that she did, in fact, attempt to make nice with Kathryn face-to-face, but Kathryn did not want to meet with her.
"I have tried to ask her to lunch/coffee so I could apologize to her person to person," Ashley wrote. "That's all I can comment on that."
She later told another nay-sayer, "How do you know I have not attempted to apologize to her person to person? I've posted this online as an attempt to reach out to thousands I've additionally hurt. My only motive is to feel better. And yes, it does make me feel better to apologize publicly so I may have peace with my own conscience."
Ashley reportedly split with Thomas earlier this month. However, in the comment section of her apology post, Ashley confirmed to a fan that she had yet to move back to her native California and that she is still currently in South Carolina.
Kathryn has not responded to Ashley's apology. However, during a 'Southern Charm' After Show that was filmed after the season, Kathryn stated that she would would not accept an apology from Ashley, should it ever be offered.
"Honestly, no, [I would not accept her apology]," Kathryn said. "It's been five months or so since the last time she has spoken to me. Not a single apology. Not an acknowledgment of anything at all. To me that just signals someone who is not here for the right reasons, or gives a s**t about our family.
"She doesn't care about [my] children if she is not even trying to have any type of relationship with me," Kathryn continued. "In my opinion everything that she's said to me thus far she clearly stands by. It's unforgivable."
In the same interview, Ashley claimed that she tried to apologize to Kathryn via a phone call, but Kathryn did not accept her call.
Watch Kathryn and Ashley discuss their strained relationship in the clip below:
RELATED STORY: Thomas Ravenel Says He's Leaving 'Southern Charm': "I Decided I've Got Too Much To Lose" 
(Photos: Bravo, Instagram)