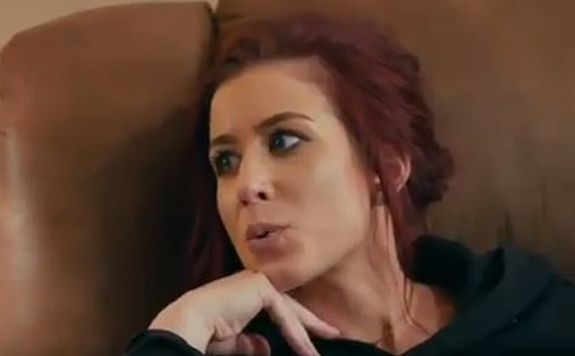 From celebrating milestones to shooting down rumors, the stars of the Teen Mom franchise have certainly been busy over the last few days!
In an effort to bring you up-to-date on all of the 'Teen Mom' happenings from the past few days, The Ashley brings you the Teen Mom News Pile!
Here are some of the major (and minor but interesting) Teen Mom OG and Teen Mom 2-related things that happened so far this week…
Chelsea Houska Dispeled "Clickbait" Rumors That She's Already Given Birth
Earlier this week, 'Teen Mom' cast members posted a clickbait story (which are, by the way, the bane of The Ashley's existence) stating that 'Teen Mom 2' star Chelsea had already given birth to her third child. Chelsea rarely responds to rumors about herself, but on Wednesday she took to Twitter to report that, despite what the clickbait sites are saying, she's still very pregnant.
"Nope! Huge and bouncing on my ball right now," Chelsea tweeted in response to fans who were asking if she'd expelled The Spawn of Cole from her loins yet.
She later clarified that, when she does give birth to her daughter, 'Teen Mom' fans won't be hearing about it via clickbait stories.
"I can promise everyone that whenever I AM in labor…nobody will know..and there def won't be posts and silly little articles about it," she tweeted.
Chelsea is definitely not in the hospital having a baby. In fact, she was spotted at a local cupcake shop in South Dakota, having treats with Aubree and filming for the upcoming season of 'Teen Mom 2.'
"Sophia Abraham" Writes About How Amazing Her Mother Farrah Abraham Is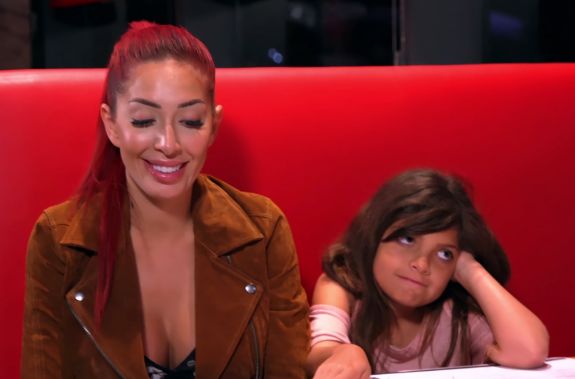 'Teen Mom' fans know that no one loves Farrah more than, well, Farrah. However, in an attempt to make it look like her nine-year-old daughter, Sophia, loves her almost as much as she loves herself, Farrah seemingly hijacked Sophia's Instagram to write a post about how great she is. Of course, Farrah attempted to make it look like Sophia herself wrote the post.
Farrah "Sophia" posted a photo of herself and Farrah at the recent MTV VMAs, along with a caption that read suspicously like "Farrah Speak." (I mean, there's a chance that nine-year-old Sophia knows what a "humanist" is but…the run-on sentences–which are a Farrah trademark– kind of gave it away that this post was probably authored by Farrah.)
"My mom has truly shown me to stand up for what is right when everyone is against you and in doing so being the upright humanist she is and rising, winning & succeeding to the point where the world is limitless , I'm so thankful for my mom and the impact she has made in the world , I love my mom and have the best mom in the world looking forward to our next travels together," Sophia wrote.
Despite Farrah's best efforts to pass the post of as Sophia's words, fans weren't buying it.
"Farrah please get it together," one person wrote. "We all know your daughter didn't write this."
"Farrah you truly are a f**king nutjob! Writing this s**t pretending to be Sophia… A nine-year-old who doesn't go to school would NOT word it like this. You really should get help," another person wrote in the post's comment section.
Farrah then commented on "Sophia's" post, writing, "Love you best daughter ever! I'm excited for our travels too! Proud of you!"
Catelynn Lowell & Tyler Baltierra Celebrated Their Third Wedding Anniversary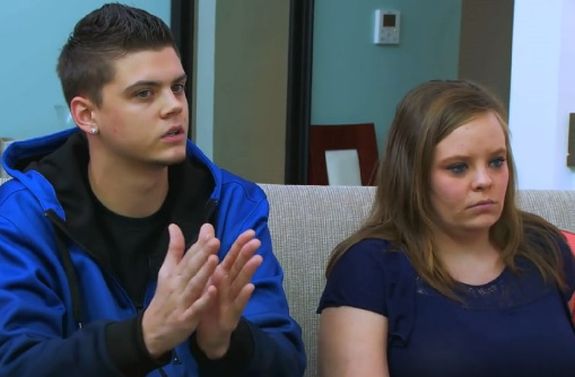 Wednesday marked the third anniversary of the day 'Teen Mom OG' stars Catelynn and Tyler got hitched, so, naturally, the long-time couple took to Instagram to commemorate the special occasion. Both posted tributes to the other, with each acknowledging that they have gone through plenty of hard times. (They did not, however, address the recent rumors that they are having marital problems.)
"HAPPY 3 YEAR WEDDING ANNIVERSARY @catelynnmtv our journey has not always been the easiest…but I believe that anything that's truly worth it is never easy," Tyler wrote in the caption of an old photo of him and Catelynn. "13 years together & now 3 of them as a married couple & I wouldn't take back these years for anything. We have grown, we have cried, we have laughed, we have experienced life together, & now we have been with each other for half of our existence & I'm honored & blessed to be able to say that you've been by my side for half of my life now. I love you so much!"
Catelynn posted a few photos from their 2015 wedding, along with a sappy caption about Tyler.
"Happy anniversary to my husband!" she wrote. "We have had some really rough times and some amazing times. I wouldn't want to go through this life with anyone but you!!!! Happy 3 years and I can't wait for many more! I love you."
Bristol Palin's Nine-Year-Old Son Tripp Reportedly Joined the Cast of 'Dancing With the Stars-Juniors"
One of the newest 'Teen Mom OG' kids has reportedly signed on to star on yet another reality TV show.
Bristol Palin's oldest son, Tripp, will appear on the upcoming season of 'Dancing With The Stars: Juniors.' TMZ broke the news on Wednesday that the nine-year-old will make $50,000 for appearing on the show. The longer he stays on the show, the more Tripp will make. TMZ reports that he could make up to $130,000 if he survives on the show until the finale.
He will also be getting a paycheck for appearing on 'Teen Mom OG' with his mom. (Bristol will be clearing a cool $250,000 for her first season, by the way!)
Of course, Tripp being on two reality shows at about the same time goes directly against what his grandma, Sarah Palin, said when asked if her family had caught the reality TV bug.
"Heck's no! We're not doin' the reality star type thing!" Sarah said in an interview last month. "[Bristol] sees this as a venue, a forum to help people in a hurtin' world."
To read more of The Ashley's latest 'Teen Mom' stories, click here!
(Photos: MTV, Instagram)