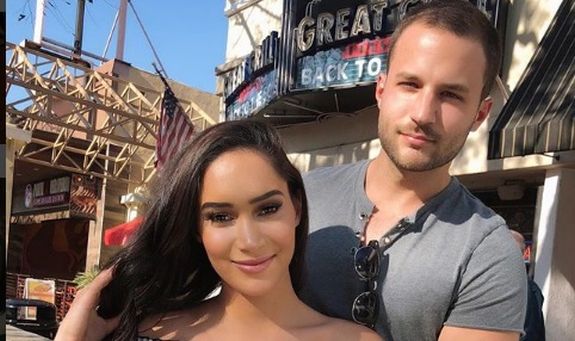 It's a boy for Are You The One? couple Gianna Hammer and Hayden Weaver!
The couple, who met on Season 5 of the hit MTV dating show, announced the birth of their son via a series of Instagram posts on Saturday. Gianna and Hayden named their son August.
"24 hours of labor ending with a c section… only for you, August," Gianna wrote in the caption of an Instagram photo of her holding her new baby.
In his own Instagram post, Hayden discussed the difficulty Gianna had bringing August into the world.
"We were awake for 36 hours before you made mommy get a C section, but meeting you was still the single greatest moment of our lives, Little August," Hayden captioned a picture of the newborn. "Mommy and daddy love you so much."
Hayden and Gianna announced that Gianna was pregnant in February via an Instagram post. In the caption of a photo of Gianna holding the sonogram, she revealed that the pregnancy was not planned, but that they were thrilled to be parents.
"This came as a big surprise to us and am I nervous HELL YEA but I'm super super excited to grow this little bean into a cute lil mini me (or mini Hayden)," she wrote in the photo caption.
Last month, Gianna revealed that she and Hayden have not been living together during her pregnancy. She stated that the couple will be moving into a house together in Indiana this month.
"It's been weird not living together but it's worked out for the best," she wrote on July 9. "It's been so hard not being able to 'nest' and set things up but I've been working on my patience for 7 months lol I can do 2 more."
August is the third to be born to an 'AYTO' couple. Season One's Ethan and Amber Diamond welcomed a daughter in 2014. The couple's second daughter, Serena, joined the family in June.
(Photos: Instagram)