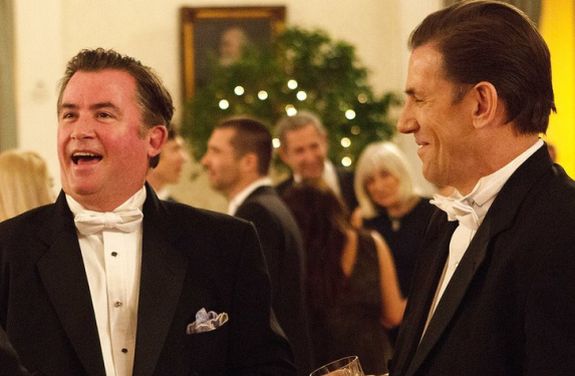 Four months after Southern Charm star Thomas Ravenel was accused of sexually assaulting multiple women, his pal and co-star J.D. Madison is facing similar allegations.
According to People magazine, an incident report was filed with the Mount Pleasant, South Carolina, Police Department on August 25 accusing J.D. (full name John David) of rape, sexual assault and involuntary drugging.
The unnamed South Carolina female, whose name was redacted by authorities, said on the evening of August 21, she joined J.D. (who has appeared on 'Southern Charm' as a guest since Season 1) at his house for a drink along with a male friend of J.D.'s and another female friend before heading out to a local bar.
While at the house, the woman claims J.D. intentionally broke a glass and as she cleaned up the mess, he "slipped a drug" into her already-poured drink that was sitting on the counter.
In the police report, the woman claimed that, after finishing her drink, she was in and out of consciousness. Though she said she remembers going out to the bar, she was "not feeling right" while there.
"This is when she stated that she felt like she might have been drugged," the police report reads.
Later that night (now in the early hours of August 22), the woman alleges that she woke up in the guest room of her house to J.D. "forcibly raping and sodomizing her."
Amy Feinstein, a reporter for FITSNews, claims to have spoken with the victim, who told her the alleged attack only stopped when J.D. received a phone call from his wife, Elizabeth. She also identified the male friend that was with the group that night as Jay Schwartz, a local chiropractor who was arrested on drug possession charges the same night.
The alleged victim also claimed that the female friend that joined the group was transported to the hospital that night for unknown reasons.
J.D. has yet to publicly comment on the woman's allegations.
During Season 5, 'Southern Charm' fans saw J.D. and Elizabeth deal with some marital issues and ultimately separate. The rocky relationship even caused cast member Naomie Olindo to confront J.D. at a dinner party.
During the confrontation, Naomie accused J.D. of being inappropriate with other women and mistreating Elizabeth—which ultimately backfired when Elizabeth denied Naomie's claims later that season, on the show and on social media. Elizabeth continued to deny the claims in April when speaking to Bravo's Daily Dish.
"With time apart, it allowed us to heal and to grow as human beings," she said. "We are better people now than we were then. J.D. is, and always has been an amazing father. His dedication to them through all of this has been amazing. I see him clearer now for who he is and I know him better than anybody on this earth. I have seen him go through so much and he just keeps on fighting… He is still a royal pain in the ass at times, and such an extremist, but he has warmed my heart again, and I am taking things slow."
Elizabeth has yet to comment on the allegations made against her husband. However, she posted a photo of herself and J.D. to Instagram just days ago, seemingly implying that things are (or were) still going well between the couple.
According to People, the Mount Pleasant Police are investigating the allegations against J.D.
The sexual assault accusations of the father of four come just months after similar allegations were brought against his good pal, Thomas Ravenel. As The Ashley told you back in May, Thomas' former nanny—Nanny Dawn to those who watch the show—accused the him of sexual assault, which Thomas is still under investigation for by South Carolina Police.
Nanny Dawn's allegations surfaced only days after real estate agent Ashley Perkins alleged that Thomas had assaulted her mother, Debbie Holloway Perkins, in October of 2015 after meeting him on Tinder.
Though Thomas has denied the allegations against him, he opted to not attend the Season 5 reunion and has since announced that he will not be returning to 'Southern Charm.'
There is no word yet on whether or not J.D. will continue on with the show.
RELATED STORY: Thomas Ravenel Says He's Leaving 'Southern Charm': "I've Decided I've Got Too Much to Lose" 
(Photos: Bravo, Instagram)