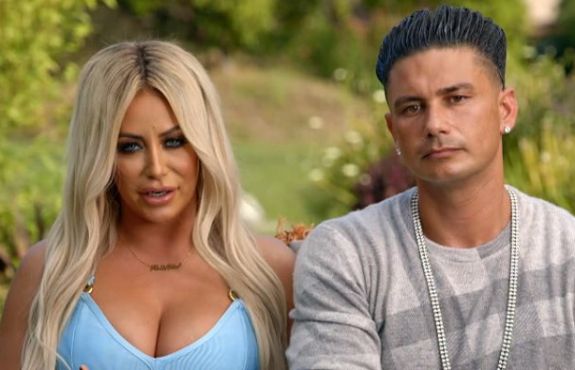 Just days after Aubrey O'Day told US Weekly that she "truly felt tortured" during her relationship with ex-boyfriend Pauly D, the Jersey Shore DJ is firing back with some criticism of his ex's remarks and adding a few of his own.
Upon hearing Aubrey's claims that their time together was tortuous, Pauly told Page Six he was "very shocked."
"And I'm like, 'Oh wow, this was a bit dramatic,'" he said. "And I'm like, 'Torturous'? That's an interesting word. If it was tortuous, why would you stay in a torturous relationship? And I'm the one that left her!
"I think that's a little fabricated but if that's the way she feels, it's a good thing we're not together anymore," Pauly added.
Pauly's 'Jersey Shore' roommates evidently feel the same way.
"They're so happy that I'm not in that relationship anymore and so am I," Pauly said.
Pauly and Aubrey's reality star paths first collided while filming the E! reality show Famously Single. The two were in a relationship from early 2016 to July 2017, and though they have since gone their separate ways, they are appearing together on the current season of WEtv's Marriage Boot Camp: Reality Stars.
At the show's premiere earlier this summer, Pauly told reporters he and Aubrey's issues had nothing to do with the alleged affair she had with Donald Trump Jr.
"I found out when the world found out, it was in the press and I said, 'Oh wow! That's crazy," he told Page Six. "Hey listen, she did what she had to do at the time, I guess.
"The way I feel is I dodged a bullet," he added. "I'm glad that I was out of that whole situation."
Since calling it quits with Aubrey, Pauly's 'Jersey Shore' co-stars Mike "The Situation" Sorrentino, Nicole "Snooki" Polizzi and Angelina Pivarnick have all spoken out, stating that Pauly was "too good" for Aubrey. Mike also called Aubrey—whom he met while filming Season 5 of 'Marriage Boot Camp' in 2015— "very dramatic" in a recent interview. (She appeared on that season of the show with her then-boyfriend Travis Garland.)
Pauly defended his co-star's remarks, noting that Mike had witnessed his "crazy relationship" with Aubrey.
"He always has my back as my brother and he sees that she's not the right one for me," he said.
Pauly, now a single man, can be seen searching for Ms. Right (or Ms. Right Now) on Jersey Shore Family Vacation, which airs Thursdays on MTV.
(Photos: WETV, Instagram)