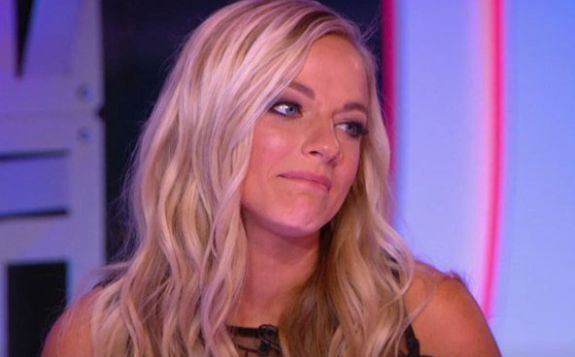 Next week, fans of the Teen Mom franchise will get a chance to check in with Mackenzie McKee—former Teen Mom 3 star and (almost) Teen Mom 2 and/or Teen Mom OG cast member—in a 'Where Are They Now?' special.
According to the official episode description, the September 19 special will follow Mackenzie as she raises her three kids, runs a fitness business and "has a husband who doesn't understand how hard she works." In the episode, fans will also see Mackenzie deal with her mom Angie Douthit's Stage 4 cancer diagnosis.
While the special will give fans a chance to check in with Mackenzie, it's not quite the network comeback she expected to make. The former 'Teen Mom 3' was jerked around for months, with promises of being added to one of the 'Teen Mom' show casts!
As The Ashley previously told you, Mackenzie nearly missed making the cast of both Teen Mom OG and Teen Mom 2 this year. Mackenzie had been on the short list of names of moms MTV was considering to replace Farrah Abraham on 'OG.'
A few months back, when Jenelle Evans absolutely refused to sign a Season 9 contract for 'Teen Mom 2' (due to various demands), MTV again considered plugging Mackenzie into Jenelle's spot, even heading to Oklahoma to film additional footage "just in case."
"MTV is gathering footage just in case Jenelle doesn't sign on," The Ashley's sources told her last month. "They can add Mackenzie's story into 'Teen Mom 2.' If [Jenelle] does sign on, they will probably use the new footage in Mackenzie's mom's special."
However, Jenelle, much like the foundation beneath her home on The Land, ultimately caved.
After Jenelle signed on for 'Teen Mom 2' Season 9, Mackenzie was no longer needed.
Mac's (possible) spot on 'Teen Mom OG' eventually went to Bristol Palin and Are You The One? star Cheyenne Floyd. On the day that Cheyenne was announced as part of the 'OG' cast, Mackenzie was understandably disappointed about being jerked around by MTV yet again, and expressed it on Twitter.
"I've been done real dirty this year let's just say that…" she tweeted at the time of the announcement.
In a video posted to Instagram Live on September 7, the day after MTV confirmed Cheyenne as an 'OG' cast member, Mackenzie was honest about her feelings, although she did not specifically mention the casting snub(s) in the video.
"This year has been a bad year," Mackenzie said in the video. "I have been screwed over in every way possible. I have let people walk all over me. I've been promised stuff and people didn't keep [those promises]. It's just been a bad year, and I'm not just talking about one specific thing…"
I was expecting her to talk about her mom, but this seems MTV related, especially with all the recent changes, and the fact that we haven't even seen previews for this "special" they did. Do you know what she's talking about? @TheAshleysRR pic.twitter.com/djyiOred8E

— just sayin (@bullshitje) September 7, 2018
She also described how she received various phone calls on the day that Cheyenne was announced as a cast member. (We can assume that at least some of those calls were from people associated with MTV.) She also received a text that pissed her off. (Don't ya hate it when a network "breaks up with you" via text message?)
"Last night I got like five phone calls, bam bam bam, and then I got a text that was like the cherry on top of 'Mackenzie, you have been screwed over,'" Mackenzie said. "I just had a mental breakdown. I just lost it. It all came together in my mind and I just broke down."
While Mackenzie seems like she's being dramatic, it must be taken into consideration that this is not the first time MTV has dangled the 'Teen Mom' carrot in front of her and then swiped it away.
Back in 2017, MTV considered both Mackenzie and Briana DeJesus for the extra spot on 'Teen Mom 2.' They eventually gave the gig to Briana, with Mackenzie finding out about the casting snub by reading it in the press.
"They interviewed me and Bri two months ago, but chose her," Mackenzie old Radar Online in March 2017. "I thought, 'This can't be true!' I was confused."
Mackenzie may have initially been bothered by MTV's casting choices (and the fact that the show's producers basically jerked her around for almost a year), but she said she has no hard feelings toward Bristol or Cheyenne.
"I have nothing bad to say about anyone," she told Radar Online. "I am happy for them all. These girls have a great opportunity and I hope they use it in a positive way."
Despite her well wishes, Mackenzie regrets that she won't have the opportunity, outside of next week's special, to share the "touching story" of her mom's battle with Stage 4 brain and lung cancer with viewers who may relate to or be inspired by her mom's journey.
"Many out there have loved ones dealing with cancer and through my mom, I wanted to inspire those people out there to go out and live your best life, even if you're told you have 4-12 months [to live]," she said. "Some way somehow I will make sure she doesn't leave this earth without inspiring the world.
"Unfortunately, it's just not a story MTV is interested in," Mackenzie added.
While her storyline may not be what MTV is looking for long-term, Mackenzie said she'll continue sharing her story in an effort to help others.
"I went through dark days and I am a suicide attempt survivor," she said. "When I got through mental illness, I knew I was called to share my story. So maybe on another platform I can help others. I'm going to keep shining and focus on my mom and fitness journey. 2018 has been as sh**ty as it gets for me, but I'm strong and I will get through it."
Mackenzie's 'Where Are They Now?' special will air Wednesday, September 19 on MTV.
(Photos: MTV, Instagram)