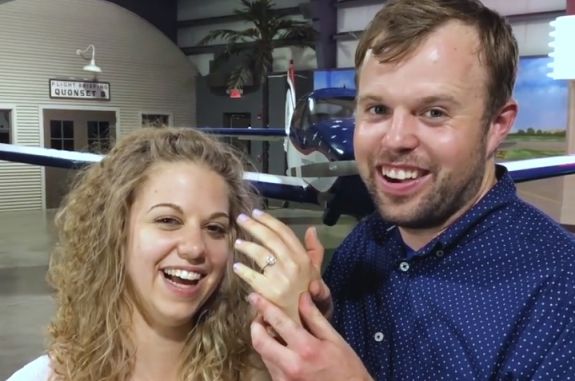 Wedding bells will soon be ringing for John-David Duggar and his (finally-not-a-teen) bride, Abbie Burnett!
The Counting On star is set to get hitched on November 3 in Oklahoma, according to the Duggar Family News: Life Is Not All Pickles and Hairspray Facebook page, which posted a photo of John-David and Abbie's wedding invitation over the weekend. According to the couple's wedding registry, the nuptials will take place in Stratford, Oklahoma, which is where Abbie is from.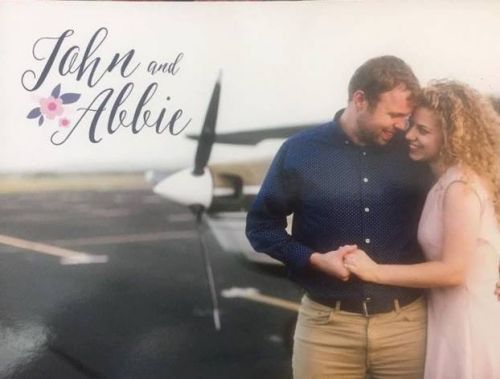 The front of the invite shows a smiling JD and Abbie standing on an airport runway with a plane in the background. (This, of course, matches their airport-themed proposal!)
The couple announced their engagement in July, following a one-month-or-so-long courtship. John-David and Abbie, at 28 and 26, respectively, are the oldest Duggar offspring couple to tie the knot. (Only Jinger's husband, Jeremy Vuolo, was older on his wedding day. He was 29 when he and Jinger got hitched.)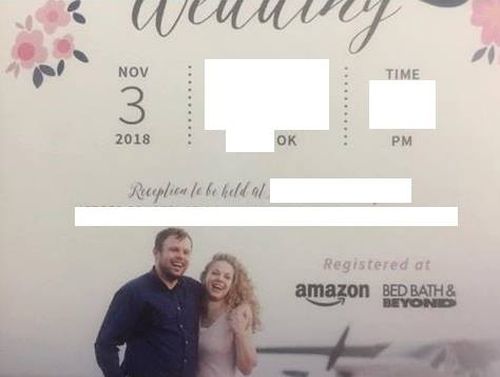 According to the Life Is Not All Pickles and Hairspray Facebook page, the Dugs are doing things to ensure there are no uninvited guests at the wedding witnessing the former "Bachelor Until The Rapture" tie the knot.
"The invite says they are going to be very strict about who enters the church. Only RSVP people allowed due to seating limitations," the Facebook page reports. "The reception is going to be quite different from what we've seen in the past."
(Does that mean that John-David's dad, Jim Bob, will finally spring for a new wedding suit? His trusty gray wedding outfit has got to be looking pretty tired at this point!)
Anyway, it appears that Abbie was dress shopping on Sunday at the Duggar's bridal shop of choice, Renee's Bridal in Mount Sterling, Kentucky. Photos of the TLC camera crew filming at the shop were posted to the shop's Facebook page on Monday. "Miss Renee" has been responsible for crafting the wedding gowns of John's sisters Jinger and Joy, as well as his sister-in-law, Kendra. Miss Renee also did the wedding dress of Duggar pal Tori Bates.
It's obvious that the Duggars prefer early November weddings (most likely because the timing coincides with filming schedules for 'Counting On.') John-David and Abbie will be the third Duggar couple to tie the knot in November. John's sister, Jessa married Ben Seewald on November 1, 2014, while Jinger married Jeremy on November 5, 2016.
Want to see John-David and Abbie's wedding registry? Of course you do! (Ignore the wedding date listed; the Dugs always use a fake date for their registries.)
To see by-the-number stats of all of the Duggar Family weddings, check out The Ashley's "Duggar Weddings: By the Numbers" post here!