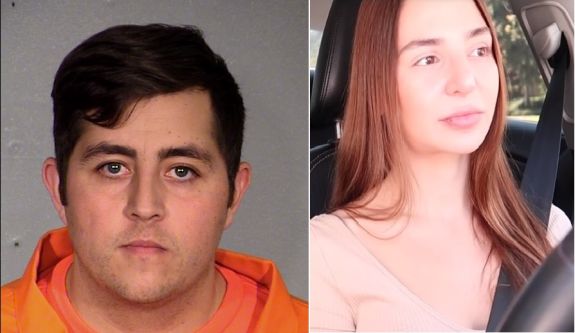 Jorge Nava is officially Arizona Prison Inmate No. 329992!
The 90 Day Fiance star checked into his new digs at the Arizona State Prison Complex in Phoenix last week to begin serving his 22-month prison sentence. Just days earlier, an Arizona judge basically "threw the book" at Jorge, giving him the maximum sentence allowed under the plea deal that Jorge's attorneys had arranged for him.
Jorge began his sentence on Thursday, September 13 and, according to online prison records, he will be eligible for release on August 9, 2020, with a max release date of March 9, 2021 (should he be required to serve his entire sentence). In a brand-new mugshot, Jorge can be seen sporting his prison orange jumpsuit.
Last week, Jorge and his wife Anfisa reacted to Jorge's harsh sentence in a YouTube video, with both stating that they felt that Jorge had been "profiled" by the cop that initially pulled him over (and found nearly 300 pounds of pot in his trunk!)
Jorge said that, due to the fact that he had been arrested several times in California for drug offenses, he ended up getting a harsher sentence than he would have had the Arizona arrest been his first offense.
"[My lawyer] told me if I didn't have an priors, I would have probably got probation," Jorge said. "I would have been a first-time offender in Arizona. But, I had two previous convictions for cultivation of marijuana. Just to set that straight; that's my criminal record. I've never done anything else. I've never even had a DUI."
Starcasm reports that Anfisa will have to travel just over five-and-a-half hours to visit Jorge in prison.
On the day Jorge officially checked into prison, Anfisa posted an emotional video to her YouTube channel, discussing her feelings about her husband being behind bars.
"Honestly it feels like Jorge is not the only one serving his sentence but I am too because, now I literally have nobody here in the United States," Anfisa, who hails from Russia, said. "I've just been trying to stay busy with school and going to the gym. I'm trying not to think about it because whenever I do I get emotional."
Anfisa stated that she has been able to talk to her husband via the telephone since he was locked up.
"For me, it feels really difficult to be alone, completely alone now, without any support system," she said. "I do talk to Jorge on the phone but I don't talk to him about it. I don't want to complain about how hard it is for me because he's in the worse situation. He's in jail. I just feel like my problems are nothing. At least I'm free."
Anfisa said that she and Jorge had planned to appeal Jorge's sentence by trying to get his prior drug convictions (that took place in California before marijuana was legal) removed from his record.
"When we contacted Jorge's attorney in Arizona, he said that we could do that but it would take us over a year, so that's basically when Jorge would be out if we don't appeal," Anfisa said. "Of course, it would cost money, and it just seems like the judge has something [out] for Jorge. To me, it feels like the judge was trying to make an example of Jorge or something…"
Anfisa also addressed the comments she had received on the previous video she posted with Jorge, in which she stated that she felt Jorge's sentence was unfair.
"I do agree with some of the comments that were not very nice," she said. "You guys said, 'Do the crime, do the time,' and things like that. However, I feel like Jorge's sentence was a bit excessive. If you do something wrong you should be punished, but the punishment should be reasonable."
Anfisa did not mention if she plans to continue to film for the "90 Day Fiance" franchise. (She and Jorge were last featured on "90 Day Fiance: Happily Ever After?" Season 3.)
Watch Anfisa's full video below!
(Photos: YouTube, Arizona State Corrections, Instagram)
.