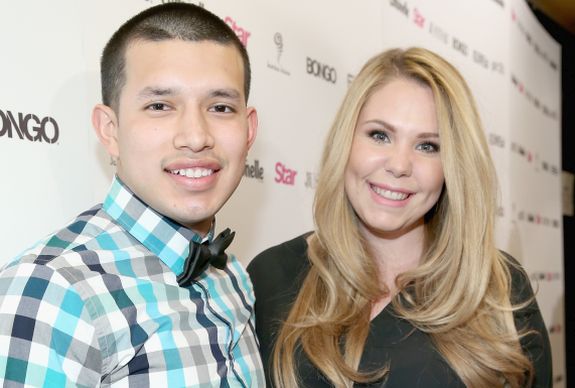 Kail Lowry holds nothing back in her new book, A Letter of Love–– even admitting that she knew her marriage to Javi Marroquin was doomed from the start!
The Ashley obtained an advance press copy of Kail's new book from the publisher and found the book to be full of juicy stories of what was going on in Kail's relationships, behind the scenes of Teen Mom 2.
In one part of the book, Kail admitted that, even before she said married Javi in September 2012 at a Pennsylvania courthouse, things between them were not good, despite the fact that they were pretending to have a mostly happy relationship for the MTV cameras.
"Truth moment: I knew going into the marriage with Javi that I would regret it," Kail writes in the book. "We were fighting constantly and not even sleeping in the same bed. I was overcome and filled with doubt at all times. I was trying to convince myself that things would get better in time, but they never did."
Kail admits that she was constantly lying about her troubled marriage, even including lies in her first book, Pride Over Pity, which was released in April 2014.
"Even as I wrote my book, Pride Over Pity, I lied," Kail wrote. "I wrote about how happy I was in my marriage to Javi. It was all a ditch attempt to try to convince myself. Of all the people watching our lives unfold, I now realize that while we were convincing the world, I was the one that needed to be convinced that love was real and that happiness would find me."
From the outside (and to 'Teen Mom 2' viewers) Kail and Javi seemed to have a good life, but Kail writes that it was mostly a falsity.
"I was married, and my husband had a good job. We had cars. What could have been so wrong? Everything! You can't live a lie forever," she wrote. " Eventually, the truth will  make itself known, and the truth was that Javi and I were not going to make it."
View this post on Instagram
Toward the end of her marriage, Kail claimed that Javi frequently threatened her with a divorce, which, in part, led her to seek one herself eventually.
"He told me on several occasions that he had filed for a divorce," Kail wrote. "I never knew if he had really done so or not. I was afraid in so many ways…I was afraid to start over, afraid to fail at love again, and afraid to be the mother of two children from two different relationships that didn't work.
"I made the decision to step outside of my comfort zone and to denounce fear just before Javi was deployed for the military."
The Ashley will continue to post some of the juicier stories from Kail's new book, A Letter of Love. Click here to order the book!
UPDATE! Kail's ex-husband Javi is not happy about what Kail wrote about him in her book. On Saturday, after reading this story, Javi posted a series of tweets about it.
"I'm really getting sick and tired of reading this sh**. For real," Javi tweeted. "The only reason she says this is to seek validation from her new relationship and convince herself it's ok. I'm getting fed up with this. I didn't sign anything to use my name. Maybe I should get my attorney too…
"For someone who claims and tells me to get out of her 'story' she sure does continue to write about and talk about me all the time. Podcasts..books," he wrote. "Who tf would write that in a book dedicated to your children. Regardless of how our marriage ended stop lying and trying to convince yourself what you did was ok. For real I really don't wanna come on here and spill tea because we're past that for real."
Javi also vowed to try to get himself removed from Kail's new book.
"[Lincoln's] already behind the curve cause his parents didn't work out then to read it?" Javi wrote. "Nah I will make sure anything about me is out of that book."
Stay tuned…
(Photos: Jonathan Leibson/Getty Images, Instagram)