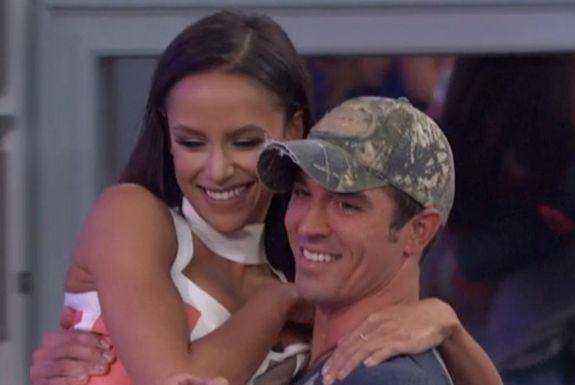 It's been a huge year for Jessica Graf and Cody Nickson! The Big Brother couple won the 30th season of The Amazing Race, got engaged and, on Monday, announced that they are expecting their first child!
In an Instagram post, Jessica– who met Cody inside the 'Big Brother 19' house– revealed the big news.
"WE'RE PREGNANT! And I'm over the moon! I'm so excited to bring our first child into this life we have created together!" Jessica captioned a photo of her and Cody holding a sonogram photo.
"I've been pretty quiet on Instagram lately. I've been avoiding posting stories and photos as much as I normally do because we've been taking this time to really enjoy all the great blessings we have in our life."
In her post, Jessica explained that she didn't want their baby announcement spoiled like their engagement announcement was.
"Considering our engagement was leaked before we could tell anyone, it's been so great to be able to share our new addition with our loved ones before making this announcement!" she wrote. "I'm a little over 11 weeks and we plan on bringing our little angel into the world on April 11, 2019, just two days before Codys birthday.
"We're honored to be adding the FIFTH Big Brother baby to the world! We can't wait to meet you little one and we already love you more than anything!"
Cody also announced the news via Instagram.
"Every day, Jessica and I thank the Lord for all the blessings He gives us," Cody wrote in the caption of a cute maternity photo of Jessica. "And now we are blessed with the greatest gift… a child. We are beyond pleased. Thank you for all who have stood with us in support… and thank you to those who have opposed us to make all the victories worth it. I'm looking forward to Jessica being my wife and the matriarch of the Nickson establishment in Texas. What an incredible year."
As Jessica stated in her Instagram post, the baby she is carrying will be the fifth baby born to a couple who met on 'Big Brother.' The other "Big Brother Babies" include Rachel Reilly and Brendon Villegas' daughter, Adora, who was born in August 2016; Jordan Lloyd and Jeff Schroeder's two sons, Lawson and Layton; and Daniele Donato and Dominic Briones' daughter Tennessee (who was born last month).
Cody and Jessica will be getting married on October 14. Wanna see their wedding registry? Of course you do!
Check out the couple's virtual "Save the Date" video below!
(Photos: CBS, Instagram)