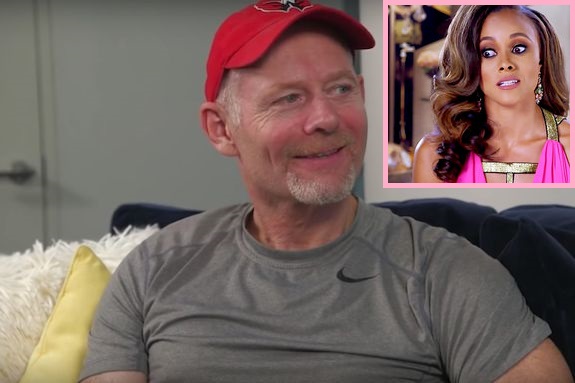 Michael Darby, who stars on The Real Housewives of Potomac alongside his wife Ashley, has been charged with felony sexual assault.
TMZ broke the news on Thursday that a cameraman working on the show had officially filed charges against Michael, stating that the reality star had allegedly grabbed and groped his butt during the filming of an episode. 
"The cameraman — Orville Palmer — claims after the grope he turned around and Darby gave him 'a flirtatious look,'" TMZ reports. "Orville says he instructed Darby to stop, and then told his supervisor."
According to the cameraman, the alleged butt-grabbing took place on September 1.
In addition to the felony assault charge, Michael was also charged with misdemeanor improper sexual conduct.
NBC Miami reports that, according to court records, the cameraman attempted to file for a restraining order against Michael, over the alleged September 1 incident. The cameraman also claimed in those court records that another alleged assault happened in August at a bar in Georgetown, Washington DC.
"He said in the documents that Darby kicked him in his buttocks while he was filming," the site reported, citing court documents. "The restraining order was denied."
The charges come just days after another Bravo network reality TV star– Southern Charm's Thomas Ravenel— was arrested and charged with assault and battery reportedly linked to sexual assault allegation recently made against him.
Neither Ashley nor Michael have responded publicly to the charges against Michael, and Bravo has not yet released a comment.
While Ashley and Michael have stayed quiet since the charges were filed, their Instagram accounts have been blowing up, with many fans poking fun at the alleged incident.
"You out here grabbing booties bro?!" one person wrote in the comment section of Michael's most-recent Instagram photo.
"Better get your money and bounce Ashley, so busy hating on Karen and Monique and your husband out here creeping with other men," one of Ashley's followers wrote on her Instagram.
Other 'Real Housewives' fans left comments reminding Ashley that this is not the first time her husband has been accused of being a butt-grabber.
"The past repeats itself," one person wrote on Ashley's Instagram. "Guess nobody remembers, it happened in first season, with a cast [member]."
Back in Season 1, Ashley's co-star Gizelle Bryant told Ashley that she saw Michael "squeeze" the butt of Katie Rost's man, Andrew Martin.
After that incident, Ashley and Michael both defended Michael's actions, stating that the grab was all in good fun.
In an interview with Bravo during Season 1, Michael admitted he "playfully touched Andrew's butt"
"He responded as expected with a laugh and we continued to dance with our lovely ladies," Michael said.
UPDATE! Bravo and the show's production company, Truly Original, have suspended Michael following the sexual assault charges being filed against him.
In a statement to TMZ, Bravo said it has "comprehensive policies and guidelines relating to the safety of cast and crew. We take all allegations seriously and then proceed accordingly with our producing partners."
Truly Original also issued a statement to TMZ, stating that it launched an internal review right after the cameraman made the allegations against Michael. The review is ongoing.
"[Truly Original] took all appropriate steps to ensure the safe working environment … for everyone associated with the production."
(Photos: Bravo, Instagram)