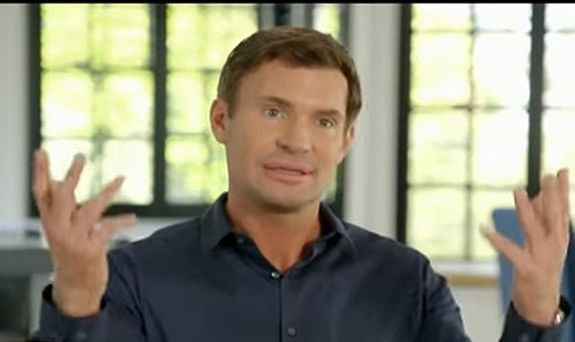 Alexandra Trent, the woman who served as a surrogate for Jeff Lewis and his partner Gage Edwards in 2016, is suing the Flipping Out star— as well as Bravo and the show's production company– for allegedly filming her giving birth to their daughter Monroe without her permission. Although Jeff has called Alexandra's claims "completely bogus" and "fabricated," the doctor who delivered Monroe is speaking up– in defense of Alexandra!
The Blast obtained court documents from the case that reportedly contain testimony from the doctor who delivered the baby, supporting Alexandra's claims.
Dr. Lindsey Cafferata declared she "heard Ms. Trent inform the show producers that she did not want to be filmed while she gave birth as she did not want her reproductive organs displayed on national television."
The obstetrician also stated that she heard Jeff and Gage assure Alexandra that the video of the birth would not appear on the show. They claimed it was for "home use."
Dr. Cafferata says she was told directly by the show's producers that "there would be no filming during the birth."
In the lawsuit, which was filed back in June, Alexandra claims that she did not know she was being filmed giving birth for the reality TV show.
"On the day of the birth, I assumed my statement was being respected as I did not see any cameras in the labor room before labor started," Alexandra wrote in her original filing. "I was also notified by Defendants that they were going to film the birth [for home use] as they had done previously with other medical procedures. It appears from the show episode that Defendants were filming the birth from behind a curtain."
As The Ashley previously reported, Alexandra also claimed in her original lawsuit that she was "humiliated" by several on-camera remarks Jeff and Gage made about her body during the birth.
"If I was a surrogate, and I had known there was going to be an audience, I probably would have waxed," Jeff says during the birth episode of the show. He also called Alexandra's vagina "big."
When news of the lawsuit first broke in June, Jeff denied any wrongdoing and claimed that his surrogate did know the birth would be filmed and featured on 'Flipping Out.'
"This is like a blow to the head," Jeff said in a statement to People back in June. "We are completely blindsided by this. We are just devastated. I thought we had a nice relationship, a friendship. We treated her like an extended member of the family. So you can imagine this is pretty stunning…
"We are so completely grateful to her, because without her, we wouldn't have Monroe. But on the other hand, these are fabricated claims and are completely bogus and without merit. This smells to me like a financial shakedown."
Alexandra claims that she made sure Jeff and Gage, as well as the show's producers, knew that she did not want the birth filmed for the show. She said they gave her another release to sign, but she refused to sign it.
Alexandra is now seeking unspecified damages for invasion of privacy and fraud.
The couple, Bravo and the show's production company, argue that Alexandra's claims are invalid because she did sign a release agreement to have the birth filmed.
Jeff appeared on The Wendy Williams Show on Tuesday to discuss the lawsuit. He still maintains that his surrogate did know she would be filmed giving birth, and that she and the couple had "agreed on everything" before Alexandra went into labor.
During the appearance, he also stated that he had seen some "red flags" during the pregnancy.
"There was a mention for more money mid-way through," Jeff said. "We already agreed on everything, so that was the red flag. That's why I think we're here now. It's really an unfortunate situation."
Entertainment Tonight Canada obtained footage of some of the scenes in question. Watch the video below to see the scene for yourself!
(Photos: Bravo, Instagram)