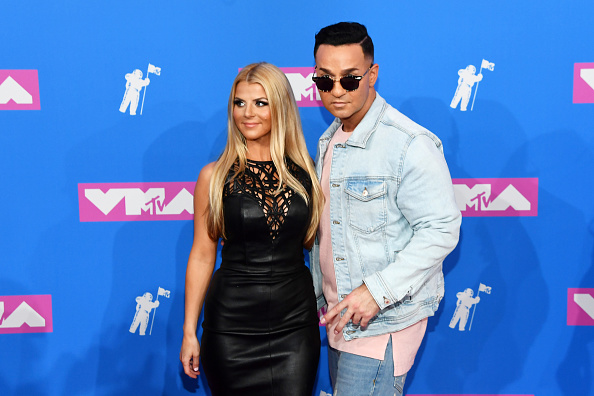 Mike Sorrentino may be going to prison, but he's got a Wedding "Situation" to handle before checking into the Big House.
As The Ashley previously reported, the Jersey Shore star was sentenced to eight months in federal prison earlier today, stemming from the tax evasion charges he pleaded guilty to in January. Following the sentencing, Mike's attorney, Henry Klingeman, revealed to reporters when Mike will be reporting to prison to begin his sentence, and confirmed that "The Sitch" would be marrying his fiance, Lauren Pesce, before heading to the clink.
Henry told reporters that Mike and Lauren have their wedding planned for early November.
"No matter what happens, he won't be designated to begin his sentence until sometime after that wedding," Mike's attorney said.
According to Henry Klingeman, Mike has 30-60 days to surrender himself into prison, which leaves enough time for him to get married.
Mike and Lauren have already confirmed that their wedding will be featured on Jersey Shore Family Vacation Season 2, which is currently airing. Mike's attorney told reporters that he hopes the show's producers will  "make arrangements to accommodate" Mike as 'Family Vacation' moves forward while he is in prison.
Henry Klingeman also offered his thoughts on how the 'Jersey Shore' star will fare in prison, and how serving his sentence will affect Mike's sobriety.
"Mike Sorrentino has righted his life and is contributing significantly to not only his own wellbeing but that of his greater community. [When he goes to prison] that progress will be interrupted," he said, adding that he and Mike were "disappointed" with Mike's sentence.
"Let's hope that prison, which is an antisocial environment under the best of circumstances, doesn't set him back. I'm sure he's got the resiliency and the strength and the will and support of his friends and family so that he's going to make the best of this," Mike's attorney said.
He added that Mike will be happy to finally serve his time and move forward with his life.
"The good news is that after so many years of investigation and this case being prosecuted, he can see the light at the end of the tunnel and he can put this behind him. He's got a new lease on life career-wise, he's about to get married, and he's an optimistic person, so it's going be fine."
It's been four years since Mike and his brother, Marc, were originally indicted for tax offenses, and Mike's legal battle has been going on ever since. His sentencing hearing was pushed back several times in order to accommodate his 'Family Vacation' filming schedule.
Throughout most of the legal battle, Mike has remained positive, showing fans he's a very different "Situation" than he was back in the early days of 'Jersey Shore.' He has maintained his sobriety for 34 months, which, according to his lawyer, was harder for Mike to do than go through his trial.
"I think to him, dealing with his addiction, as he just said to me in the courtroom, was far more difficult than dealing with the prospect of a prison sentence," Henry Klingeman told reporters on Friday. "So as long as he sticks to his new principles and his new way of living, he'll be fine. I think he's totally prepared to do this."
(Photos: Nicholas Hunt/Getty Images; Instagram)