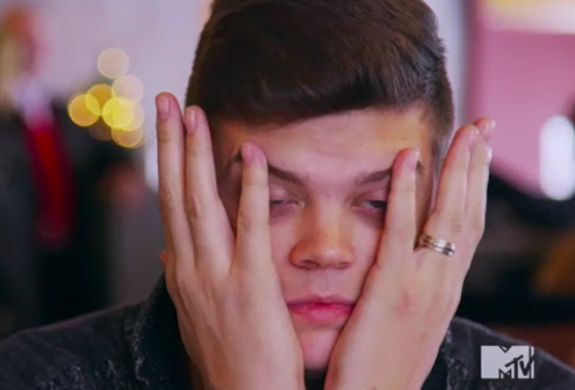 Throw on a leather pocket tee, slick down your side bangs and invite over your screen-time-hungry cousin… Teen Mom OG is back!
This season is a special one, of course, because MTV has gone and added not one but TWO new birth-control-challenged broads to this used bedpan-of-a-reality TV show. Bristol Palin ("you-betcha!") and Cheyenne Floyd (some chick from another MTV show who got knocked up by some dude from another MTV show) have joined the cast.
Sadly, that means ol' Farrah is officially gone. The Ashley was still holding out hope that The Big F would worm her way back onto the show, assaulting producers and/or locking them in her porch Porta-Potty until they admitted that she was the "Number One Reality TV Star In Our Nation."
Sigh.
Anyway, although Farrah is no longer "Farrah-rizing" our TV sets, we are still stuck with Amber (and whatever home furnishing is growing out of her bottom), Martyr Maci, and hapless Catelynn.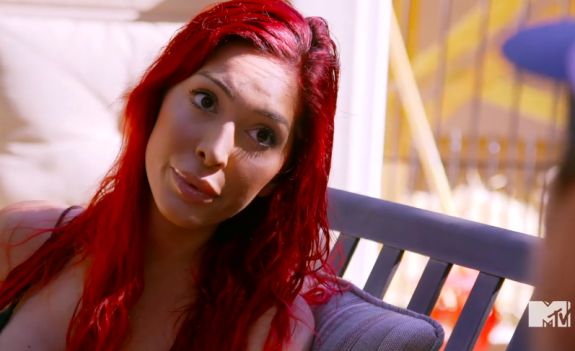 After a quick run-down of all the nonsense the girls went through last season, as well as a quick intro of who the hell the new girls are, we finally get to the beginning of the damn episode.
We start things off at Maci's place. Maci's husband Taylor tells Maci that he got a "disturbing" phone call from Ryan. (I mean…at this point…are there any phone calls—or life choices— made by Ryan that aren't 'disturbing?')
Taylor explains that Ryan is all fired up about something Taylor tweeted recently. Maci is shocked that Ryan actually bothered to call in a threat to Taylor this time. (Anyone else kind of shocked that Ryan was able to punch all of those buttons? Obviously, Mackenzie had to help him through that tricky area code part!)
Naturally, Taylor and Maci are scared by Ryan's threats to "put a bullet" in their heads, so they decide to contact the police.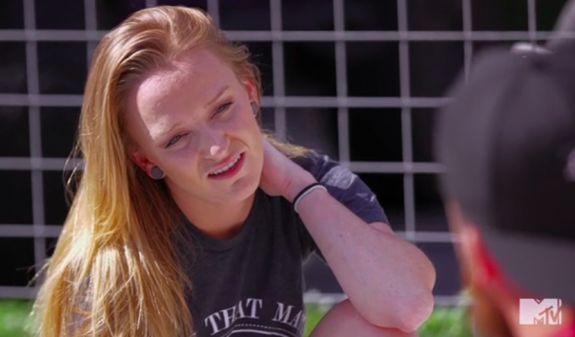 Five minutes into the new season and we're already getting the law involved?! This might be a new record, guys. We haven't seen this type of instant legal action since ol' Ambo was throwin' TVs and punchin' baby daddies! #TheGoodOleDays
Maci knows that Ryan has the ability to get his clammy mitts on plenty of firearms, so she's understandably worried that she, Taylor and their kids are going to end up shot up with more holes in them than Ryan's veins.
Too soon? Yeah…I don't care…
Maci tells us that she and Taylor are heading to court soon to file an order of protection against Ryan, in hopes of keeping him (and his assorted weapons) away from their family.
Next, we head to Texas to meet Bristol. Bristol is the daughter of Sarah Palin (in case you missed her 455 previous mentions of that fact.) We also learn that Bristol's husband Dakota is a former Marine who struggles with PTSD. Bristol tells us that his PTSD has caused a strain in their marriage.
Bristol has left her three children with Dakota for the weekend to celebrate her sister Willow's bachelorette party. Bristol and her sisters think it's weird that their mom is along for the trip, but Sarah doesn't see anything wrong with the situation and says she particularly enjoyed their night out at the biker bar…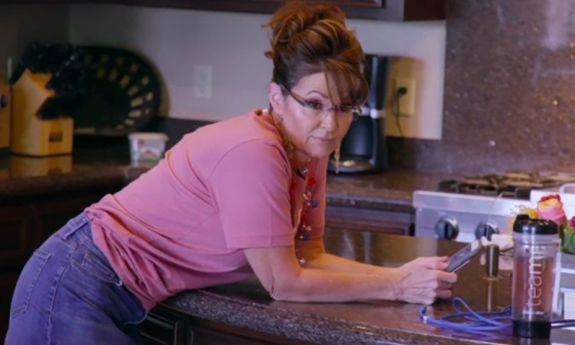 UM… MTV WHERE IS THIS FOOTAGE? For some reason I kind of want to see Sarah boot-scootin' while asking a couple of bikers if she can ride their "Harvey Davelsons."
While sitting outside with their matching bridal party shirts, Bristol and the girls eat lunch and talk exclusively about Bristol, despite this being "the bride's weekend." (Her sister looks like she wants to strangle Bristol with a grapevine.)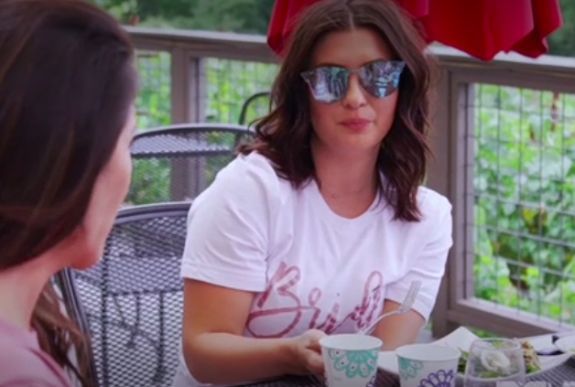 Next, we check in with Catelynn, or rather Catelynn's home, as she is still away at a treatment facility. Luckily, Tyler and Nova are holding down the fort, along with all 586 of their animals. Last time we were hanging out with Catelynn, she had just returned from two months of treatment, but she explains that she needed yet another trip to the 'hab pretty soon after she got home.
With Cate still in Arizona, Tyler is still being forced to film scenes with his mom, Kim, which they continue to do over paid-by-MTV lunches at quality chain restaurants.
As he shovels some sort of fried vegetable into his gullet, Tyler tells his mom that Cate won't be back for another six weeks and that he's drained from taking care of Nova and folding clothes for Tierra Reign all by himself.
"I feel totally sucked dry," Tyler says.
Nope…too easy!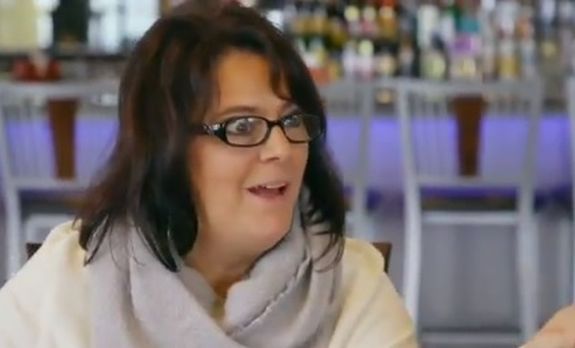 Kim is a woman who has had her share of hard times. She tells Tyler that she went through similar incidents with his dad, Butch, so she understands what he is going through with Cate.
(Um… once Cate hears that her mother-in-law compared her to freakin' Butch, she'll be on the first Greyhound back to Arizona for another rip-roarin' round of treatment!)
"You're going to be picking up the pieces for a long time!" Kim tells her already depressed son. "It kind of makes you bitter."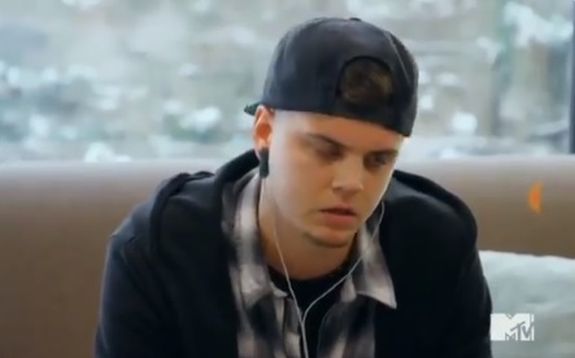 Tyler says that he's tired of Catelynn getting all the attention, and is upset that she's off pettin' horses and whatnot, while he is left to deal with all the hard things in life.
Over in Indiana, it's almost time for Amber to spew The Spawn of Andrew into the world, and she is preparing for his arrival by…sitting on the bed.
We can say Amber's on bedrest due to her pregnancy but…she's pretty much been on "bedrest" since George W. Bush was in office so…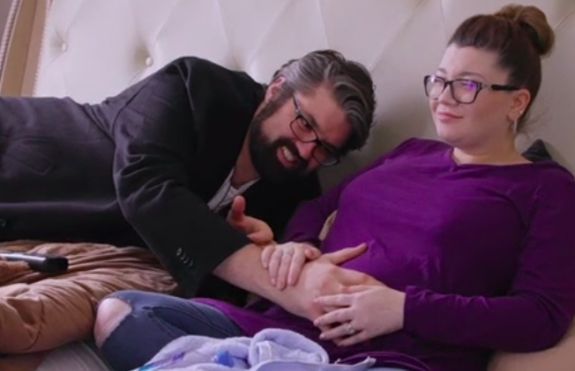 We get to relive the lightening-fast relationship of Andrew and Amber. (In case you missed it, allow The Ashley to catch you up: she met Andrew during Marriage Boot Camp and they were basically banging as soon as Amber mopped up the body sludge her last soulmate, Matt, left in their bed.)
Amber tells us that, while she was basically a trashcan-of-a-mom to her daughter Leah, she's determined to show everyone that she's a good mom with her new baby, James. (Because, yes, it's most important what 'Teen Mom' viewers think of your mothering skills, rather than your actual kid…)
Apparently, bedrest does a body-with-baby good, as we learn that Baby James came barreling through Amber's pickle pocket that night. He's a few days early, but seems to be healthy.
Gary and Kristina get word that Amber and Andrew's lovechild has arrived, and they decide they'll go visit Amber and the baby later that day. (We can assume that Gary wants to personally hand Andrew a "Dad Bod" shirt.)
Gary manages to get in a few words of shade during his conversation.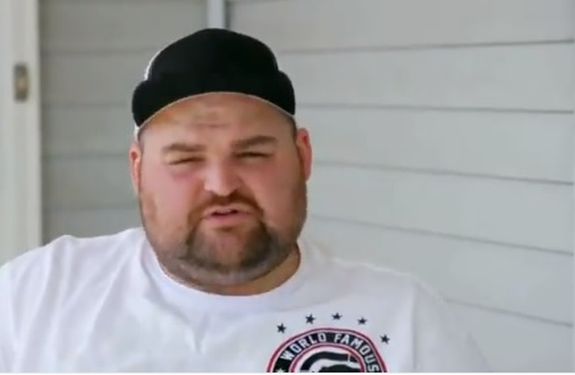 He says that Amber has been busy being focused on the new baby, while he's been busy being focused on Leah. (I see what ya did there, Gar…and I like it!)
Gary & Co. go to the hospital, where they find Amber in her bathrobe in bed. (So…it's basically business as usual…) Leah holds her new baby brother, and is either kissing him or whispering "Welcome to Crazy Town, bro!" into his ear.
Finally, we head to Los Angeles to we check in with New Trainwreck #2 Cheyenne and her baby daddy, Cory.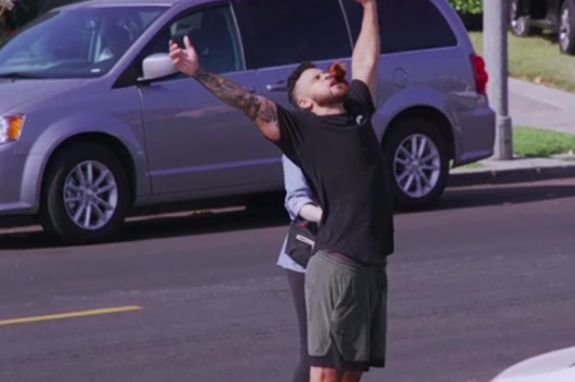 We learn that Cheyenne has the unique ability to yell her lines, while also sounding like she has a stuffy nose and is completely uninterested in what she's saying. (The Ashley is also completely uninterested in what Cheyenne is saying…)
We also learn that Cory banged Cheyenne while filming The Challenge simply because he thought she looked like Rihanna. I think that's nice…
Cheyenne then found out that she was knocked up but, because she had another boyfriend at the time she humped Cory, she wasn't sure who the father of the baby was.
OH DUDE! This chick's going to do great on this show!
Six months after her daughter Ryder was born, the DNA test came back and revealed to Cory that "you ARE the father."
Cheyenne tells us she recently started dating Zach, but, of course, he's already living with her and her sister.
SHE FITS RIGHT IN, Y'ALL!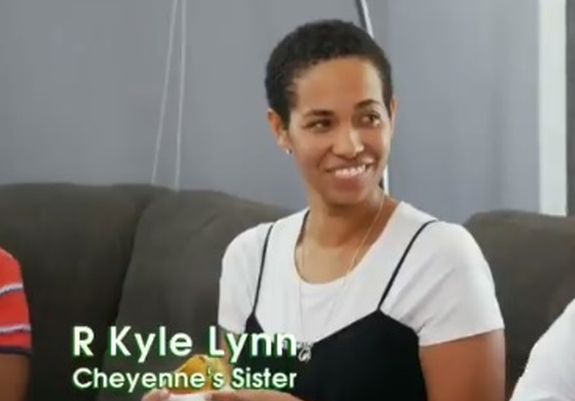 Meanwhile, in Tennessee, we're treated to some Jen and Larry screen time. They're riding around in a golf cart and gabbing about the latest 'Teen Mom' Twitter drama between Taylor and Ryan. It's like "Happy Gilmore" with less Adam Sandler and more excuses.
Larry explains to Jen that Ryan called up Taylor about what he wrote about him on The Twitter and "from there, it's he said, she said."
Um…more like "you tweet, I shoot," Lar!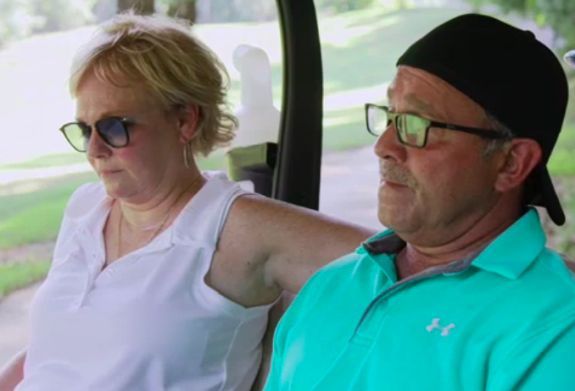 Larry does admit that "Ryan didn't handle it very well" (much like his life, fatherhood, TV fame, money…)
Jen and Larry hope that Ryan's threats don't have an effect on them seeing Bentley.
Unlike some of the other degenerates on this show, Maci and Taylor haven't spent a fair amount of time in court. Taylor suits up in his "churchin' flannel" for the occasion.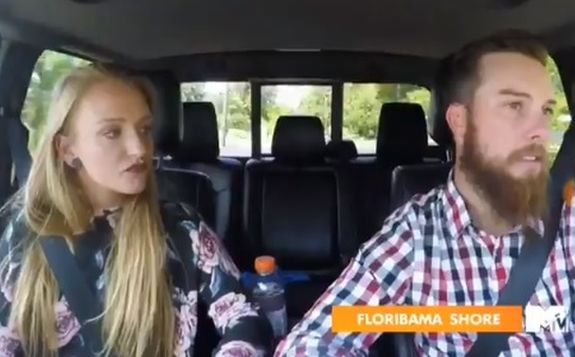 MTV cameras get shut out of the court hearing, but Maci and Taylor tell us that they were granted their order of protection for themselves, the two oopsie babies and their dogs. Ryan is not restricted from seeing his son, Bentley.
They're happy that Ryan and his crazy behavior (and equally crazy eyes) have to keep some distance away from them unless he wants to face some time in jail. (Of course, jail may actually be a better option than having to spend time with a pregnant Mackenzie. At least in jail Ryan gets "three hots and a cot" and doesn't have to hear either of his baby mamas bitch…)
Over in Michigan, we see Tyler and Nova at their "new" house (the same one they've been renovating for at least two seasons now and have yet to move into). They check in with their random farm animals and Cate's therapy horse, Callie, who honestly looks like she needs a therapy horse of her own now.
Nova offers that the horse is sad because she misses Catelynn… and Tyler just has this look like, "Why?"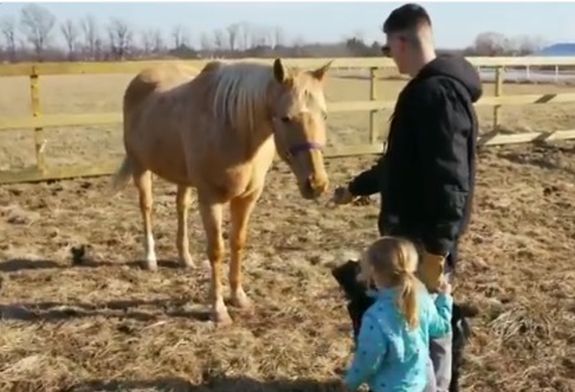 That night, Tyler has fixed Nova some sort of "Helper" product. When Nova says she misses her mom, Tyler says that "mommy's at work." (Um…Nova's going to know that Tyler's lying if he says that. No one on this show is ever at "work!")
During dinner, Catelynn FaceTimes Tyler.
Tyler is excited to tell Cate that her horse misses her. Cate suggests they get another horse because Cate's horse may want someone to play with.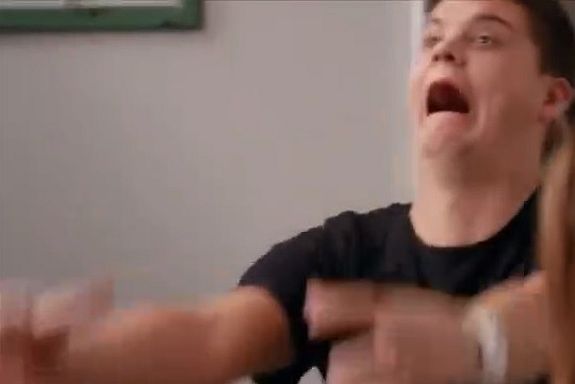 Tyler says, "Well, I want a million dollars too!"
Hang on for another season or two, Ty! You'll probably get your wish!
Nova cries that she wants to see her mom, and Tyler is more than happy to pass off the phone to the kid.
"Here! Look at her all you want!" Tyler tells Nova.
Tyler gives Nova a bath while Cate tells them both about her day of hiking and watching movies. Tyler looks annoyed by Cate's seemingly leisure day, since he's out here being Mr. Mom, running a kid's clothing empire and single-handedly keeping up their low-rent farm, all while Catelynn's catching up on her Harry Potter movie-watching!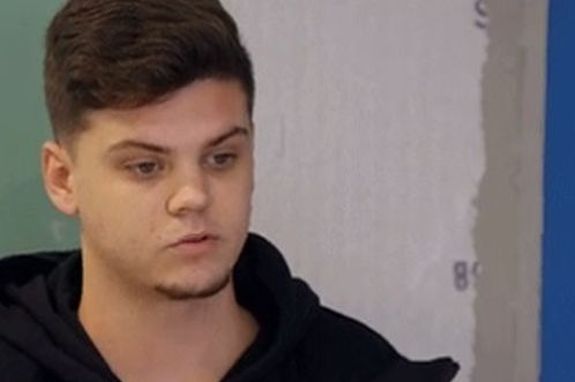 Tyler can literally not hide his disdain for Cate. He's eye-rollin' and bitter-sighin' all the live-long day as Cate talks about the next movie she's going to watch.
We next head to Kentucky (yesssss!), where Dakota and his daughters are visiting Dakota's father, Mike.
Dakota says (somewhat out of left field) that he doesn't need a woman in his life to be a good dad. Well that's, umm… sweet? I'm sure your WIFE will enjoy that comment also.
We know Dakota means what he's saying because he's shaking his sweaty man-bangs vigorously as he speaks!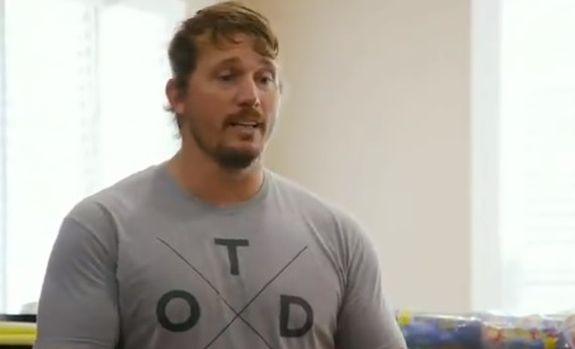 The producers then decide to get Dakota and his father to open up about Dakota's military career. Dakota bluntly tells the producers about the deaths of his fellow Marines and his dad talks about how hard in particular the six months that followed that incident were for Dakota, who says his kids are what get him up in the morning.
Back at the bachelorette party, Bristol decides to take a break from talking about herself and actually ask her sister about her wedding plans… just kidding!
Bristol tells the girls all about her and Dakota's quickie elopement.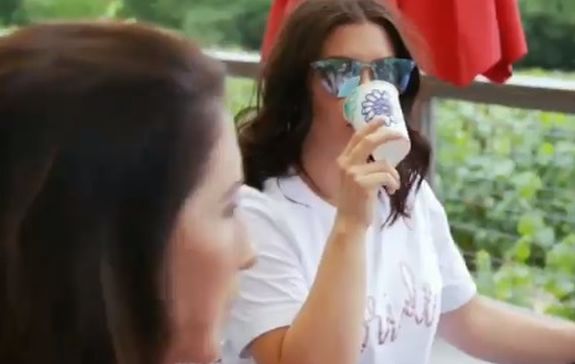 Basically, Dakota and Bristol's journey to wedded "bliss" starts at the mall (naturally) and ends with some random dude at a golf course signing their marriage license. Add in a drugged-out ride in a truck and it sounds like Ryan and Mackenzie's wedding!
Back in Los Angeles, Cheyenne and her family go out to lunch. Everyone in the family is calling Ryder "mooch." That's a nickname generally reserved for the girls' baby daddies but OK…
During lunch, Cheyenne's mom worries about Cheyenne's boyfriend, Zach, handling the co-parenting situation with Cory, but Zack isn't worried… he's in this for the long haul (i.e. at least until that MTV check arrives!)
Since Cheyenne and Cory can co-parent without the court system involved (at least for now), they go to lunch the next day with Ryder to discuss their schedules.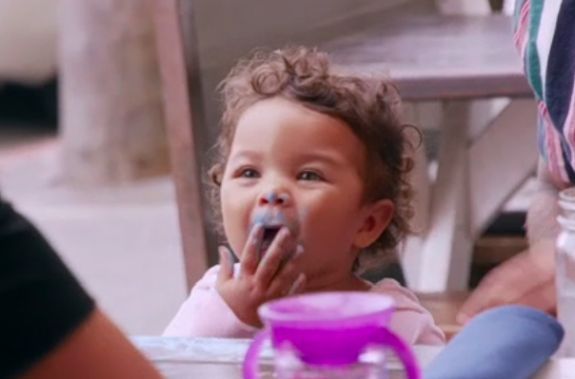 Cory tells Cheyenne he doesn't love the fact that she and her boyfriend are shacking up already but Cheyenne assures Cory that Zach has no intention of stepping on his toes as a father. Cory reminds her that everyone thinks the two of them still have something going on, which he clearly gets some satisfaction out of.
Cheyenne, her mom and Cory get ready for Ryder's first gymnastic class, which Zach doesn't receive an invite to. Cory shows up with flowers for Ryder—which babies totally love—and Cheyenne is mad that the bouquet isn't actually for her. Once inside the gymnastics place, Ryder strays from the group a few times, clearly over listening to Cory brag and Cheyenne sound like she really needs a Breathe Right strip.
Back in Indiana, Amber and Andrew have James at home and are already killing this parenting thing. They're changing the baby on their kitchen counter, and just letting him poop wherever the fecal matter splashes.
AS YOU DO.
Amber and Andrew tell the producers all about their wet and wild (literally) birthing experience and the little effort it took to get baby James out of Amber. (That sounds right up Amber's alley!)
Even Matt gets a special shoutout in the conversation. Amber says that she was with Matt for over three years and never wanted to have a baby with him. (Why bother? He already had like 15 he couldn't take care of!)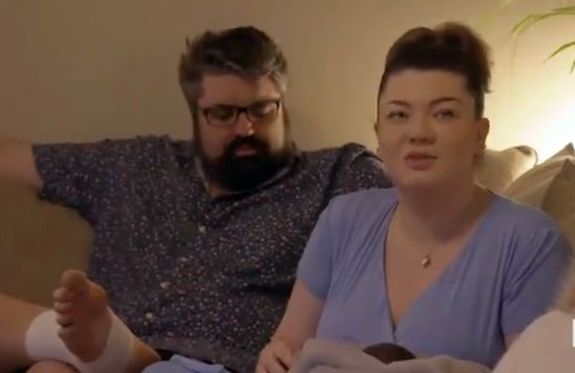 The next day, Andrew is whipping up some lunch on the same counter that his son's feces was touching less than 24 hours prior. While ignoring the various bacterial risks, Andrew tells the producers that life with baby James is perfect and a ring purchase might be in the near future.
Might we suggest he ask Gary for some engagement-ring-selecting tips? #NeverForget #WhatsYourReturnPolicy
Later, Gary and Kristina come over to visit baby James, along with Cousin Krystal.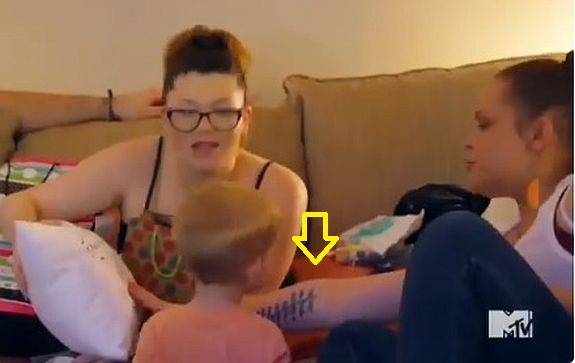 Later on, Producer Kiki asks Amber if she plans to marry Andrew.
"Gosh, why does everyone keep asking about that?!" Amber says.
Um…probably because you've already been engaged like five times in 10 years…
Amber says she feels horrible about things that happened when Leah was little and blames her past poor decisions on the company she kept.
Of course, there's always the slight possibility that AMBER is responsible for her drug takin', Gary beatin', loser chosin' ways but… nahh!
In Michigan, Tyler and Nova drop by Kim's house to talk about Cate and her frequent napping and movie adventures. Tyler's stepdad says that he doesn't understand what "The Anxiety" even is. He does, however, seem to be willing to sign up for "The Anxiety" if it means he gets to watch The Godfather in his bathrobe on the regular.
Tyler says he's losing his ability to sympathize and empathize with Cate. Kim agrees that Cate appears to be doing nothing while she's in treatment. Kim is afraid Catelynn will come home and then go right back to treatment again, leaving Tyler to ship Tierra Reign onesies and feed the turtle all by himself.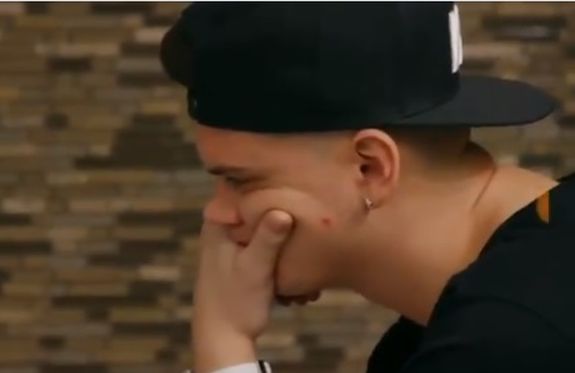 He tells his mom that he thinks it's "repulsing" that Catelynn gets to lounge all day in her robe.
Tyler is growing more fed up by the day, so he decides to reach out and make an appointment with a therapist.
Tyler's therapist says everyone has their limits and Tyler is about one therapy goat away from hitting his. Tyler tells her he needs some change. He also reveals that…DUN DUN DUN.. he is having some doubts about his marriage.
He's angry that he's never consulted when Cate makes decisions, even if it means he's going to have to deal with the heap 'o' pig crap that comes from that decision. (This is, of course, both literally and figuratively.)
"Catelynn wants a pig, she gets a pig!" Ty cries. "She wants a horse? She'll buy the horse!"
Tyler says he's tired of taking care of people (and therapy farm animals).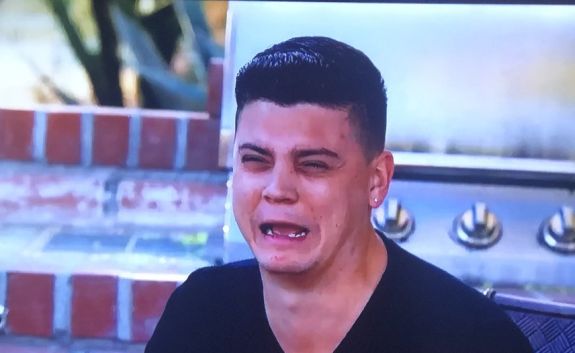 "If someone asked me 'Are you happy in your marriage?' I would say absolutely not," Tyler tells the therapist. "And I haven't been…for a couple of years."
Um…HOLD UP. These people had been married less than three years when this was filmed. Even Butch and April's marriage was happy in the very beginning! This is bad, folks!
Finally, we head to Texas one last time. Bristol is back from the bachelorette party, so she and Dakota are watching their daughter's soccer practice. The two of them try to make some small talk but Bristol knows something is wrong. She decides the best time to delve into the situation is on the way home from soccer practice with a car full of kids.
Dakota tells Bristol his anxiety has been really bad recently and again mentions the death of his fellow Marines. Bristol reminds him that the kids are in the car, but he continues to unload his feelings on her while she sits quietly in the front seat.
Things at Bristol and Dakota's house are still tense and the heavy conversations continue to flow despite the kids being within earshot. Bristol says she understands Dakota is going through a lot but after two years of dealing with everything, she's feeling frustrated. Dakota says he's been dealing with these issues since 2009 and that all he needs is to be supported.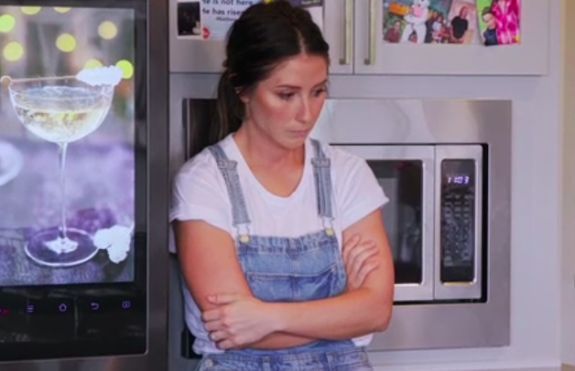 Bristol says she doesn't want to raise her kids to think that their marriage is normal. Dakota starts to raise his voice. The argument escalates and Dakota ultimately leaves…
I think we all need a night out at the biker bar after this episode… Sarah, save us a stool!
To read The Ashley's other reality TV show recaps, click here!
(Photos: MTV)