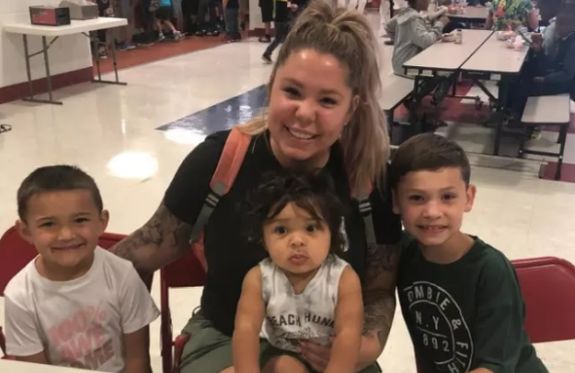 In her newest book, A Letter of Love, Kail Lowry opens up about how her chosen life as a reality TV star (and the megabucks she's made from that role) have and will affect her three sons.
The Teen Mom 2 star admits that signing on to the show has made her very wealthy, but in one part of the new book, Kail discusses how she doesn't want her kids– Isaac, Lincoln and Lux– to grow up thinking that their way of life is normal. She also writes that she is worried about the long-term effects the wealth and fame from the show will have on her sons.
"My kids have no idea how blessed we are financially at the cost of my privacy and humility," Kail writes in one chapter of A Letter of Love. "Of course, it's for them. I don't want them to be spoiled in that way."
She acknowledges that the money she makes from the show (and, of course, outside opportunities she got because she is on 'Teen Mom 2') have enabled her to give her son things she never would have been able to had she not signed on with MTV.
"I want them to be spoiled with culture and experiences and to know that there is life outside our hometown of Dover, Delaware," Kail writes. "My kids don't know any life different from the life they have now. I'm afraid that this is going to set them up for failure.
Since the kids have always known a life of wealth, Kail writes that she worries they will not be able handle things when they become adults, since they have never really seen their parents work menial jobs in order to pay the bills.
"They don't understand the concept of working in order to obtain what they need or want," Kail wrote. "I'm working on this as a parent."
"I want you guys to be able to have everything, but I also want you all to know the value of a dollar and what it means to keep moving and working hard for the things you want and need," Kail tells her kids in another part of the book.
She also writes directly to her son Lux in one part of the book, explaining her fear that putting him and his brothers in the spotlight will make things hard for him.
"Since I had your brother, Isaac, remaining on television has presented quite a unique dynamic for our lives," Kail wrote. "I'm thankful but sometimes I am regretful. Overall, I am thankful for the opportunities. However, being in the public eye allows for opinions and judgment from people who don't affect our family…
"I'm sure you will wonder why I say that and what it all has to do with you? The truth is that I want you to be prepared," Kail added. "You may hear things about me or your dad, or you may hear things about your family and life in general that may not always be true. This is my attempt to set the record straight for you."
Kail wrote that she is afraid of the day that her sons will be able to look her up on the Internet.
"I must publicly apologize to my boys for some of the stuff in the media that they are going to read about me," she writes. "I'm not sorry for doing the show, but I am sorry for not being fully aware of how things were produced. I'm sorry for some of the things that have been done on the show. I haven't always made good choices.
"Many of my bad decisions, mixed with the production of a reality show, don't always air according to how things really happened," she added. "I have to face the truth one day. My boys are going to be able to Google me and find things about me that may not be favorable. However, those things don't define who I honestly am. I want my boys to know that I am human, and I want them to know that I have made some mistakes, despite my best efforts."
Kail's new book, A Letter of Love, is on sale now. Click here to order it!
RELATED STORY: Kail Lowry Admits in New Book 'A Letter of Love': "I Knew Going Into the Marriage with Javi That I Would Regret It
(Photos: Instagram)