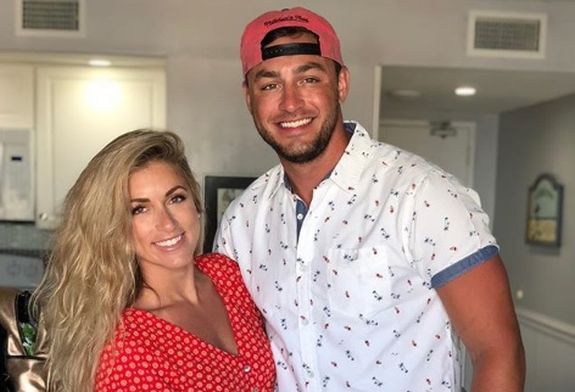 Tony Raines is (finally) engaged to his (second) baby mama, Alyssa Giacone!
It took a baby, an appearance on The Real World and almost a decade of on- and off-dating, but The Challenge star finally popped the question to Alyssa while in New York City to film 'The Challenge: Final Reckoning' Reunion special this weekend.
The couple, who are the parents of nearly-two-year-old Isla Rose, announced their happy news on Instagram on Saturday. 
"Fiance has a nice ?to it! We're ENGAGED yall!!" Alyssa wrote in the caption of a photo of her and Tony kissing. "#weregettingmarried #hefinallypoppedthequestion #newyorkcity #isaidYES"
Tony, who posted the same photo to his own Instagram, told MTV News that he had been considering proposing to Alyssa for a while, and was encouraged by his 'Challenge' co-star (and recent newlywed) CT Tamburello.
"I had a conversation with CT while filming 'Dirty 30 about him marrying Lili and me marrying Alyssa," Tony told MTV News. "When we won 'Champs vs. Stars' together, he gave me the trip as an engagement or honeymoon gift. Alyssa and I were invited to his wedding and had a blast there. You've all seen me grow so much over the seasons. Now, proposing here to Alyssa and getting engaged feels like the perfect ending to the Trilogy."
Tony and Alyssa have a long history both on and off reality TV. The couple dated for years before Tony was cast on 'The Real World: Skeletons.' After their breakup, Tony went on the show, only to have Alyssa come into the house as one of the "Skeletons" from his past. (This created a problem for Tony since he was trying to get into the pants of his then-housemate Madison Walls.)
Tony and Madison got together, and eventually had a daughter, Harper. Two months after Harper's birth Tony announced that he was expecting a daughter with Alyssa, whom he had since reconciled with.
The couple's relationship hit a bump last year, however, when Alyssa watched Tony makeout with Camilia Nakagawa during a drunken night out on the 'Dirty 30' season. When Alyssa heard about the hookup, she broke up with Tony, and tweeted her reaction to the footage when it first aired in July 2017.
The couple eventually worked through their issues, and got back together later that year.
Alyssa told MTV News that she was unaware that Tony was planning to propose this weekend.
"Oh my god, I had no idea," Alyssa said. "I'm over the moon, and I can't wait for him to be my husband."
(Photos: Instagram)