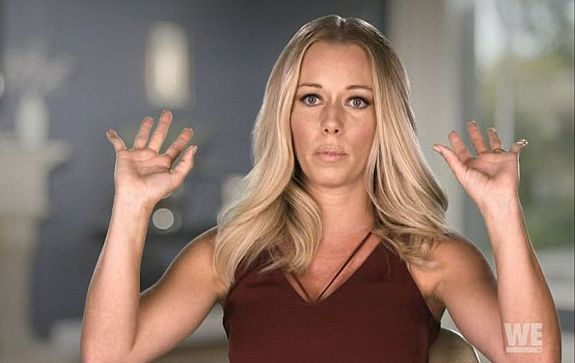 It appears that Kendra Wilkinson's divorce filing was not just a publicity stunt after all!
The Kendra On Top star took to Twitter on Monday to let fans know that her nine-year marriage to Hank Baskett Jr.  has officially come to an end.
"Signed my last divorce paper Friday," Kendra tweeted. "Brutal. I gave it all I got. Truly did. I'm beyond proud of myself!! Fought to save til the last second. Oh well. Life goes on. Bye Lol."
Kendra and Hank have been very open about their marriage struggles, with the most-recent seasons of their WEtv reality show focusing almost exclusively on their relationship problems. When Kendra announced in April that she had filed for divorce from Hank, many fans thought that it was all for show, despite Kendra's insistence that her marital problems were very real.
(To prove this, she posted a few dramatic videos of herself crying over her wedding photos…as you do.)
Kendra, who even appeared on Marriage Boot Camp: Reality Stars with Hank to work out their issues, told fans that she wanted to save her marriage, but Hank didn't.
"Can't force someone to love you. Easy if u think about it. Hard to swallow. Hurts but gotta move on," she tweeted.
Kendra and Hank are parents to eight-year-old son Hank III and four-year-old daughter Alijah. In the divorce papers, Hank asked for joint legal and physical custody of the kids, and Kendra requested the same. The 'Kendra on Top' stars each cited "irreconcilable differences" as the reason for the split, and listed January 1, 2018 as their date of separation.
Over the past few months, Kendra has discussed her divorce on Twitter several times. In September, when asked if she felt appearing on 'Kendra On Top' with Hank was responsible for their divorce, Kendra denied that the reality TV show was to blame.
"Every single thing is a test," she wrote. "Being on TV was just one of them. Putting blame on those kinds of things is a easy cop out. We r responsible for ourselves at the end."
Now that she is officially single again, Kendra seems to want to get frisky.
"My ho side about to come out and play so hard," she tweeted this week.
Over the past week, Kendra has about going "to the champagne room" to grind on strippers, and implored her fans to "hook her up" with the now-single Elon Musk.
Hank has not made any comments about the divorce (or his need to grind on strippers) on social media.
WEtv has not yet commented on whether 'Kendra On Top' will continue now that Hank and Kendra are divorced. The last new episode aired in August 2017.
(Photos: WEtv, Instagram)