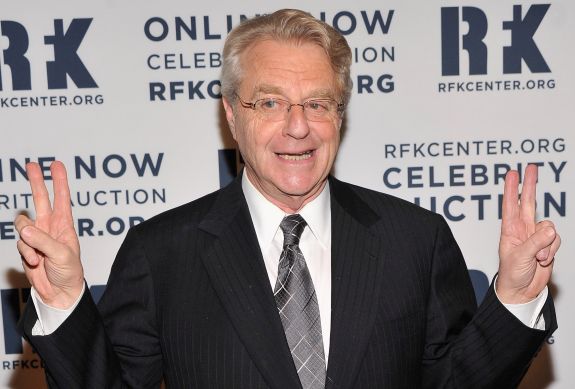 Jerry Springer is trading his microphone for a court gavel!
Jerry's wacky long-running talk show, The Jerry Springer Show, is coming to an end, but Jerry has apparently has no intention of retiring. The Wrap reported this week that a syndicated daytime courtroom show– called Judge Jerry, naturally– is in development with NBCUniversal and will hopefully air in the fall of 2019. 
Unless you were living under a rock during the 1990s and early 2000s, the name "Jerry Springer" became synonymous with crazy plotlines, trashy guests and, of-course the occasional hurling of furniture and/or shoes. While 'The Jerry Springer Show' was originally supposed to be a more serious talk show, Jer & Co. decided to up the antics to get better ratings. The show eventually morphed into the cousin-loving, in-law fighting, chair-throwing, trainwreck that we know and love today.
For his new show, Jerry– who, before becoming a talk show host was a lawyer and politician– will be acting as a judge, deciding court cases.
"The series would feature former attorney Springer wearing a judge's robe and seated behind a desk," The Wrap reports. "So, you know, like every other courtroom show out there, but with the man who has has run the most over-the-top daytime program in the history of television making calls about small-claims cases."
#TBT to me, as Cincinnati Mayor, giving a Key to the City to @bobdylan … 'Times They Are A'Changing.' pic.twitter.com/n40zY2D9FJ

— Jerry Springer (@jerryspringer) April 21, 2016
The most-important question has yet to be answered, though: will the courtroom audience will be required to shout "Jerry! Jerry!" as Jerry approaches his bench?
Jerry and NBC have yet to comment on the new show, but social media is ablaze with mixed reviews.
"I feel like the entire decades-long history of syndicated daytime trash TV has congealed into this monster," one Twitter user wrote.
"Judge Jerry would be a good night court judge, handling drug dealers, pimps, hookers and such.. I guess some would find it amusing," another person wrote on Facebook after the show was announced. 
It is not yet known what network Jerry's courtroom show will air on, or the exact date it will premiere. Until then, though, relive this classic 'Jerry Springer' moment!
(Photos: Stephen Lovekin/Getty Images, Instagram, Twitter)