Jersey Shore Family Vacation's most tumultuous couple seems to be at each other's throats…again.
Ronnie Ortiz-Magro and his baby mama/on-and-off-girlfriend Jen Harley are known for their knock-out, drag out (literally) fights, although in recent weeks the couple seemed to be getting along well…until now.
On Wednesday, Ronnie posted a photo to Instagram stories showing his bruised and swollen eye. He seemed to be implying that the wounds were courtesy of Jen (being that he tagged the pic "@JenX Kidddddd," even thought that's not Jen's Instagram handle.)
He captioned the pic, "Sorry for lying to my friends and family. Sometimes u love people so much [you're] willing to lie and the hurt the people that love u the most to protect."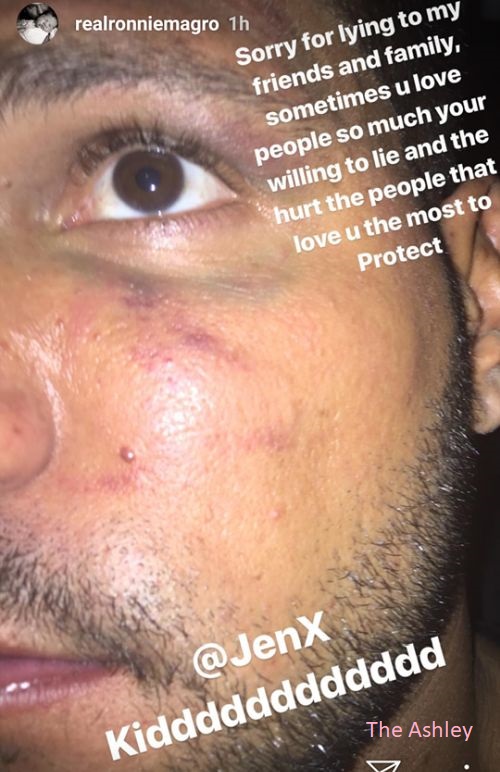 Ronnie didn't reveal if his injuries were new, or if the pics were old. (He also hasn't officially stated that the injuries came from Jen.) However, one day earlier, he hinted that he and Jen had split again.
"Closure is a scam. Don't text, don't care. Just move on," Ronnie wrote.
On her own Instagram, Jen defended herself in the comment section of one of her posts.
"He's lying," Jen wrote when someone mentioned Ronnie's black eye post. "I'll prove it again, along with the car thing. I can't deal with a drug addict anymore. It's getting so out of control."
She later told a follower that she's planning to tell her story "in court not on Instagram" like Ronnie does.
As The Ashley has previously reported, Ronnie and Jen (who share daughter Ariana) have had several of their fights escalate to physical violence this year .
In June, Jen was arrested on charges of domestic violence after she allegedly dragged Ronnie with her car as he was trying to exit her vehicle during a fight. That same month, cops were called on Jen while Ron was filming for 'Jersey Shore Family Vacation' in Vegas after Jen showed up unannounced and allegedly got physical with Ronnie.
In April, the couple got into a physical altercation during a breakup. That fight was broadcast on Instagram Live.
Despite the fights and breakups, Ronnie and Jen have continued to get back together. In fact, just a few weeks ago, the couple was posting loving comments about each other on social media.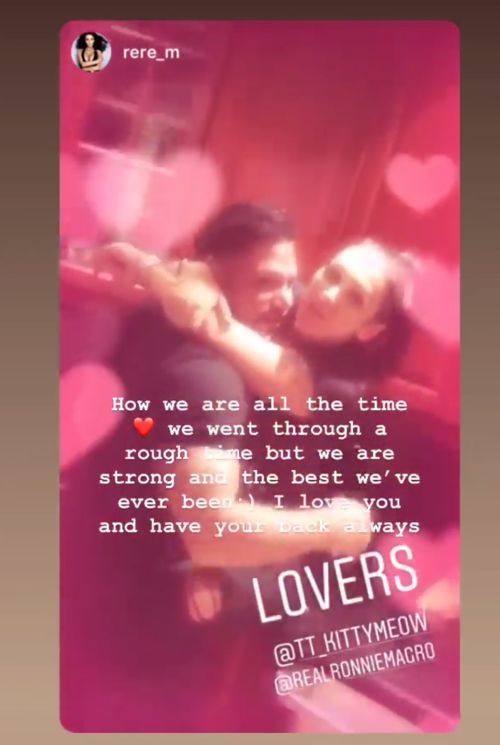 "How we are all the time," Jen captioned a photo of her embracing Ronnie on October 5. "We went through a rough time but we are strong and the best we've ever been. I love you and have your back always."
Ronnie's 'Jersey Shore' cast mates have advised him on-camera to end things with Jen, so it's possible that he was apologizing to them in his "black eye" post.
Ronnie and Jen have removed all of the photos of each other from their Instagram accounts. However, on Wednesday, Ronnie left a comment on the official 'Jersey Shore' Instagram account's post about Jen that let fans know how he feels about his baby mama.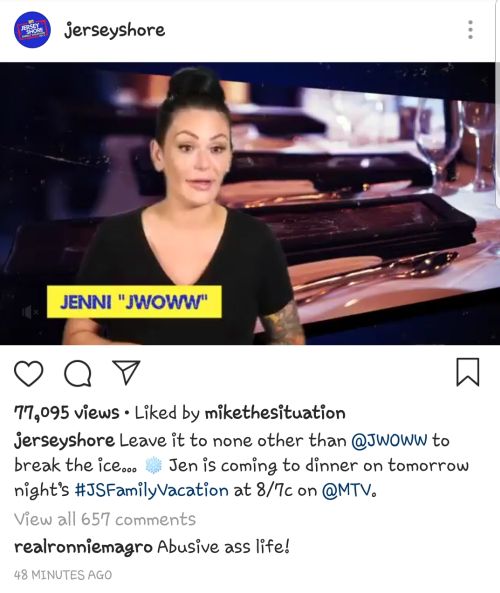 "Abusive ass life!" Ronnie wrote.
The Ashley will update this post when more information is available!
(Photos: MTV, Instagram)