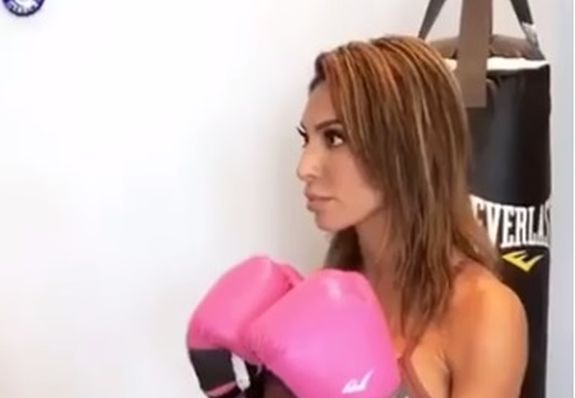 Farrah Abraham may want to consider backing her infamous "Backdoor" out of her upcoming boxing match!
The former Teen Mom OG star posted an Instagram Live video of herself boxing another woman during a training session for her November 10 boxing match against Nicole "Hoopz" Alexander and… let's just say she needs all the practice she can get before the big night in Atlantic City.
The video, which shows Farrah wearing headgear (and a skimpy sports bra…naturally) while sparring with her opponent, was apparently recorded by Farrah's daughter, Sophia, who, at one point turns the camera on herself and seems to be rolling her eyes at her mom. (This boxing match is not even close to the most disturbing thing Farrah has made Sophia record for her!)
Farrah takes some brutal body shots from her opponent during the video, as well as a couple nasty punches to the head.
Farrah's "fans" on Instagram Live weren't exactly coming through with encouraging words for the Backdoor Teen Mom.
"I hope you have a will written out," one person wrote to Farrah in the comment section of the video.
"She better punch harder because the other chick is a beast," another person wrote.
As The Ashley previously reported, Farrah's opponent Hoopz has stated that she's not planning to go easy on Farrah in the ring, just because it's an anti-bullying "celebrity" boxing match (whatever that is….)
"I'm gonna get in there and fight for real," Hoopz told Detroit's WJLB radio station in an interview earlier this month. "She's an opponent…the people are coming out to see a fight. At the end of the day, we walk around as celebrities and we can't touch anybody [on the shows we're on]. So you're giving me an opportunity to get in the ring and I can actually take something out on somebody else?! How am I gonna get in there and half-ass something?"
Hoopz also joked about the fact that Farrah has been doing most of her training in skimpy clothing (some of which she ended up wearing on the p0rn-cam site Cam Soda and then auctioned off.)
"She may come out in some nothingness," Hoopz said in the interview. "It don't matter, that's how she's gonna fall asleep."
RELATED STORY: Nicole "Hoopz" Alexander Says She Won't Go Easy On Farrah Abraham During Boxing Match: "I'm Gonna Get In There & Fight For Real!"
(Photos: Instagram)