From celebrating new business ventures to celebrating weird hillbilly history, the stars (and former stars) of the Teen Mom franchise have been busy over the past few days! In an effort to bring you up-to-date on all of the latest Teen Mom OG and Teen Mom 2 news, The Ashley brings you the Teen Mom News Pile.
Here are some of the major (and minor but interesting) 'Teen Mom'-related things that happened over the last few days…
Kail Lowry moved on up by signing on to do a campaign with Khloe Kardashian's clothing company
After years of hawking waist trainers and weight loss teas like the rest of the 'Teen Mom' crew, 'Teen Mom 2' star Kail has signed on to do a lucrative campaign with Khloe Kardashian's company Good American!
Kail announced the campaign late last week, promoting her own "Kailyn Edit" pick of products from the line, including denim, leggings and bodysuits.
I AM SCREAMINGGGGGG https://t.co/Qrasr0PXau

— Kailyn Lowry (@KailLowry) October 24, 2018
The Ashley reached out to Kail via email for comment on the new venture. She responded by telling The Ashley that she's excited just to have been given the opportunity, since many companies refuse to work with girls from 'Teen Mom.'
"They asked if I would be interested in doing a new campaign they were working on…Obviously I'm interested!" Kail wrote in an emailed response. "I'm on freaking 'Teen Mom' so I never get my hopes up to work with big brands…a lot of companies won't even consider us. I love how inclusive the brand is, especially for curvy women."
The products are pricey– the cheapest option is $119!– but Kail said that the company's clothing is worth the price.
"The quality is really amazing," Kail wrote. "You truly get what you pay for. They were super easy to work with and I really am looking forward to continuing to do so!"
The oldest 'Teen Mom' kid turned 10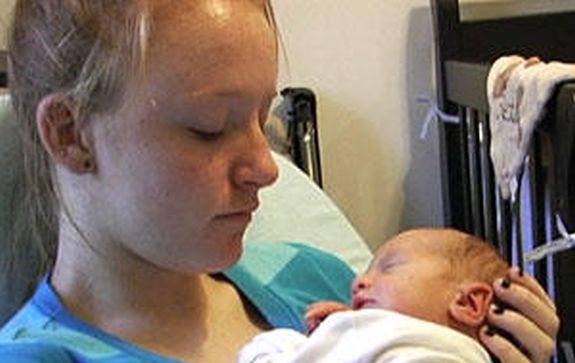 It's official, guys: We have been watching this show for a decade! Over the weekend, the oldest kid from the 'Teen Mom' franchise– Maci Bookout and Ryan Edwards' son Bentley– turned 10 years old.
The birth of Bentley on October 27, 2008 was featured on Maci's "16 and Pregnant" episode…kind of. (Maci purposely waited to call her MTV producers until it was too late for them to arrive before Bentley's birth, because she didn't want the delivery filmed.)
Maci celebrated her son's birthday by posting a sweet message to him on Instagram.
"My baby turned 10 today!" Maci wrote in the photo caption. "This boy has brought me more love than one soul could imagine, more laughter than my cheeks can handle, and more pride than I deserve. When I say 'He is a good one'… I mean it. He is as smart, funny, and athletic as they come. But he is a good one because he is kind to everyone and he loves with his whole heart. I am so proud of this young man and the human being that he is. Bentley, you rock buddy! You'll always be my baby."
David Eason draped himself in a Confederate flag and proved that "the schools are not well" where he's from.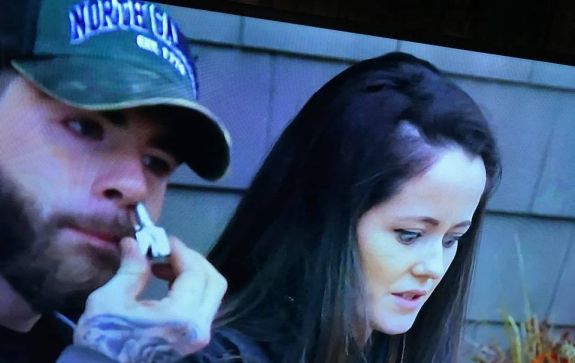 Jenelle Evans' husband David seems to revel in the fact that he's one of the most-hated (former) stars of the 'Teen Mom' franchise. (That's saying something, considering the cast of backwoods knuckleheads who star on these shows!) Since being booted from 'Teen Mom 2' in February, David has done his best to post social media content he knows will stir up a heap 'o' controversy, and this past weekend was no different.
David wrapped a Confederate flag around himself in a photo he posted to his Instagram account and proclaimed himself to be a proud redneck.
"Where I'm from is who I am and my family fought and died for this land," David wrote. (We can assume he's talking about land in general and not "The Land.") "Red white and blue comes in more than one pattern. Don't argue just get off my page if you don't agree! Thanks."
When some of his followers were offended by the post, David then proceeded to defend what he wrote. He also proved that the schoolin' in the swamp isn't the greatest, arguing that the American Civil War was fought over land, not slavery.
When one person commented that the South fought to keep slavery, Professor Eason replied, "No…no we didn't…that's just what someone may have told you as it was their democratic opinion. That's not what happened at all.
"[The South] didn't want to be part of the government and pay them taxes for no reason," he continued. "They also were defending their land that the North was trying to steal and claim as their own."
David's followers tried to school him in American history, to no avail.
"You must be ignorant because the war was over land and freedom, not slaves," David told another person in the comment section.
(Slavery was, of course, the main catalyst for the Civil War. Territorial issues also occurred, but those, too, were mostly due to issues between the North wanting the newly acquired states to be "free" and the South wanting them to be pro-slavery. To learn more, you can read a history book, or click here.)
Farrah Abraham wore nipple tape to an adult Halloween party she attended with her daughter
While many parents were taking their kids to "trunk-or-treat" events or school Halloween carnivals, former 'Teen Mom OG' star Farrah Abraham was taking her nine-year-old daughter Sophia to an adult Halloween party…in a nightclub…while wearing a costume that consisted of mostly nipple tape.
As.You.Do.
On Saturday, Farrah posted a video to Instagram showing her and Sophia with their faces painted with scary makeup. (The get-up was not, however, scarier than this real-life Farrah look.) After wishing her followers "Happy Halloweeners" (too easy) Farrah proceeded to scold Sophia for trying to mess up her makeup before they got to the Halloween party.
"We're getting ready to go out," Farrah said. "It's lit."
Other than her spooky makeup Farrah was wearing stickers taped over her nipples and some sort of sheer skirt. She then posted video from inside what looks to be a giant nightclub party, which we can assume is where Farrah and Sophia were heading.
Farrah's followers skewered her for taking Sophia to such an adult party, and for wearing an inappropriate outfit in front of her daughter.
"Poor Sophia…she should be with kids her age not her skanky mom!" one person wrote in the comment section of the post.
"Pathetic you take your nine-year-old out to party with you because you don't have a man or any friends!" another person wrote. "What a loser you are!"
"You act like your child is an adult, why don't you act like a mother and stop making her think she's a 17-year-old?" one person added.
"Farrah taped her nipples, wore a see-thru outfit and took her daughter to an adult party," another angry follower wrote. "Farrah is all about Farrah…she has no friends…all she has is a cell phone full of pics with people don't engage with her …no man to come home to."
"Stop acting like that nine-year-old is your wingman or your party pal," one person wrote to Farrah. "She's a child. She should doing things with kids her own age, not going to club parties with adults."
(Photos: MTV, Instagram, Twitter)