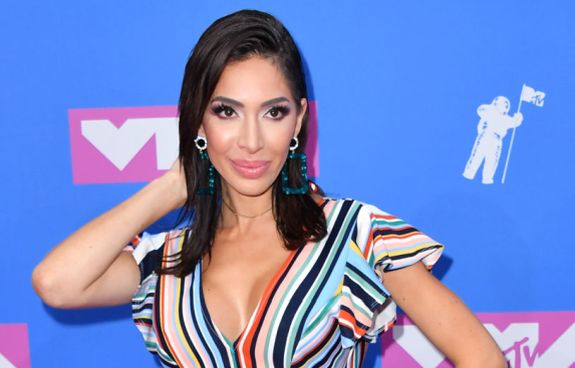 Two months after she rejected a plea deal and insisted that she was a victim of "incrimination of a celebrity," former Teen Mom OG star Farrah Abraham has pleaded guilty to resisting arrest.
On Friday, Farrah— who was initially charged with battery, as well as resisting arrest stemming from an altercation at the Beverly Hills Hotel in June—accepted a plea deal that got her battery charge dropped. Despite posting numerous social media rants over the past few months proclaiming her innocence, Farrah pleaded guilty to the resisting arrest charge.
Her punishment? Two years of probation, five days of community labor or community service, and 12 hours of anger management classes, according to People. She is also banned from the Polo Lounge in the Beverly Hills Hotel where the incident occurred.
(The latter is probably the hardest for Farrah to swallow, given that she considers herself "The Number 1 Celebrity in Our Nation" and the Polo Lounge is where a lot of other celebs hang out.)
Anyway, Farrah showed up to her court hearing wearing a sports-bra-like top and leggings, with her nine-year-old daughter Sophia in tow.
As.You.Do.
As The Ashley previously reported, Farrah was arrested in June when staff at the Beverly Hills Hotel called the police after a hotel security guard said Farrah hit him when he asked her to leave the property after getting complaints about her behavior from other guests.
At the time, a spokesperson from the Beverly Hills Police told People: "Beverly Hills Police officers responded to the Beverly Hills Hotel for a report of a disturbance inside the hotel restaurant. Officers arrived shortly thereafter and made contact with person complained of Farrah Abraham," the spokesperson said.
"A male adult hotel security officer reported that he asked Abraham to leave the hotel after she refused to disengage from a verbal altercation with hotel guests. The security officer reported that Abraham struck him in the face with her forearm, grabbed his ear and pushed him in the face as he attempted to prevent her from re-entering the hotel. Officers noted Abraham exhibited signs of intoxication during the investigation."
Farrah's bad behavior was all caught on tape as TMZ recorded her getting arrested. Farrah can be seen sobbing on camera and screaming, "F**k you," to police officers. She was arrested and booked on charges of battery and trespassing.
At the time, though, Farrah's reps told a different story. They released a statement to People insisting that Farrah did not commit any battery or trespassing, and that the whole incident was "blown out of proportion."
Farrah also, of course, claimed that she was "attacked" during the incident. (See the video below!)
In September, Farrah she went on Instagram Live and told her followers, "I better not be found guilty of anything. I'm nervous, I've been stressed out. I have anxiety about all of this."
She continued to claim that what happened that night was "incrimination of a celebrity."
"For the record, I never trespassed," she said. "For the record, I never battered someone. That would be a no-no and I never resisted an officer…I'm never living in Beverly Hills ever again! It is trouble!"
At the time, she insisted that she would not take a plea deal because she was not guilty of any crimes.
"Stand firm for whatever you believe in, do not say you're guilty for something and take a plea deal. If you did not do something," Farrah said.
Farrah also sang the same tune Radar Online.
"I am not accepting the offer because I'm not guilty," Farrah told them. "I have gone through a lot of counseling and therapy. I am also very mentally stable and have no aggressive issues."
Apparently though, Farrah has changed her mind. In an Instagram Live video posted on Friday, Farrah told her followers that things went well in court, despite some of her "friends" bailing on appearing in court for her.
"I'm just leaving court and I wanted to say I'm really happy with how everything turned out at court," Farrah said. "It's just crazy that, the predicament, I thought my friends, who had me with a libel situation, and in the end, they turned out not to be friends.
She didn't quite report her punishment correctly, though.
"So, in the end I'm on two months' probation, that means no being around bad people putting me in bad situations," she said. "So, 2018-2019, no more bad people around me and getting me into trouble."
(By the way, the top she's wearing in this video is what she wore to court on Friday.)
Um… will someone please inform Farrah that she actually has two years of summary probation, not two months?
There's no word yet when The Big F will be doing her community service, but The Ashley will be sure to let you know if she sees Farrah wearing an orange vest and picking up trash on the side of a Beverly Hills road!
(Photos: ANGELA WEISS/AFP/Getty Images; Instagram)