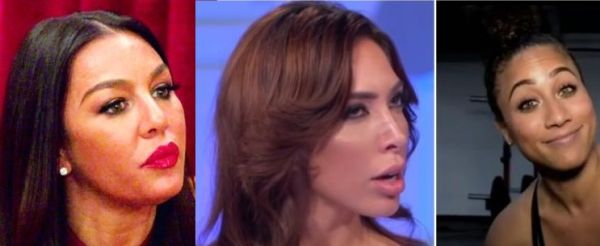 A replacement boxer has been chosen to fight Nicole "Hoopz" Alexander in place of Backdoor Teen Mom Farrah Abraham, who backed out (pun intended) of the November 10 match last week.
TMZ reports that Natalie DiDonato of Mob Wives fame will step into the ring this Saturday in Atlantic City to box Hoopz.
Do you hear that? It's the sound of the crowd going…mild…
In case you have no idea who the hell Natalie is, she joined the 'Mob Wives' cast during Season 5 and is the cousin of deceased mobster Frankie Flowers. She notoriously got physical with several 'Mob Wives' stars during her time on the show.
In an Instagram Live video posted on Sunday, Hoopz made it clear that she's going to be uppercutting somebody's face, come Saturday.
"I don't know what 'Flip Flop Farrah's' gonna do, but I still will be fighting November 10," Hoopz told her fans before Natalie was announced as her opponent.
As The Ashley previously reported, Farrah backed out of the fight last week, claiming that the fight's promoters failed to follow through with the terms of their contract. (The promoters claim that they did everything they were supposed to do, but couldn't make the former Teen Mom OG star happy.)
Farrah's dad, Michael Abraham, told The Ashley that one of the other reasons Farrah pulled out of the fight was that her nemesis, Mob Wives star Drita D'Avanzo, was named as the fight's referee, something Michael said was "not safe" for Farrah.
"Drita has it out for my daughter, and that's known," Michael told The Ashley. "And now she's been put in a position of authority with this fight and that's not safe. Farrah does not have to put her life in jeopardy with someone like Drita…she is out of control. That person could do anything–bring weapons or whatever– and we're not going to play that game."
Hoopz has not yet commented on the fact that the fight's ref, Drita, has an existing relationship with Natalie. However, people who had purchased tickets to the Farrah/Hoopz fight seemed underwhelmed by Farrah's replacement, judging by the comments left on the fight promoter's Instagram post about Natalie joining the fight.
"Lol so once again another fight you hyped up for months that won't happen," one person wrote.
"Damn I wanted her to get beat bad," another person wrote of Farrah. "I don't even think I'm interested anymore."
"False advertising for all the people that bought those tickets," another angry fan wrote. "Good job business man."
The fight's promoters have stated that they intend to sue Farrah for the millions she cost them.
"Farrah has already been paid half the money she's owed upfront," The Blast reported last week. "Bottom line: The promoters and their attorney tell us the fight's still going down and Farrah is fighting … and if she doesn't she will be facing a lawsuit for millions of dollars based on the damage she will cause."
Farrah has not made any comment regarding the potential lawsuit, or the announcement of Natalie as her replacement… yet.
Watch Natalie DiDonato show off her fighting skills during this scene from a 'Mob Wives' Reunion special.
RELATED STORY: Farrah Abraham's Father Reveals Why She's No Longer Fighting Hoopz on November 10 
(Photos: CBS, Instagram, VH1)