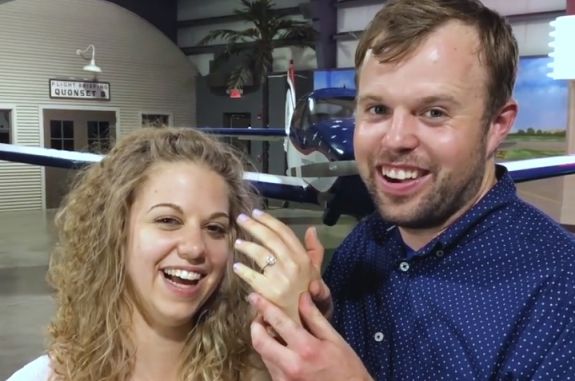 John-David Duggar once famously proclaimed that he was going to be a "Bachelor until the Rapture" but the Counting On star obviously had a change of heart.
John-David, the third oldest child of Jim Bob and Michelle Duggar, married Abbie Burnett on Saturday in Abbie's native Oklahoma. The happy couple– who announced their engagement in July, following a one-month-or-so-long courtship released the standard "Married Duggar Kid Post-Wedding Statement.
"We are so excited to be married!" the couple told Us Weekly. "It was a beautiful moment and we so appreciate our friends and family for sharing this day with us. Most of all we are thankful to Christ for bringing us together. This is going to be an amazing journey!"
Us Weekly also released the first wedding photo of John-David and Abbie, showing John-David beaming (which, as 'Counting On' fans know, is rather uncharacteristic of the mellow Dug), and Abbie wearing a conservative yet sleeveless (!) white gown and a rhinestone-encrusted veil.
The wedding was held at Ada First Baptist Church in Ada, Oklahoma, at 2 p.m. (according to their leaked wedding invitation). The reception took place at the Hoppes Airplane Hanger (which is fitting, considering John-David is a pilot and proposed to Abbie in a hangar).
The hangar was decorated with photos of the happy couple, as well as a weird "photo wall" of giant flowers. Guests were served chocolate milk because….Duggars. It seems that the couple also served a breakfast buffet— cereal, waffles, etc.— despite the fact that it was an afternoon wedding.
It appears that all the Dugs made the trip to Oklahoma for the wedding, although only a few photos of the wedding have surfaced on social media. (According to one guest's Instagram comments, those in attendance at the wedding were told not to post any photos until November 14.)
No photos of the bridal party have surfaced yet (although we can almost surely expect at least some of the Duggar girls to have been bridesmaids…wearing random sandals). It appears that Bringing Up Bates star Nathan Bates served as a groomsman.
On Saturday, Ma and Pa Duggar released a statement about the wedding to their official website.
"Wedding bells chimed today as John-David and Abbie became husband and wife," they wrote. "We are overjoyed for the two of them to begin their married life together. We know the Lord has brought them together and will use them to reach many people. We are so happy to be surrounded by family and friends and we thank you all for your prayers and support for John and Abbie!"
John-David and Abbie, at 28 and 26, respectively, are the oldest Duggar offspring couple to tie the knot. Both are significantly older than the rest of the Duggars and their spouses on their wedding days (except for Jinger's husband, Jeremy Vuolo, who was 29 when he got hitched).
With John-David married, that leaves only a few Dugs who are of marrying age and still single. John-David's twin sister, Jana, is still unwed (at 28, much to her father's dismay). John-David's 19-year-old twin brothers Jeremiah and Jedidiah, as well as his 18-year-old brother Jason, are also still single.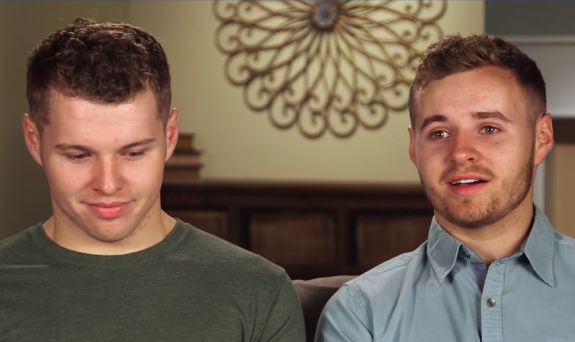 TLC has announced that John-David and Abbie's wedding footage will be featured on the TLC GO app on November 20, and will air in a wedding special on November 27 on TLC.
Watch the happy couple talk about their wedding in the video below!
Wanna get all the stats on the previous Duggar weddings? Click here to read The Ashley's "Duggar Wedding: By the Numbers" post!
(Photos: TLC, Instagram, Facebook)