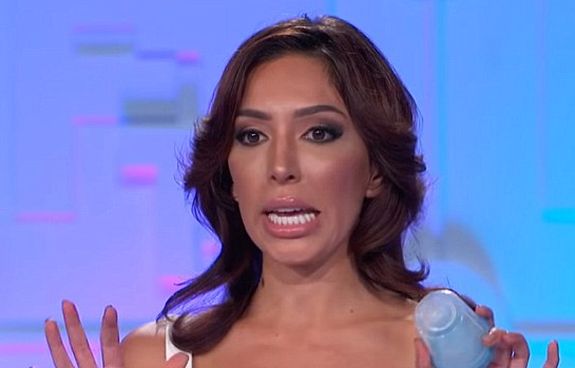 The "celebrity anti-bullying" boxing match Farrah Abraham signed up for is becoming quite the pain in her infamous backdoor… and soon it may also hit her right in the wallet!
As The Ashley told you, the former Teen Mom OG star backed out of her November 10 boxing match against Nicole "Hoopz" Alexander, claiming that the fight's promoters failed to follow through on what they agreed on. Farrah's father, Michael, told The Ashley that the promoters adding Farrah's known nemesis Drita D'Avanzo as the fight's referee was another reason his daughter is refusing to fight.
Following the release of that interview, the fight's promoters— Damon Feldman and Samantha Goldberg— fired back, telling The Blast that they plan to sue the Backdoor Teen Mom for millions if she doesn't fight on November 10!
Michael told The Ashley that the fight's promoters had not come through with the travel accommodations they had promised Farrah and her team in the contract. However, the promoters disputed this claim, stating that dozens of hotel rooms at the Showboat Hotel (where the fight will take place) had already been lined up, as well as first class plane tickets for Farrah and her daughter Sophia.
"They are flabbergasted that Farrah's team is trying to claim she got a bad deal, and tell us they've bent over backwards to satisfy the former 'Teen Mom' star's demands," The Blast reported.
"Farrah has already been paid half the money she's owed upfront," the site added. "Bottom line: The promoters and their attorney tell us the fight's still going down and Farrah is fighting … and if she doesn't she will be facing a lawsuit for millions of dollars based on the damage she will cause."
After Farrah announced she was backing out of the fight, her opponent Hoopz made it clear that she still intends to fight someone on November 10 in Atlantic City.
Farrah's manager David Weintraub told The Blast that Farrah has no interest in being part of what he called a "low-end, mockery of an exhibition fight."
"Farrah has no choice but to not be involved in this debacle," David told the site. "The promoter has been been in breach of the contract, he has not delivered on anything that was promised in the contract…He also never secured a proper pay-per-view deal which was in the contract, or sold enough tickets."
Although the fight promoters have promised to sue the pants off of Farrah (that is, if she actually chose to wear pants), Farrah's mother Debra Danielsen told The Ashley that it wouldn't make sense to sue Farrah, since Farrah doesn't have that much money anyway.
"Farrah is a single mom and doesn't have millions! This guy has seen Farrah as an easy ticket to get money from," Deb said. "He is not legitimate or a man of integrity going after a single mom."
Farrah has been uncharacteristically silent on social media since the fight promoters made their legal threats.
The Ashley has reached out to Farrah's camp for comment, and her father, Michael, wrote this in an emailed comment.
"First off our attorneys have not received any verification or reservations for the hotel rooms or Farrahs and Sophia's airfare – Damon's statements and the 'blasts' are lies," Michael wrote. "Second, [the promoter] Damon [Feldmen] is back at his old tricks …. in the Blast story there still is no mention of the airfare for the rest of Farrah's team or payment for the private security team. Damon thinks he is negotiating BUT the fact this is not the time to be negotiating it was time for him to provided ALL the agreed to items weeks ago – to date he has not full filled all of the requirements he was supposed to do.
"Third, they mention 'no time frame' was in the contract…fact is, Damon is a con artist. Any businessperson would have booked all the flights and hotel rooms etc. weeks ago to purchase at a saving like any businessperson does. He thinks he only will pay what he can't get away with. We know so many people and event venues he refused to pay and only paid when he was forced to… instead of being professional his is still operating as a street thug. Fourth, Drita has no credibility or professional experience validating she can be the referee for this boxing match. Damon & Company and Drita have be plotting this for weeks with no concern about anyone's safety. Drita only wants to do physical harm to my daughter any any cost. He wants a s**t show to fuel his next debacle at the cost of everyone he works with.
"Fifth, Damon still avoids any discussion regarding what anti-bullying organizations are benefiting from this boxing match or donations. The big question is: is he using anti-bullying to line his pockets? The world has seen what this turned into and we don't have to be involved with liars and fraud."
RELATED STORY: Michael Abraham Reveals Why Farrah's No Longer Fighting Hoopz on November 10