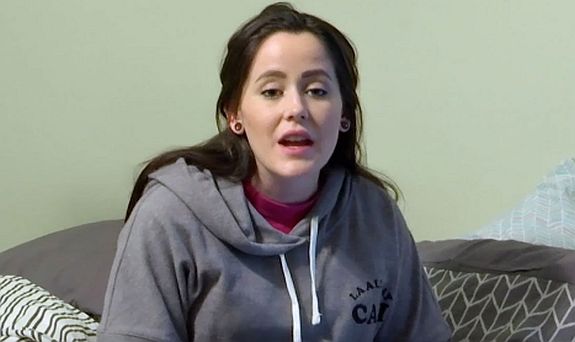 From bullying random people to bullying TV co-stars, the stars (and former stars) of the Teen Mom franchise have been busy this week! In an effort to bring you up-to-date on all of the latest Teen Mom OG and Teen Mom 2 news, The Ashley brings you the Teen Mom News Pile.
Here are some of the major (and minor but interesting) 'Teen Mom'-related things that happened so far this week…
Jenelle Evans Tried to Enact Revenge on Nemesis Randy Houska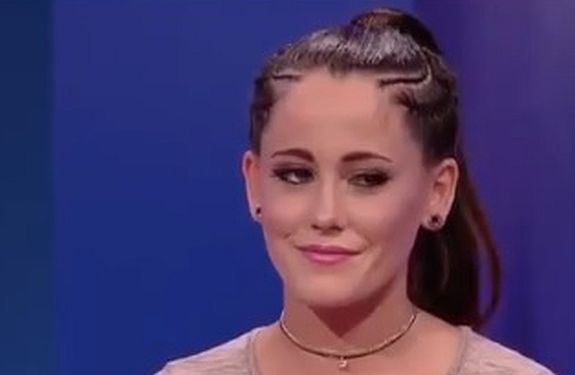 Jenelle's husband David Eason threatened his former 'Teen Mom 2' co-star Randy last week in a creepy video posted to social media, but this week it was Jenelle's turn to try to teach Randy a lesson for tweeting about her!
Jenelle posted a scathing review for Randy's dental office recently, despite the fact that she has never actually visited his office. She was angry that Randy commented about the recent claims that Jenelle was having her jaw realigned. (In late October, Randy responded to fans' questions about whether someone's jaw becomes unaligned on its own. He wrote, "Jaws are 're-aligned' after they are 'un-aligned.'")
Randy did not actually mention Jenelle in his tweet, but that didn't stop Jenelle from trying to hurt Randy via Yelp!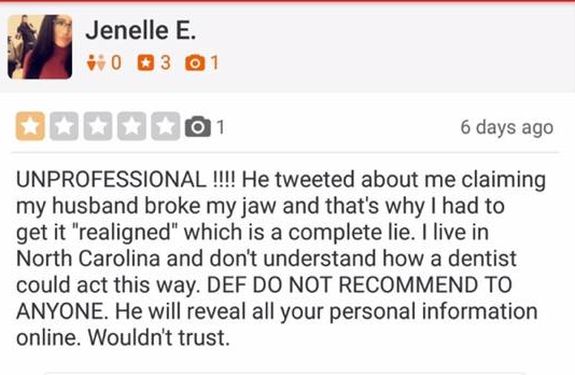 "UNPROFESSIONAL!" Jenelle wrote in a review she left for Randy's dental office. "He tweeted about me claiming my husband broke my jaw and that's why I had to get it realigned which is a complete lie! I live in North Carolina and don't understand how a dentist could act this way. DEF do not recommend to anyone. He will reveal all your personal information online. Wouldn't trust."
Yelp has since removed the fake review. In a message posted to the page, Yelp warned site visitors that Randy's business had been the victim of a fake review.
"This business recently made waves in the news, which often means people come to this page to post their views on the news," the message reads. "While we don't take a stand one way or the other when it comes to this news event, we work to verify that the content you see here reflects personal consumer experiences with the business rather than the news itself. As a result, we've temporarily disabled the posting of content to this page."
This is not the first time Jenelle tried to hurt the professional career of one of her enemies. Last year, she posted a scathing review on Yelp about Ashley Landhart, who is the girlfriend of Jenelle's ex-fiance Nathan Griffith. In her review of the rehabilitation center that Ashley worked at, Jenelle blasted Ashley by name.
Catelynn Lowell Ragged on Farrah Abraham for Backing Out of Her Boxing Match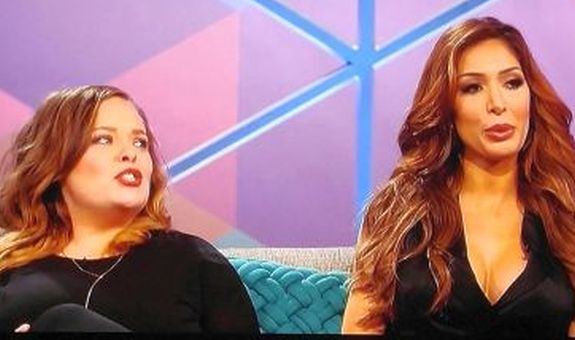 Farrah was due to box reality star Nicole "Hoopz" Alexander on Saturday night, but, as The Ashley told you, she boned out, claiming that the fight's promoters failed to follow through with their contractual obligations (and that they bullied her, of course).
Anyway, several of the 'Teen Mom' stars made plans to attend the fight, eager to watch the former 'Teen Mom' get knocked on her infamous "Backdoor." Catelynn and her husband, Tyler Baltierra, purchased tickets to the fight and decided to go to Atlantic City anyway, despite the fact that Farrah was no longer fighting.
Catelynn made it known on Instagram that she thought her nemesis Farrah dropped out of the fight because she was too afraid to box Hoopz.
"Going to Atlantic City…was supposed to see Farrah get laid the hell out by Hoopz thennn she dropped out," Catelynn wrote. "Still going to support our girl Hoopz though!"
Catelynn then made fun of Farrah in the post's hashtags.
"#ScaredSissy #GrowAPair."
'Teen Mom 2' star Javi Marroquin will also be at the fight on Saturday, as he will be working as one of the commentators.
Meanwhile, Farrah has retreated to the Maldives with her daughter Sophia.
Farrah proved she is a bully.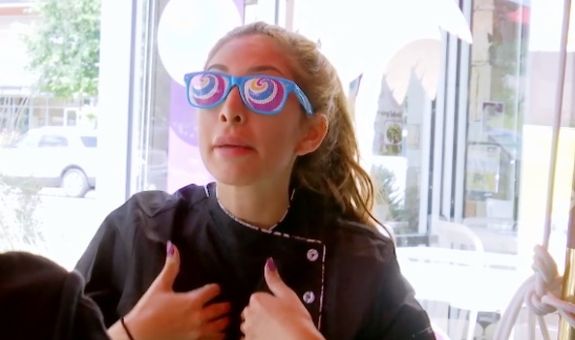 Farrah backed out of her boxing match, which, as The Ashley told you was to "promote anti-bullying" (whatever that means); however, the former 'Teen Mom OG' star showed that bullying is still a very big part of her own life.
Earlier this week, Farrah posted a photo and caption to her Instagram stories that was not only downright cruel but also cringeworthy.
Farrah posted a photo of a guy she saw out at a store. The guy (whose face was blurred, luckily) was purchasing something at a checkout counter, and Farrah was (of course) convinced that he wanted her.
"When the guy buys his ugly girl gifts…But you stare at me the entire time you in the store bahaha!" she captioned the photo.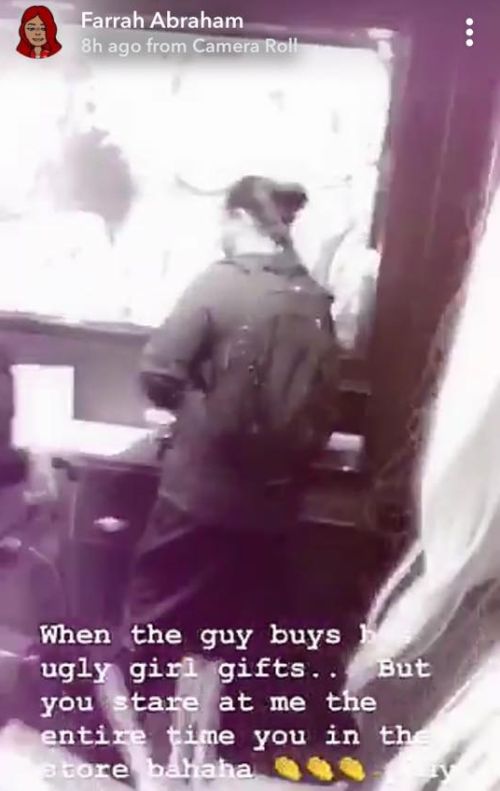 (Did Farrah start attending Jenelle's homeschooling classes on The Land? Is that the reason she's writing like that?)
Jenelle Evans revealed her plans to try to get on the 'Botched' TV show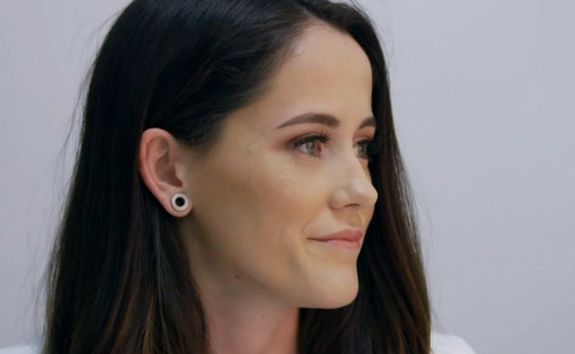 Jenelle will be on the upcoming season of 'Teen Mom 2,' but she apparently has her eyes set on getting on yet another reality TV show: 'Botched.'
In a video posted to Instagram Live on Thursday, Jenelle revealed that she "really wants to" get on the E! reality TV show so that the show's doctors, Paul Nasiff and Terry Dubrow, will fix her her stretched-out earlobes.
For years, Jenelle used gauges to stretch her earlobes. In her video, Jenelle stated that she is no longer able to wear regular earrings, due to her stretched ears, and that she regrets stretching them. In order to get her earlobes back to the original size and shape, Jenelle stated that she had to have surgery, and that she wanted the doctors from 'Botched' to do the procedure for her.
"I told the kids, 'Do not do this to your ears!'" Jenelle said in the video.
Jenelle is not the only 'Teen Mom' star to try to get the 'Botched' docs to work on her. Back in 2015, Farrah tried to have the docs fix her disastrous lip implant, but the doctors refused. In a 2016 interview with The Ashley, Dr. Nassif said he declined to work on Farrah, in part, due to her history of being "difficult" and shaming those she felt had wronged her.
Jenelle, however, has not been chosen to be on 'Botched'…at least, not yet…
To catch up on more 'Teen Mom' news, click here!
(Photos: MTV, Instagram)